Remember this swimsuit? Of course! There were a ton of comments on this post where I pondered making the suit. This is one popular pattern in sewing blog world!
Here's the pattern again. I'm thinking I will make the one on the right, the blue one: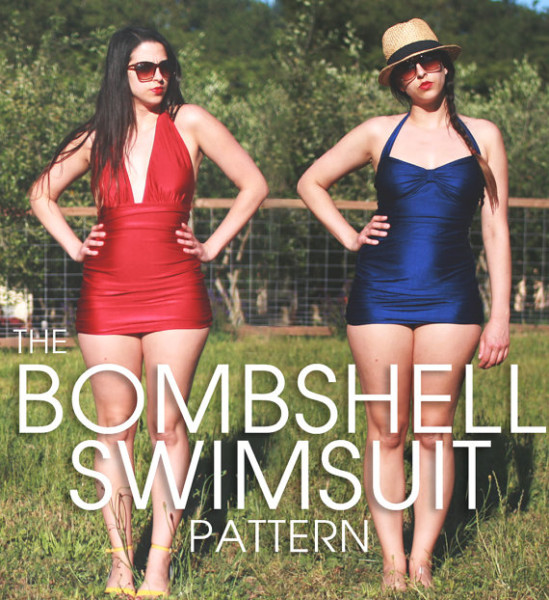 and here is my fabric!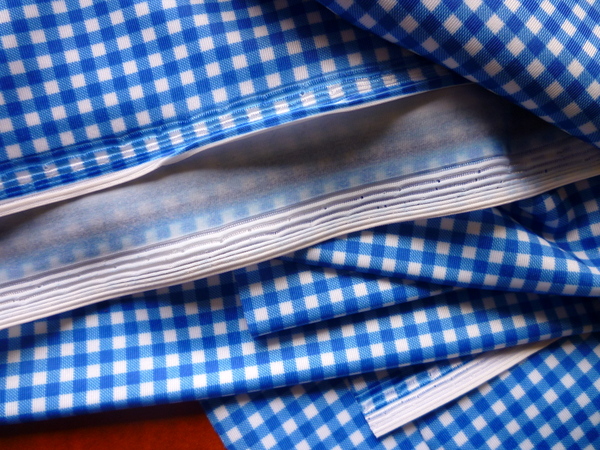 Isn't it cute? And classic? Looks a lot like Lauren's swimsuit fabric, hope you don't mind a sort-of-copycat suit on the other side of the continent, Lauren! I didn't want to commit to a colour and was hoping for a black-and-white print, but this blue is so cheerful. It will be perfect with a straw hat, and maybe a white eyelet skirt, and some wooden wedge sandals.
This will give you an idea of the scale hopefully, with my hand in the photo: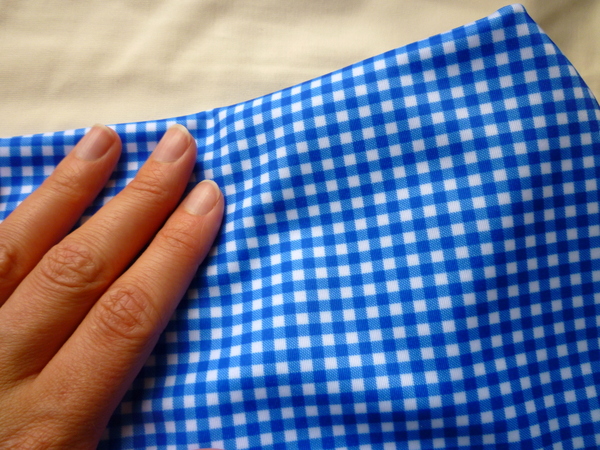 The fabric is swimsuit fabric from Fabricana, 80% polyester 20% spandex. Swimsuit fabrics are expensive, $20/metre, except that's not too bad when you only need 1 metre, and compare that to the average price of a swimsuit! (Old Navy swimsuits excepted. All this swim talk reminded me of a black Old Navy two-piece that I wore for years and years. It was cheap, I was able to buy a small top and a medium bottom, and I think it eventually got tossed when the elastic wore out.)
If you compare the materials costs of making your own swimsuit, $20 for the fabric + $5 for the lining + a couple of dollars for elastic, that's way cheaper than the average $100 swimsuit! Plus our time, of course. But I prefer to think of it as 'we get the enjoyment and challenge of making a swimsuit!' rather than considering it as hours of labour.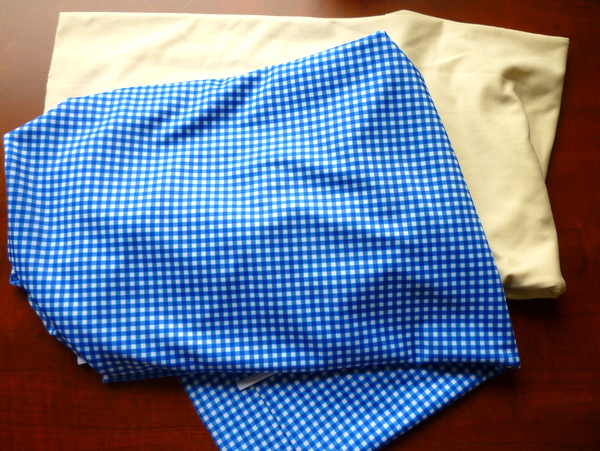 I also got a cream swimsuit lining with a very nice hand feel. It feels just as nice as the main swimsuit fabric, it's soft and resilient and thick.  Only $9/metre too. (I wrote this down right away after leaving the store so I wouldn't forget. I have already forgotten the content of the lining fabric but I think it was 80% nylon, 20% spandex.) It was labelled as Swimsuit Lining Fabric on the bolt so I knew it was the right thing.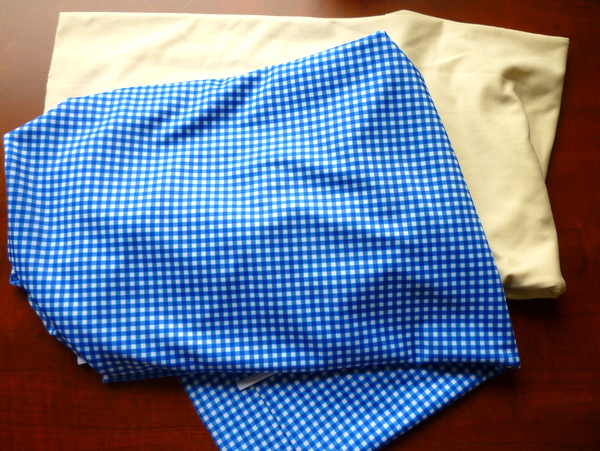 Close up of the lining fabric: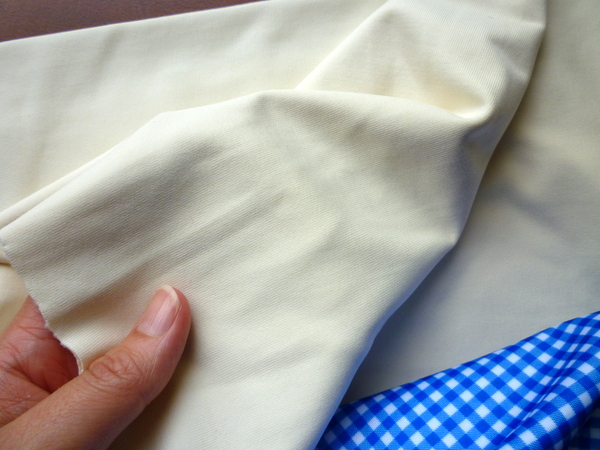 Just for fun, and for Caroline, who wanted to know what the swimsuit fabric selection at Fabricana was like, I took photos of the swim fabric section. (For the locals, this is the Richmond location.)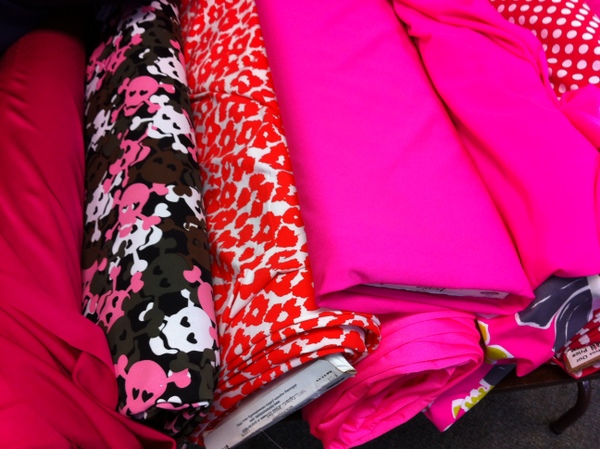 (I just noticed those are camouflage-style skulls!)
(those red dots are cute!)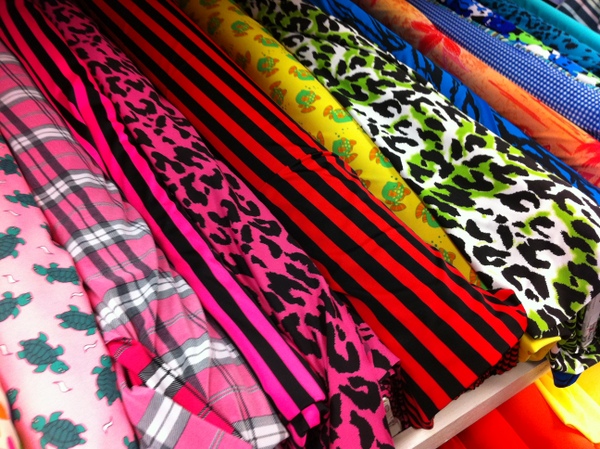 (pink plaid is nice although you'd lose the stripes in the ruching)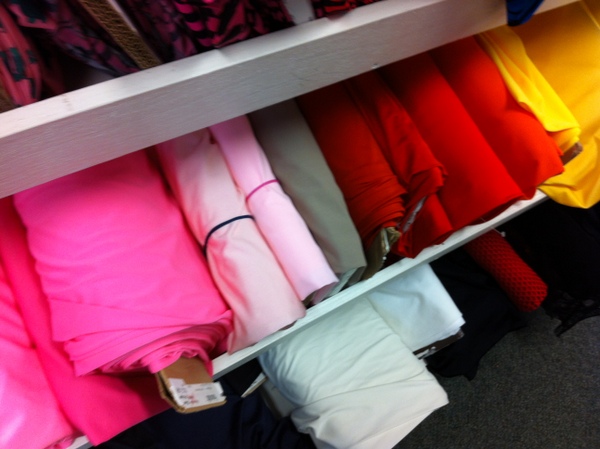 (a whole rainbow of solids)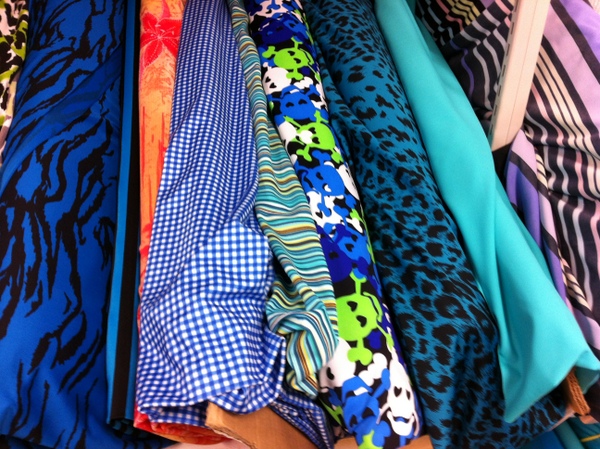 (there's my blue gingham!)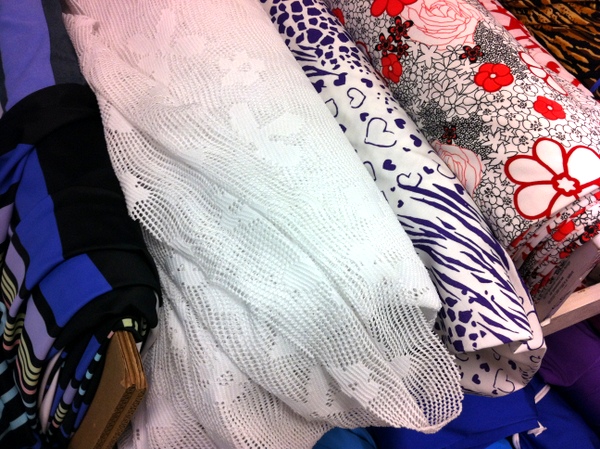 (crochet look without having to actually crochet)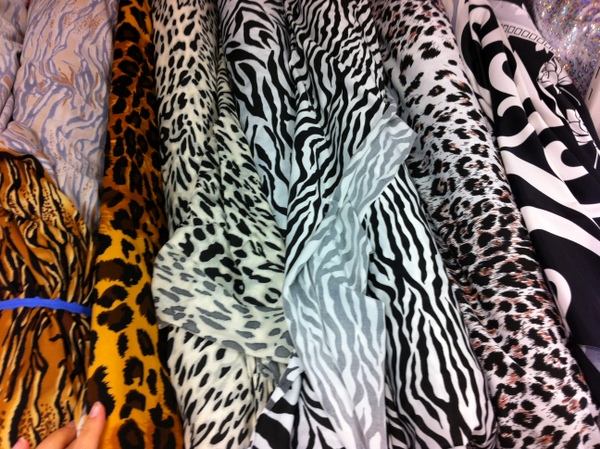 (every kind of animal you could want!)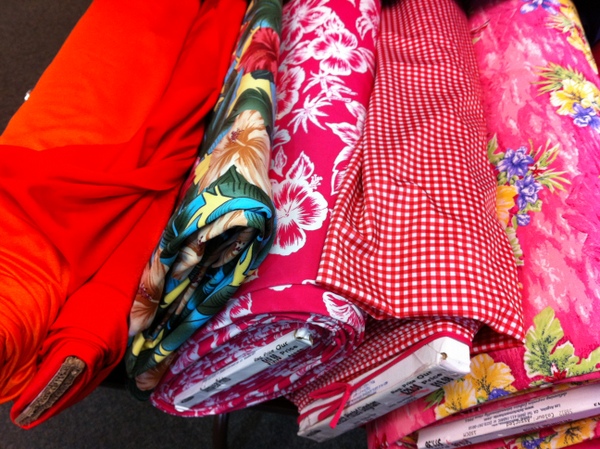 (the gingham also comes in red)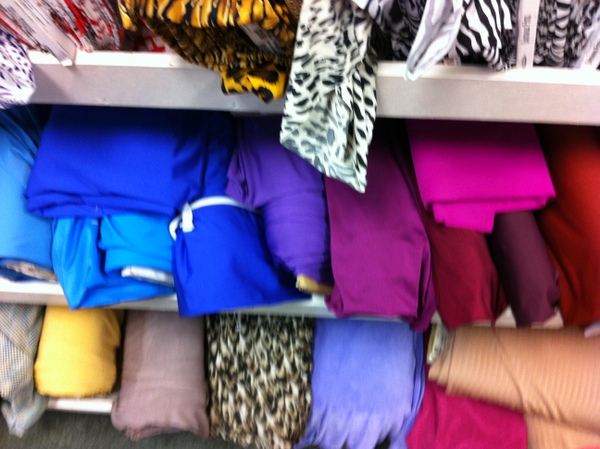 (oops, blurry shot but you can see more of the solids. I missed part of the rainbow I think, but there are plenty of options.)
You can see they have a nice range of solids, all colours of the rainbow, from shiny to matte. It's the prints where the selection isn't as deep. Or rather, there are prints, but there's a lot of very extreme prints, loud animal prints and bold stripes and pink skulls. The gingham I bought is really nice quality, and I pondered the raspberry and white dots as well but decided I should make one suit first before committing to a second.
I skipped past the disco sequin prints that I imagine are more for dancewear than for swimming. Anyways, if you are from the Vancouver area, you can see what their selection is like before making the trip! (They do take phone orders, if you like something you see, as they don't have an online shop.) I saw several cute fabrics online, but being in Canada means that the shipping is usually out of this world (like, $30 shipping for $30 worth of swimsuit fabric) and there's a chance the post office will also charge duty and tax on top of that. I was happy to find a fabric I liked locally!
For more about swimsuit fabrics, check out these posts:
As I type this post, it's pouring rain and about fifteen degrees outside – that's 59 degrees Fahrenheit for you in the USA! Deep down I know that a bathing suit is not a priority for our Vancouver weather. If I make one though, at least I'm prepared for my next holiday or the rare sunny day where I'm also not working! I'd rather be prepared than have to worry about finding a suit to wear at the last minute. (Or have that feeling of doom surface when the opportunity comes up. If this suit works out, instead of worrying over what to wear, I'll be so happy to have a reason to show off my new handmade swimsuit!)
So as soon as I get a bit of spare time, I'm going to try my hand at making this suit!