I'm nearly finished the Bombshell Swimsuit! It's a fast sew, and because you switch to a special stretch needle, it makes sense to sew just the suit and no other projects until it's finished.
Here are the bra cups I'm using: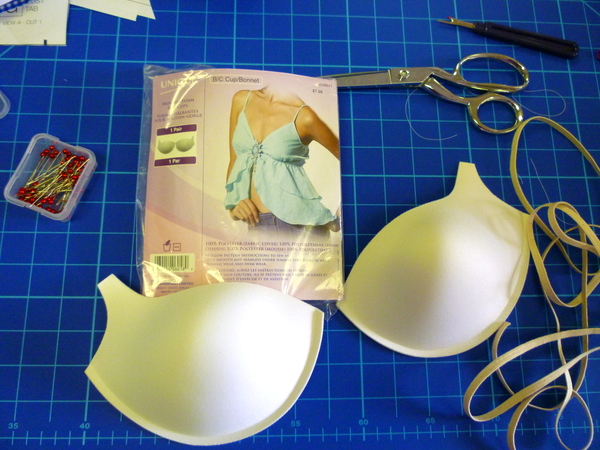 They're nice and padded and shaped similar to a bra. Pinned into the suit, they create a nice hourglass shape to balance out the weight on the bottom. I liked Lauren's idea of buying a secondhand swimsuit and tearing out the cups, but I think the pricing is higher at our thrift stores. Nothing is 99 cents! These cups were $8 which felt kind of expensive, but I'd prefer the suit had them. It's worth it to me to add $8 to the cost of the suit so it's more comfortable to wear.
What the suit looks like so far:
I have tried it on, and it's looking quite cute so far. Totally different from any other bathing suit I've ever worn. It's curvy and womanly, and feels very retro, yet I wouldn't feel at all costume-y wearing it at the beach.
One thing to think about if you do what I did, and cut different sizes for top and bottom, is that all of the suit needs to fit over your lower half. When I can't step into a dress, no big deal, I slip it over my head. You can't do that with a swimsuit, it has to go on from the bottom up. So it ends up getting stretched quite a lot to fit my bust size over the width of hips. Perhaps for #2 I might go back up a size on the bust to make it easier to get on and off, but I'll decide once this one is finished.
I am surprised that I'm going to post a photo of myself in a swimsuit on the internet by choice. If I have to do it, this is the suit to do it in!