I've finished knitting a gorgeous coral cardigan – another project done in one of 'my colours!'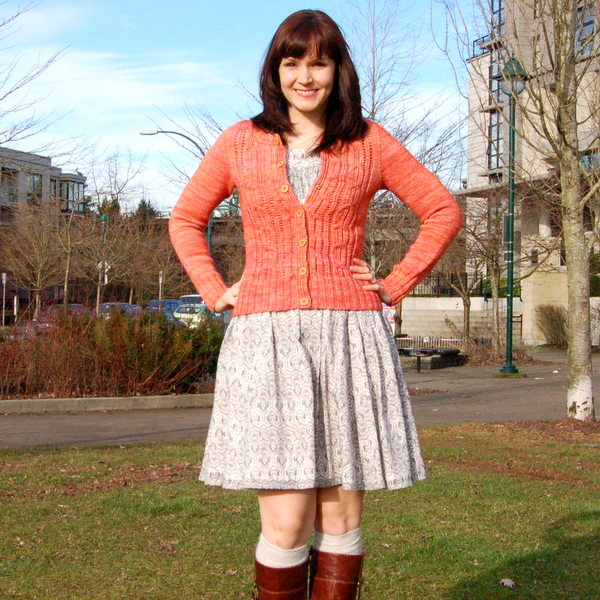 The pattern is Acer Cardigan by Amy Christoffers, yarn is Madelinetosh Vintage in Coral. Ravelry notes are here. (I wrote a mini-novel in the notes field, there was a lot to say about this one!) I also made a few modifications to the pattern so I wanted to note them down in case there was a next time knitting this pattern.
I made size 34 for a little bit of ease, like the pattern recommended. It didn't turn out with a lot of ease in the end but it fits comfortably.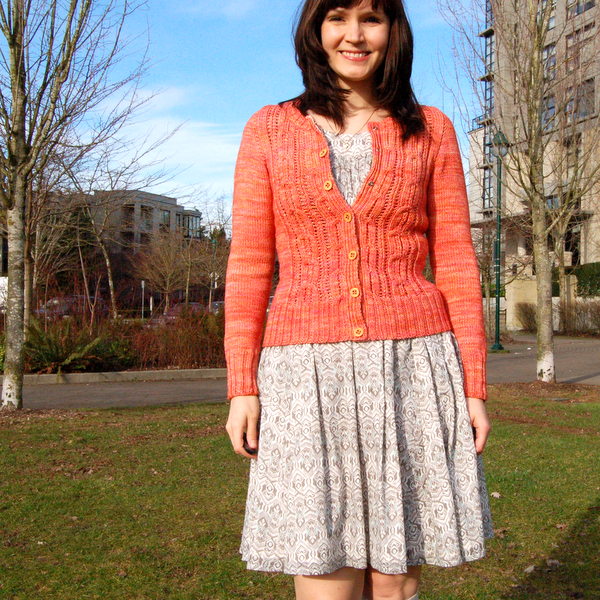 I also bought this yarn at Happy Knits over the summer, same as the yarn for the Happiness Cardigan. Do you ever buy materials that match the outfit you're wearing? I was wearing a coral dress at the store, and came home with coordinating coral yarn.
This colour just glows! I took these photos in the late afternoon when the light was soft and pretty. There's no trickery to the photos, the colour of the yarn naturally picks up the light in a very pretty way.
After finishing the Happiness Cardigan, I wanted to knit another style that was mostly plain with detailing on the front. I'd recently seen Rachel's beautiful version and loved how it turned out – those shades of pewter and blues are gorgeous! Originally I'd had a different plan for this coral yarn, but this seemed like a better idea.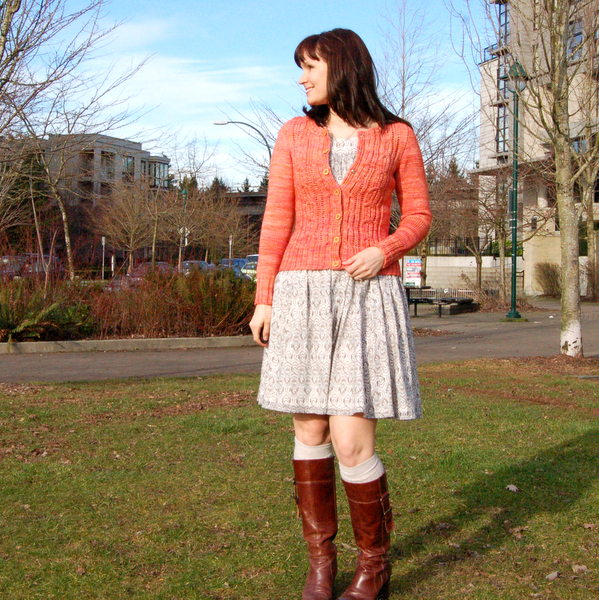 (Actually, what happened was that I knit a swatch for a different pattern, but in order to match the gauge I had to keep going up needle sizes to the point where the fabric looked too loose and sloppy. Gauge is the number of stitches per inch that the pattern requires. Too tight means the sweater will be too small, too loose means the sweater will be too large. And if you use a bigger needle to get the right number of stitches per inch, there's more space between the yarns, creating more of an open-weave look. So I looked for a pattern that was closer to the gauge I liked for this yarn. See, I'm learning!)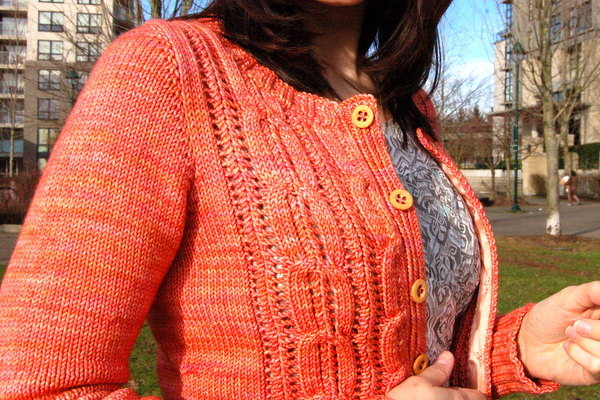 The pattern on the front and back is a cable and lace pattern. It was not too hard to do, after about twenty rows I really got into the groove with it and had it nearly memorized. The worst is if you make a mistake and don't notice it until the next row. When you're knitting all the way around the body from front to front, that's a long row or two to undo!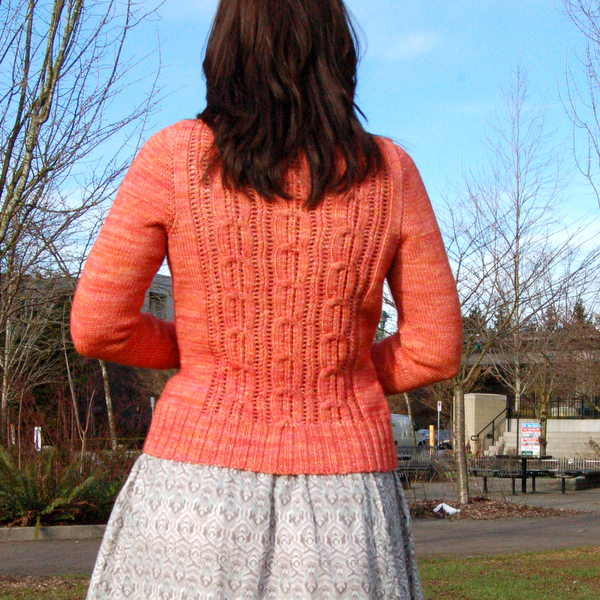 (Back view. I must not be good at holding still, my back-view photos are always slightly blurry!)
I did the same top-down seamless sleeves as the Audrey in Unst cardigan. I figured, that was a good method, why not apply it to this sweater too? (I did read other people's Ravelry notes and was reassured to read that other people did the same thing.)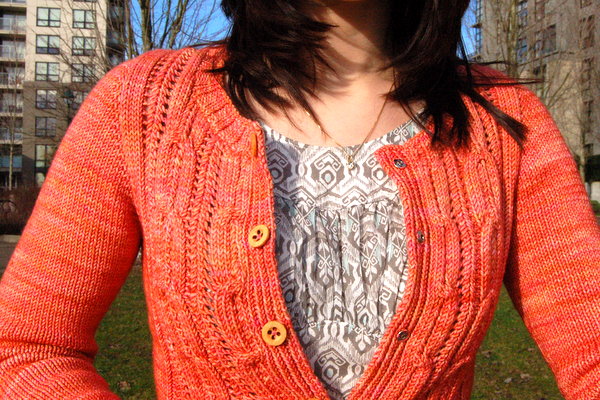 What I like about cardigans is the versatility. Wear them open, wear them buttoned, wear them with jeans and a tank, wear them over a dress, wear them with a structured or a frilly blouse. In a limited wardrobe, it's nice to have pieces that can be worn different ways. (I'm wearing mine with the Chantilly Dress, but I think it would be great with a cream camisole and jeans, too!)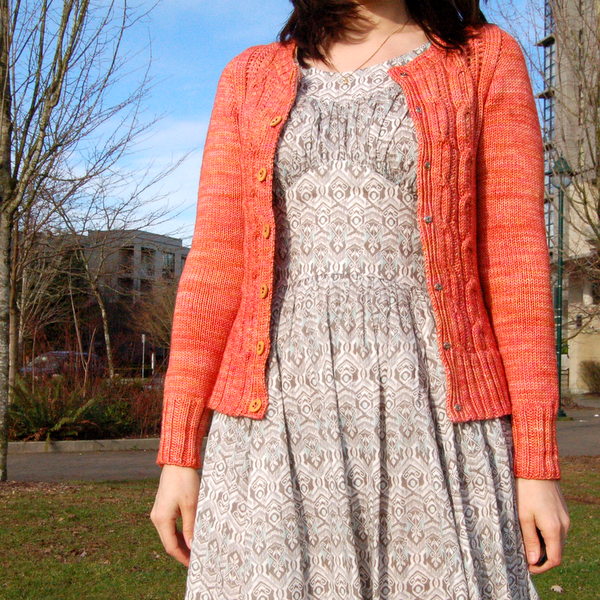 I had some trouble with the buttonhole bands, and ended up skipping them in favour of snaps, like Lauriel. (Which then took me two months to complete. I'm really bad at forcing myself to finish my knitted projects, when there's hand-sewing to do.) I finished this one a while ago but waited for sunny weather to take photos.
Time to complete: 16 weeks + 6 days. (Nearly four months for this one. I am slow to finish when there's hand-work involved – and when I'm excited to move on to the next thing!)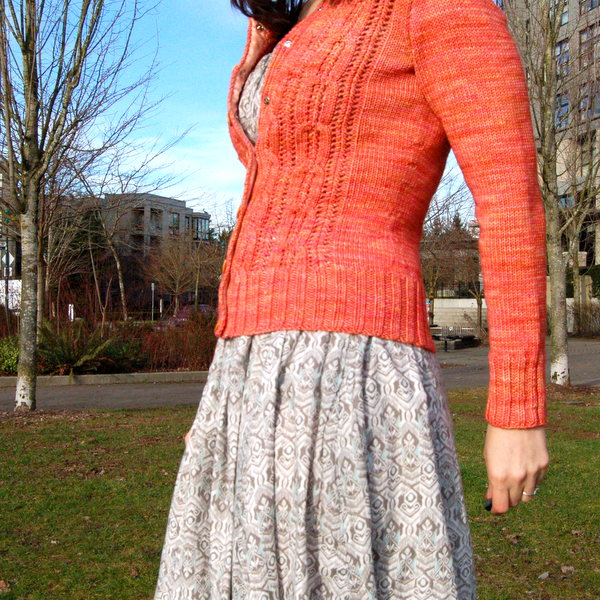 It's so nice to be able to fill in the gaps in my wardrobe with my own two hands. Even if it's slow to knit them by hand, it sure is rewarding to be able to choose the exact styles, colour and fit that I want.
Next up in the knitting world: more sweaters and more socks. Can you tell I'm hooked? Have a wonderful weekend, everyone!