I haven't posted any knitting projects in a while, mostly because I've been working so much I haven't been finishing very many projects. Knitting is my calming activity. When I'm feeling wound up, I knit a few rows and the repetitive motions helps to calm me down. However, I did finish this cardigan.. plus a few extras!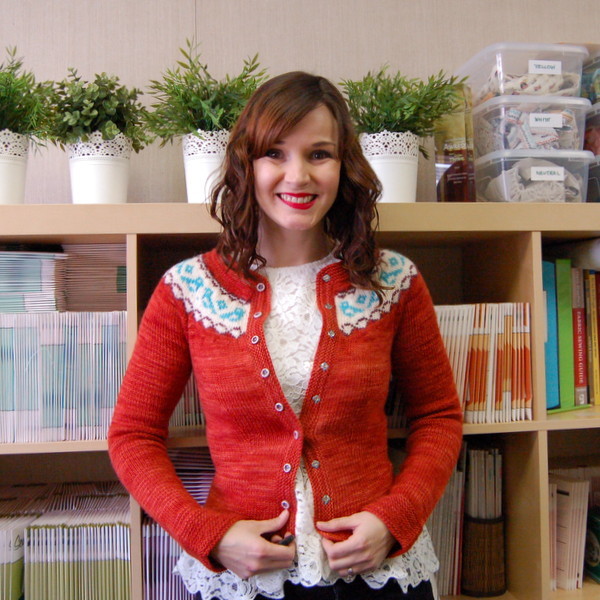 It's the Bluebird Cardigan, named because the birds are blue. (The real name of the pattern is Chickadee, designed by Ysolda Teague.) It's from the Little Red in the City book, same as my Lauriel Cardigan.
I actually finished this cardigan over the summer, but never took photographs. Now that it's cold and I want to wear it, I finally took some finished photos.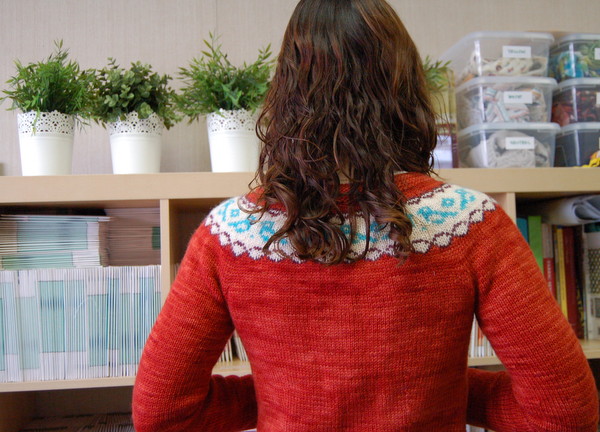 Ravelry project notes here. Look how nicely the waist shaping fits the body! It's done at the front like a dart, instead of at the side seams. This really creates a nice snug fit that follows the lines of the body.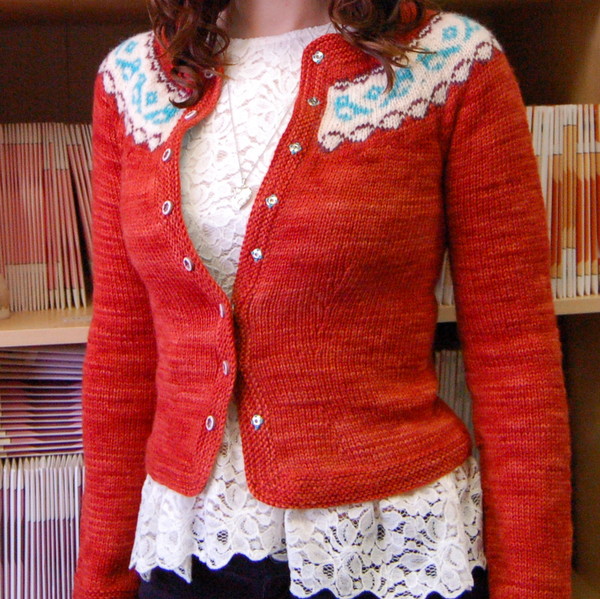 I think that I like this cardigan even more than Lauriel! I knit the size 32. After knitting the 34 in Lauriel and having it come out too big, the 32 is perfect. (My actual bust measurement is 32, in a more padded bra about 33. I find it useful to know whether people are knitting for their exact size, a smaller size that their bust measurement or a slightly larger size for ease. I suspect that the type of yarn you use makes a difference, too.)
I didn't make any changes to the pattern except to knit the sleeves using the magic loop technique instead of double-pointed needles and to shorten the body length by one repeat. Looking back, I finished it in the summer when I was wearing a lot of dresses, therefore I preferred the shorter body length, but with pants it could use a little more length. It's great with layers though!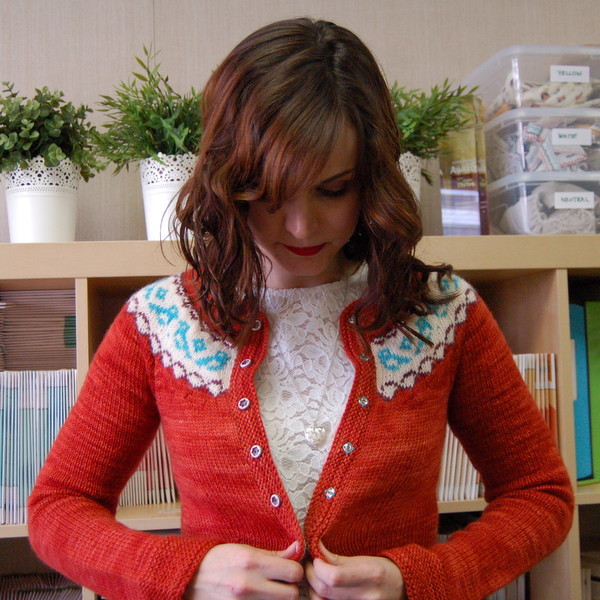 I sewed grosgrain ribbon to the button bands just like Lauriel. In fact it's the exact same ribbon, just in a different colour. It's held up well on Lauriel and kept its shape.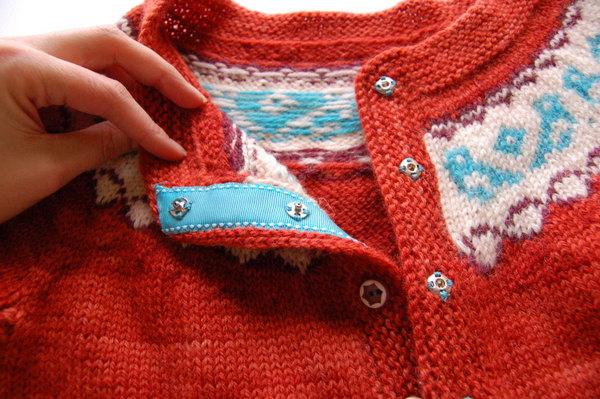 The yarn is Voluptuous from Skein Queen, a name I cannot say out loud because we say 'Skayne' here, and I'm guessing that in the UK they say 'Skeen' which would make sense with Queen. Am I right? Either way this yarn is wonderful, in my books, it's soft and lofty but strong and a little rustic. It's hard to describe yarn without using hand motions! (Which I am doing as type this, trying to come up with the proper words to describe what I like about this yarn.) It feels like this sweater will last a long time because the yarn is rustic and durable, but it's not scratchy and feels cosy to wear. I'd definitely buy this yarn again.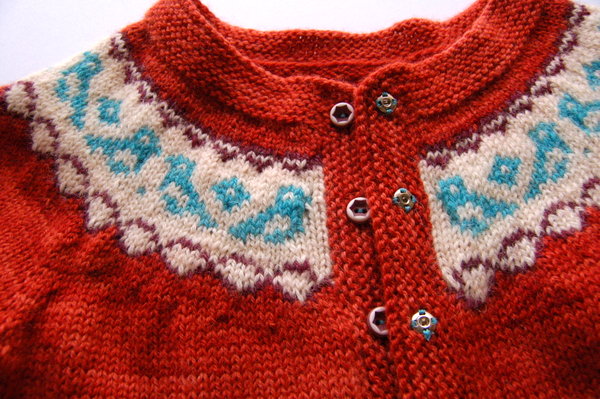 My second colourwork project! (This was the first, remember me talking about how afraid I was to knit with multiple colours? Now I'm all over it!) My main learning point from this colourwork project, as my second project, is to relax. Don't pull the yarn too tight in between colours, and stop to make sure the loops floating across the back are loose, so the garment can still stretch a little bit. The yoke on this has increases built in, so it gets wider at the bottom. Which is fine, but then when you knit the loops along the bottom, it's easy to pull the yarn too tight. Don't pull the yarn too tight!
I also didn't catch the floats in between long stretches of colour, because with the white yarn you could see the blue through. (Catching the floats = twisting the two colours of yarn every couple of stitches so there isn't one long float going across the back of five stitches, it's twisted with the other yarn in between.)
The edging on this cardigan is really neat, you knit the entire edging as one piece with mitered corners. It takes forever to knit one row but in the end, all of the edges (neckline, hem, front bands) are complete. Very tidy!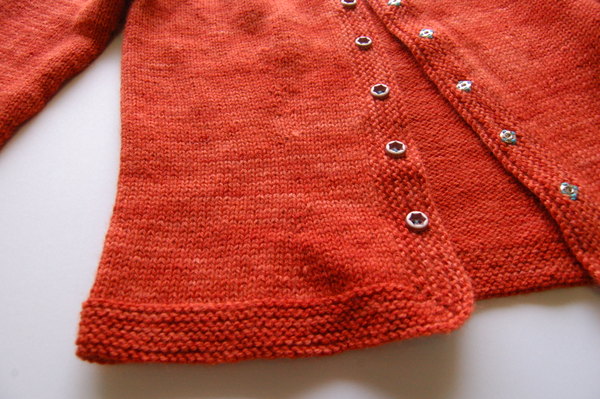 I had leftover yarn after finishing the cardigan, and I joked at my knitting group that I was going to make matching mittens and a hat for my sweater. And I did!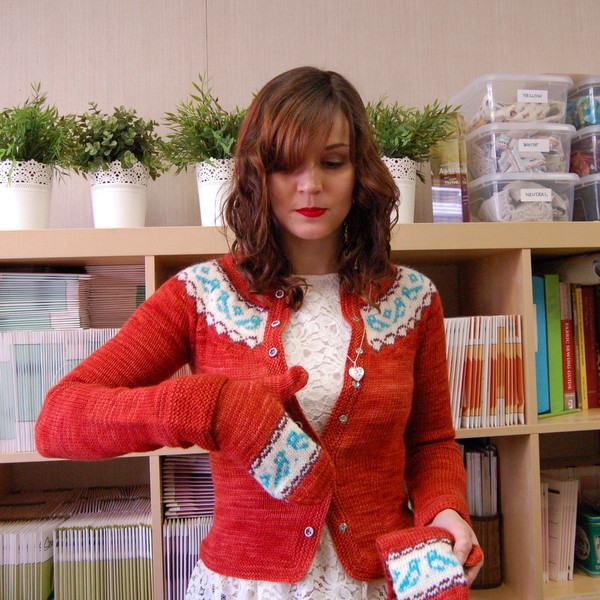 I made up my own mittens pattern using the chickadee chart. Pretty cool eh? I made up a pattern, more or less! I used bits of other patterns, actually, following how to make a cuff and how to make a thumb and then tapering the top like the toe of a sock. Ravelry notes here.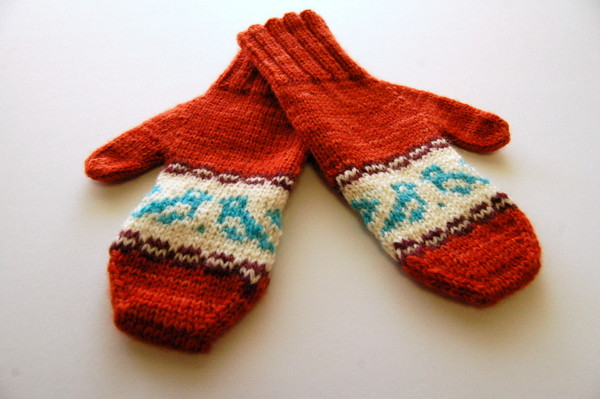 They tuck into the cuff of the sleeve nicely so no cold air can get in!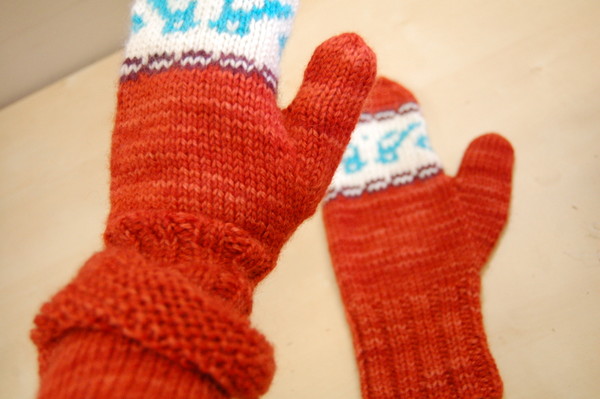 Aren't they cute? They're like an extension of the sweater, as if the sweater comes with removeable hand-covers. I've seen some vintage knitting designs from the 1950s that featured matching mitts, sweaters and caps. Which then inspired me to knit…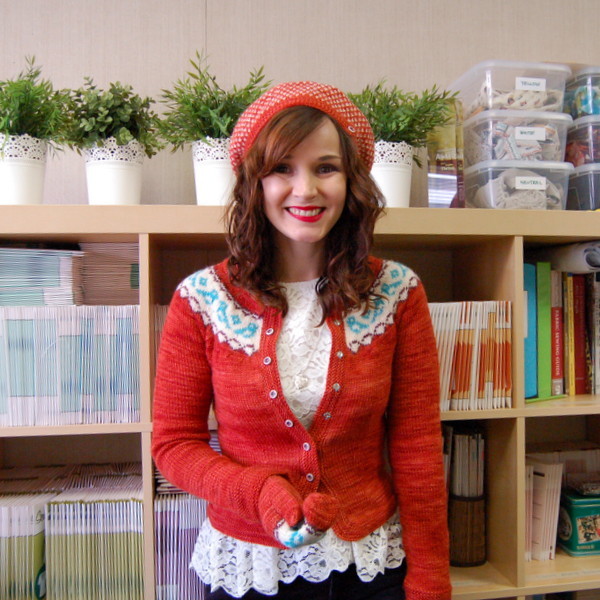 …a semi-matching hat! Now I have a semi-matching orange hat to go with my matching mitts-and-cardigan set. I thought it would be too ridiculous and possibly childish to have birds on the hat, the mitts and the sweater. So I used the orange and white yarn only to make a simple two-colour beret. It matches, but it's not super matchy.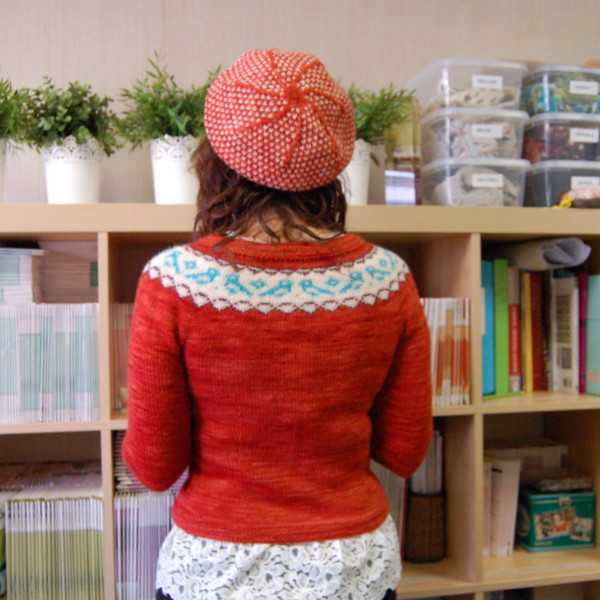 Ravelry notes here. Too bad the above photo is blurry, you can see the neat spiral at the back of the hat. This is a good hat shape for my face and head shape. It fits around the brim without being too tight, it has a bit of slouch but won't fall off my head. And it's so classic. Love it!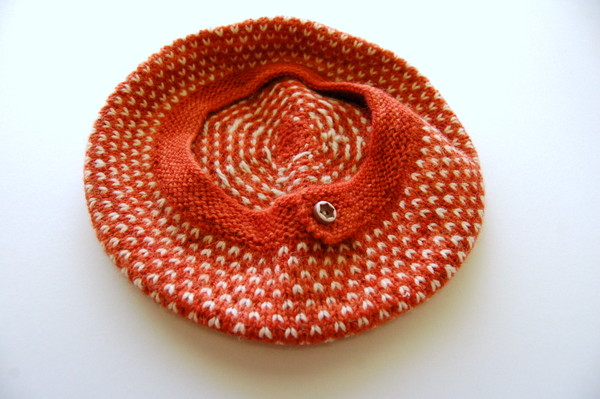 Here's the inside of the hat. I did what the pattern suggested and blocked it on a plate. (This means getting it wet, and stretching it over a plate, like a shower cap sort of.)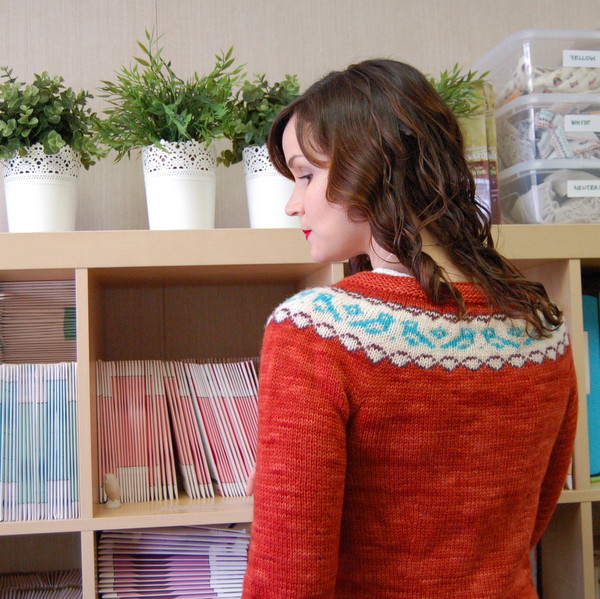 I really like the look of this sweater, it's a mix of traditional with modern, which I suppose is what my love of knitting and sewing is about for me. Traditional techniques, the same knit and purl stitches and the same sewing stitches we've been using for decades, but adapted for modern life. We don't have to knit or sew to clothe ourselves, but we choose to because we see value in creating rather than purchasing.
The colour is amazing too. It's the most beautiful reddish-orange, perfect for Fall. I won't mind the cold weather in a sweater as cute as this one!