Did you see Lauren's blue lace Robson Coat on her blog yesterday? It's absolutely stunning!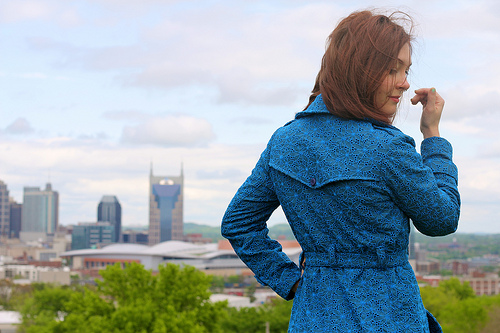 Isn't it gorgeous? Take a look at her blog post here to see more photos of the beautiful finished coat. She's also detailed the process here and here so you can check at the construction process.
She's shortened the coat, which is very easy to do if you feel like the original coat is a bit long, or if you're on the petite side.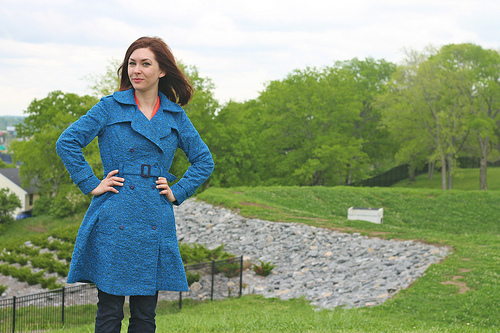 The fabric is amazing, and I really like the buckle on the belt just as much as tying a knot, if not a little more! It looks crisp and polished, perfect if you are using a dressier fabric, or just prefer a more tailored look. (If you do add a buckle, you could still tie the ends in a knot and have the best of both worlds.)
I love that so many people have taken this trench coat pattern, a garment that is usually seen in classic khaki or beige, and picked bright, exciting colours and elegant fabrics. It's why I chose bright blue for my sample coat, I wanted to show how great a classic style can look in a surprising colour. You guys have taken it to a whole new level though, with lace overlays and covered buckles!
Want to see more versions of the Robson Coat? (Get the pattern here.)
Have a wonderful weekend, everyone! I'll be working but the weather is supposed to be sunny and beautiful, so my bike rides to and from the office will be enjoyable. (Any day I get to arrive at work without getting rained on is a good day in my books.) I'm working on a little sewing project that's just for fun, so it isn't all work, it's a little bit of play too.
On that note, thanks for all the encouraging comments on my Behind the Scenes post about growing the business. It's been an interesting ride ever since I started the company (only two short years ago!) and the challenges never stop. I'm constantly having to make decisions on what to do and how to solve issues that come up. Some I've handled well, some not as well, but I've learned from all of them. Anyways, what I am trying to say in a lot of extra words is thank you for reading here and being virtual cheerleaders of this little business!
(And also thanks for letting me know I don't look alarming in red lipstick. I've been wearing this week and really enjoying it. It's never too late to change up your look, if there's something you've always wanted to try, give it a go!)