Wow, I'm never allowed to say I don't have enough sewing time again! After reading all of your comments yesterday, it made me so appreciative of my sewing time. While there's plenty of work to do, I love that I have a fairly flexible schedule and that sewing is part of what I do. So even though it's not always all about sewing, everything I work on helps to keep my creative spirit alive. We're all coming from completely different lifestyles, backgrounds, and parts of the world, different day jobs and home lives – but we all love sewing so much, we find ways to fit it in! (I agree with everyone that mentioned TV – probably one of the reasons I learned to sew when I was young is because I didn't watch TV as a child. And multitasking – yes! Absolutely. And breaking down big projects into smaller, manageable bits.)
If you haven't read the comments from yesterday's post – How Do You Make Time to Sew? – they're definitely worth reading over! One of my favourite 'reader-opinion' posts so far.
I'm also pointing you to yesterday's comments because I'm short a blog post today. I have several reasons for why:
I've been hard at work on the next pattern – yay!
I got stuck in an elevator yesterday! True story. I was rushing out of the office to get to my school event and the elevator got stuck! We had to pry the doors open to get out. Tomorrow, I'm searching for the stairs. (Just kidding. Kind of..)
I went to last night's school event, which featured a presentation on Facebook. My favourite part is the interesting trivia-type facts ("Did you know??") although I came home and tried to impress Mr Sewaholic with my facts and he'd already heard all of them.
I'm writing this on Mr Sewaholic's computer now, late at night, and all my photos are on my work computer.
I feel like I've asked a lot of questions of you guys recently and I really like hearing your answers, so I don't want to overuse the question-post!
So I poked through my phone photos and picked the most sewing-related photo I could find. Here's a sewing project that finally got a chance to be worn!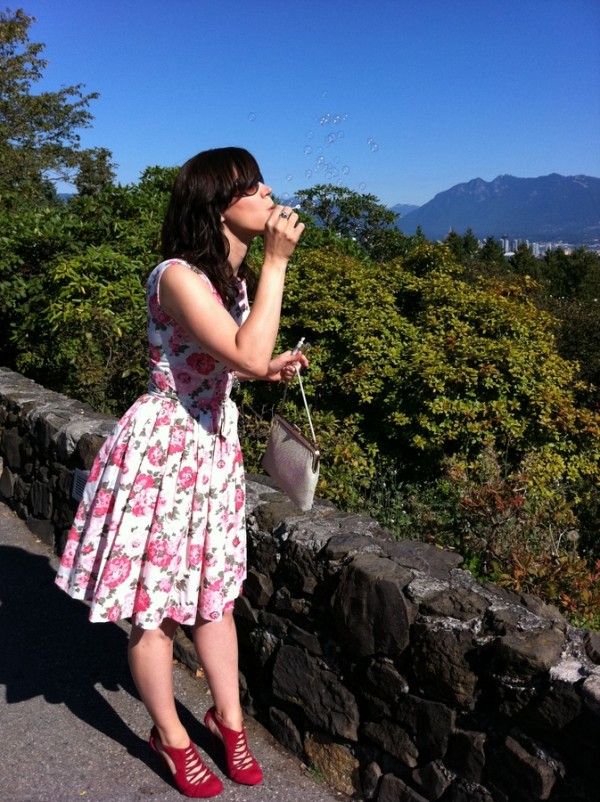 The Picnic Dress, not at a picnic but at a beautiful wedding in Queen Elizabeth Park. Beautiful weather, beautiful ceremony – the kind where you're truly happy for the couple and hope they live happily ever after!
Have you ever made something and saved it for the perfect occasion? Isn't it nerve-wracking, the first time you try it on again (after several months) and pray that the zipper will do up? I didn't try it on until two days before and breathed a sigh of relief when the zipper reached the top. Remember we talked about sewing out of season on Monday? This is a dress that I made in winter and saved for a special occasion, knowing I'd be so happy when the time came to wear it and I wasn't stressing about making something new last-minute.
Back with a hopefully more substantial blog post tomorrow!