When you think blank canvas, you probably don't picture it being orange, do you?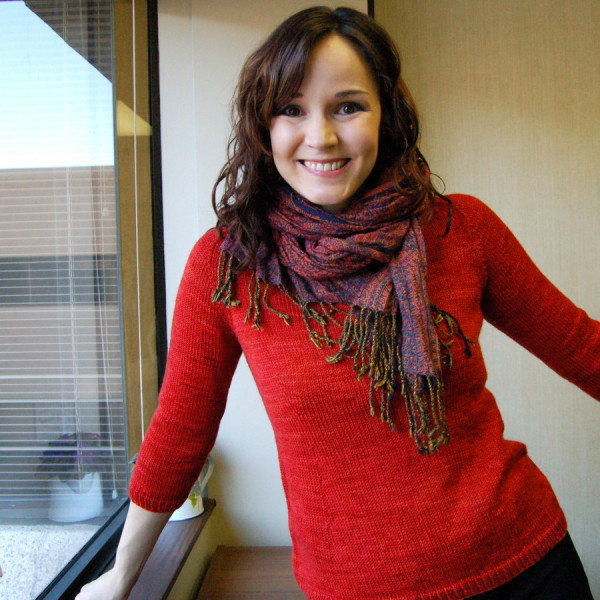 Actually, the colour is Paprika. So it's not exactly orange! Definitely more vibrant that you might picture a Blank Canvas to be.
The pattern is Blank Canvas, by Ysolda Teague, and it's exactly that. A great-fitting basic pullover, that you could customize with extra details if you wanted. Or perhaps you just want a plain, solid pullover like I did. (Ravelry notes here.)
In fact I originally wanted to make it into a v-neck. But chickened out when it got time to decide v-neck or not. So I went for the safe option and kept it a round neck according to the pattern. I actually think that was a good decision, not just because it was easier, but because it's best to make a garment according to the instructions at least once before starting to make modifications.
This sweater is going to be well-loved because it now replaces a previously well-loved cotton purchased sweater!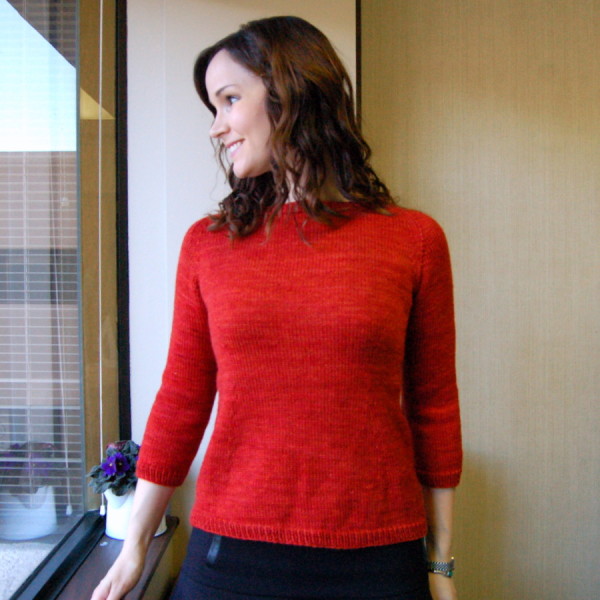 For one, the new one is wool. The old one was cotton and had faded considerably. Also, the colour is way more interesting in the hand-dyed wool version. There are variances within the sweater, even though it looks mostly solid. I love this effect. In some light it's reddish and warm, you can even see tones of pink in there! Yarn is Tanis Fiber Arts Yellow Label, she's Canadian and not only does she have beautiful yarn but I feel good buying from another small business in Canada.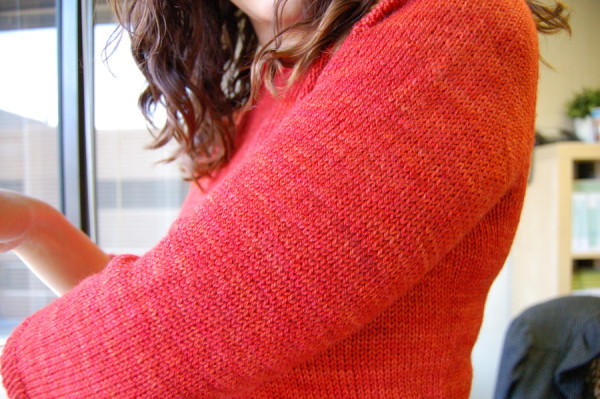 The fit on this is really good. I like how it fits snugly just under the bust, rather than nipping in at the waist. On me my waist is my smallest part, but on many women it's just under the bust. (I know this from watching What Not To Wear, they say this all the time.)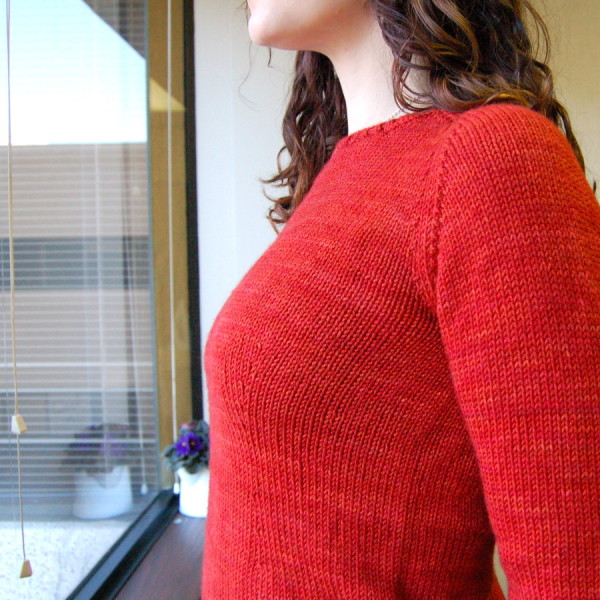 I am wearing my absolute least-padded bra and it still fits well. A padded bra will give way more of an hourglass shape! You can really see the darted shaping and where it hits on the body in the next photo.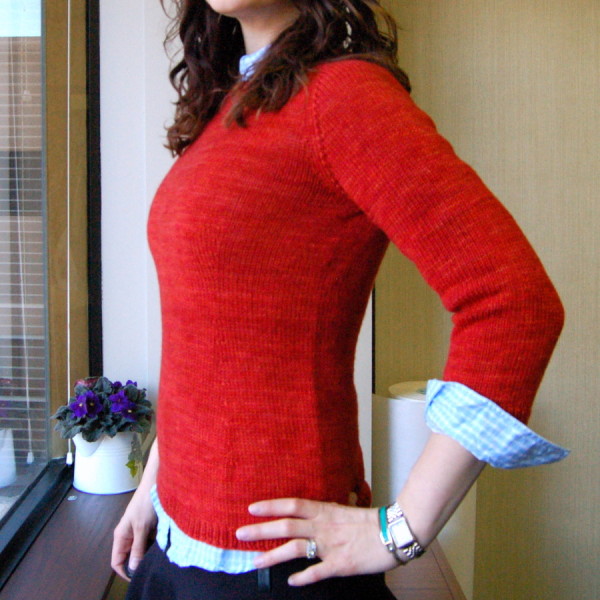 I also modelled it like Ysolda did in the pattern photos, over a buttondown shirt.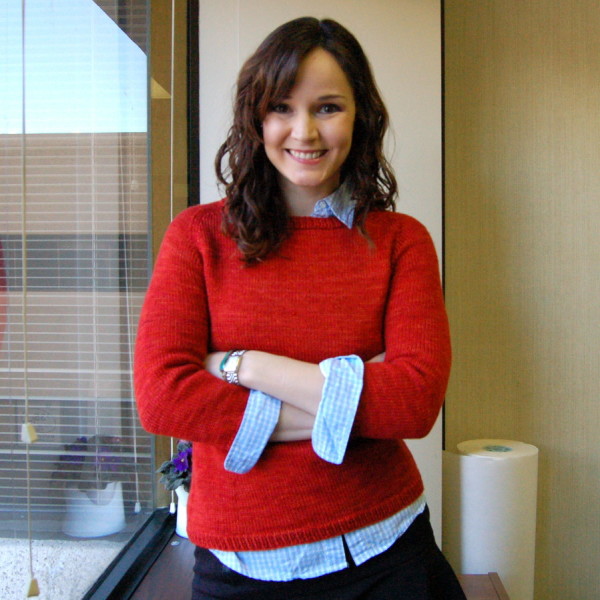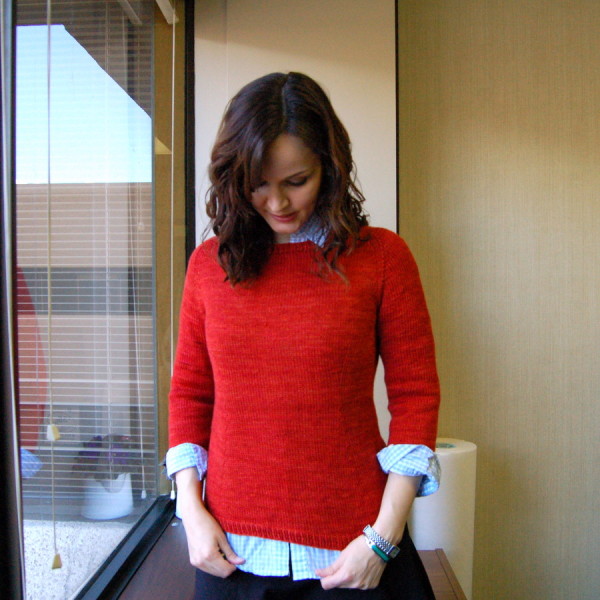 From the back – a little lump due to the layers, but still looks good!

It goes nicely with my leopard-print scarf, too.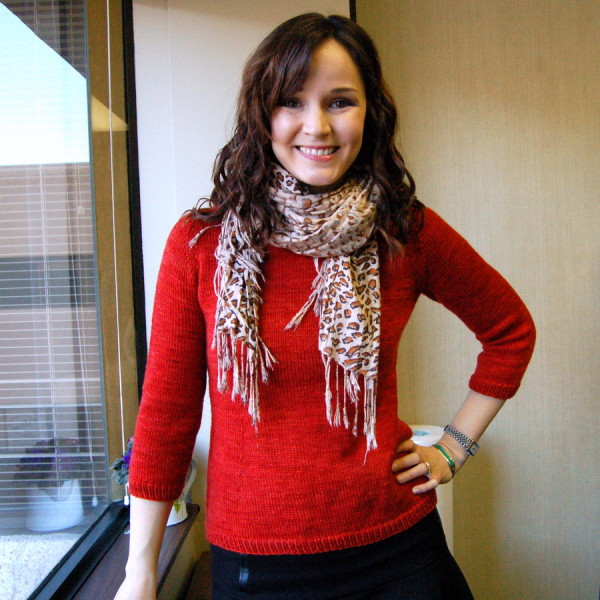 The thing I learned about knitting this project is that tighter isn't always better. I don't know where that thinking comes from, perhaps being a teen in the 90's with tight cropped tops, or being afraid of looking boxy up top, as that's my small part. Boxy on top and big hips generally looks big all around.
Anyways, with knitwear, tighter isn't always better, I'm learning. I made a 34 bust, for about 1-2″ of ease, and it's still nicely fitted to the body without being tight. Fitted doesn't have to mean snug. Too tight means that from the back, you might see bra bands and straps and the waistband of your tights.
In case you're wondering what I'm wearing on the bottom, here's the rest of the outfit. I climbed on the mini bookshelf to try to get all of me in the shot.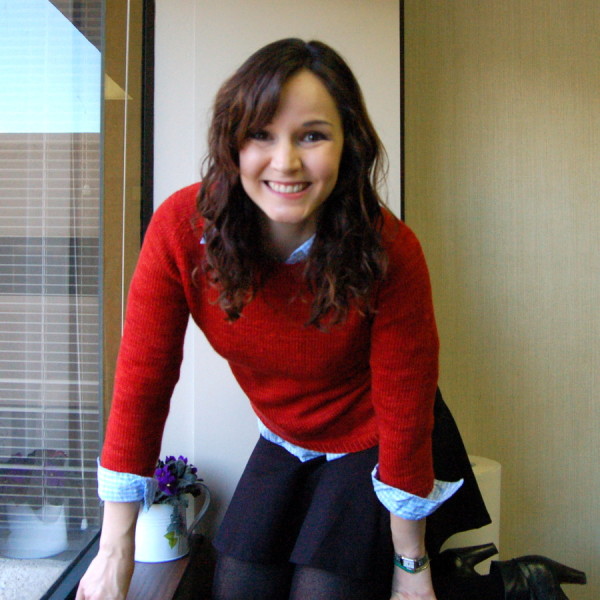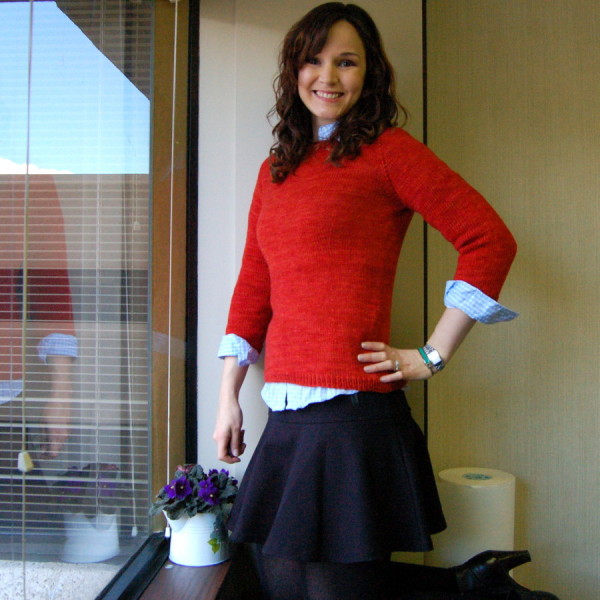 Cute and cycling-friendly! (On my bike, that is, probably not on a sportier bike!) For a longer ride I'd swap out the high-heeled boots for flat boots, but I have no problem riding in heels to work and back. These have grippy bottoms and I often find it easier to stop and start in heels because my feet reach the ground sooner.
Now that I've made one Blank Canvas, I'm ready to take on the challenge of customizing it. Changing it to a V-neck would be something completely new for me, or how about stripes? Have you ever customized or made major modifications to a knitting pattern?