So far, the Instant Dress (McCalls 3660) is living up to its name. There are only four pieces to sew – front bodice, back bodice, and two skirt pieces – so it really will be quick to make.
In order to keep the number of pieces down, the neckline and armholes are bound with bias tape. I didn't take the fabric to the store, and just grabbed navy packaged tape. Navy is navy, right?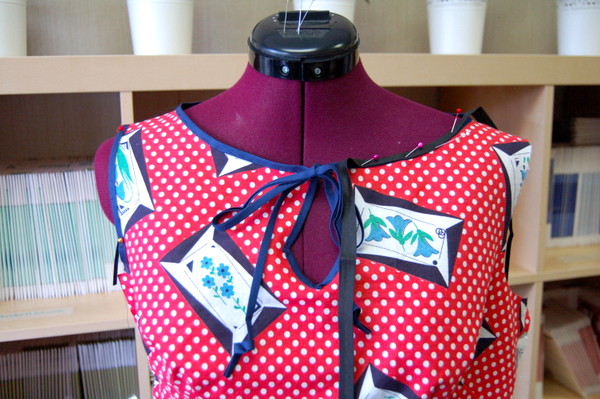 Apparently not! I knew that, but I was hoping that I'd have pretty close-to-matching trim if I went with navy, and that even if it was off a little, it would look all right. But as you can see – it's easier to tell on the right side of the photo – the trim is quite blue-navy, and the playing-card outlines are more of a deep dark navy.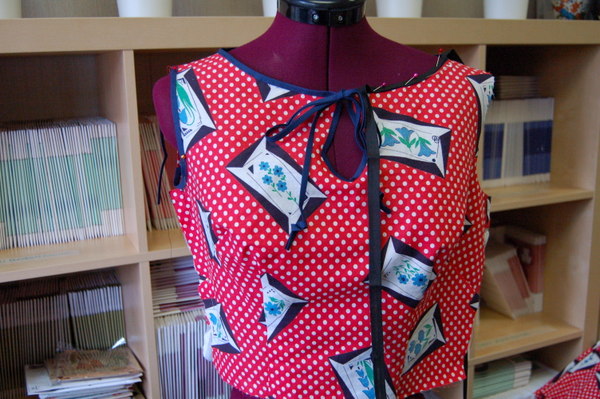 I tried to see if black trim would look better, but it doesn't quite match either.
Here's a close-up of the navy side: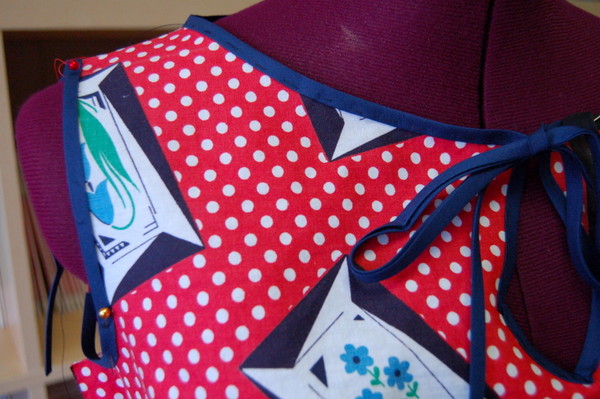 It might not look as bad in the photos, but to me it looks bright and cottony, and a bit cheap. Purchased bias tape can look a bit cheap in general, if used on the right side of the garment, but it's even worse when the colours don't match well!
And here's a close-up of the black side: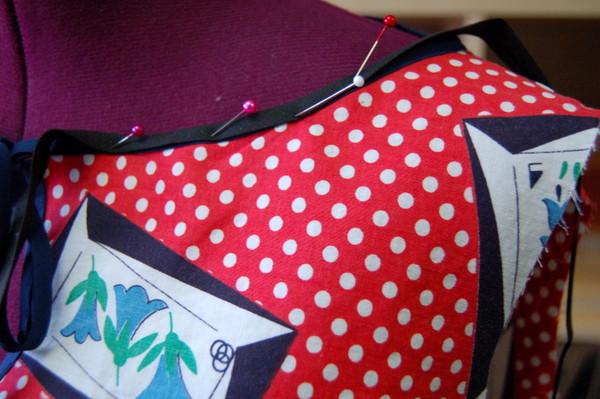 The black looks wrong to me, too! I suppose if there was more black tied into the print then it would be OK, but there isn't any black anywhere.
Why am I talking about this? Well, because it makes a difference to the appeal of the final garment. I'm tempted to go ahead and sew on the blue-navy trim, because I hand-basted it on like the instructions said and that was a considerable time investment. I feel like I've come too far to fix it, you know? Do you ever have that feeling when it comes to fixing your work – it's almost but not quite perfect and you just want to keep going to get closer to the finished garment?
But I am taking the advice I would give someone else, and removing the trim that's not quite the right colour match. On a pattern like this, where the bias tape trim is a focal point, it needs to be right. (It needs to be right in my eyes, that is. If this were your project and you liked the black or the blue-navy, go for it!) If I went ahead and finished the dress with the blue-navy trim, I'd be bothered by it each time I went to wear it.
My next step is to check the store one last time for a proper navy. Perhaps there were two options and I picked the wrong one, I can't remember now. If that fails, I'll make my own bias tape.
What would you do if this were your project? Ever get the urge to 'cheat' on parts of your project that you know should be corrected?