Isn't it fantastic when you receive belated birthday presents? My birthday was back in February, but I received my mother's birthday present a couple weeks back… a shopping night at Fabricana, my local fabric store!
Want to see what I got? Of course you do! Fabric purchases are even more delightful when we can all oooh and ahhh over the loveliness. Inspired by the Fall Palette Challenges happening at Colette Patterns, I picked fabrics that coordinated to make a pretty fall mini-wardrobe. I didn't choose a palette, but I started with one fabric that drew me in and built around the first one… this one!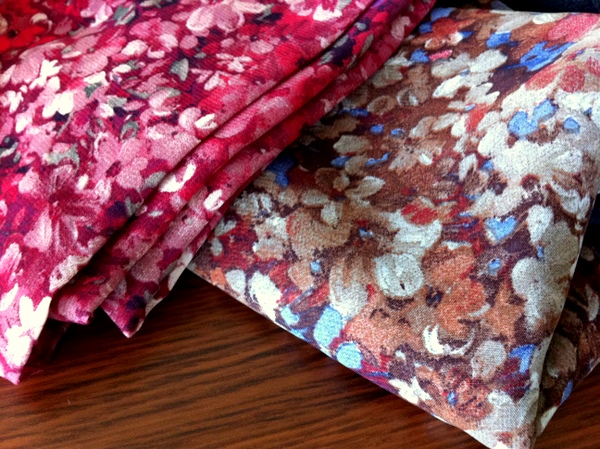 Ok, so it's two fabrics. One fabric, both colourways! I thought the printed polyester floral would be lovely in a ruffled Pendrell blouse. I want more blouses in my wardrobe that look professional but pretty, and this fabric is exactly right. What a beautiful way to wear florals for Fall! They're sheer but not so sheer they need to be underlined.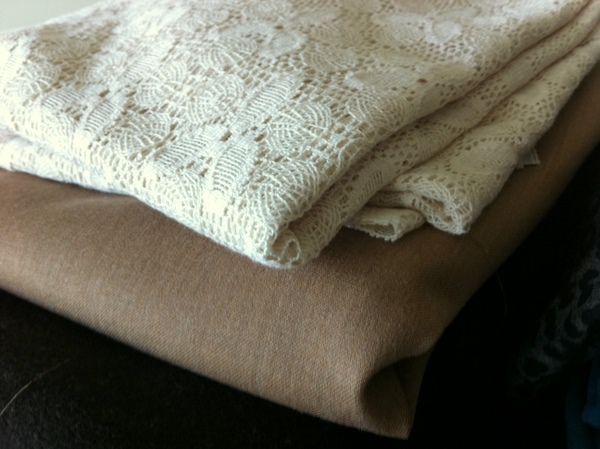 Oooh.. lace! This is also going to be a Pendrell blouse, inspired by my attempt to make a lace version back in February. I couldn't get the stains out of my thrifted tablecloth, and honestly, this cotton lace fabric is going to be much more comfortable to wear. I believe it's 80% cotton 20% nylon, so it's mostly cotton. Love it!
Underneath the lace fabric is stretch caramel wool. How perfect for fall! I've been dreaming of another Beignet skirt ever since I finished my first one, and this fabric will be perfect! I won't line it, so that it still stretches, and I'm going to tweak the fit so it's even better than the first version.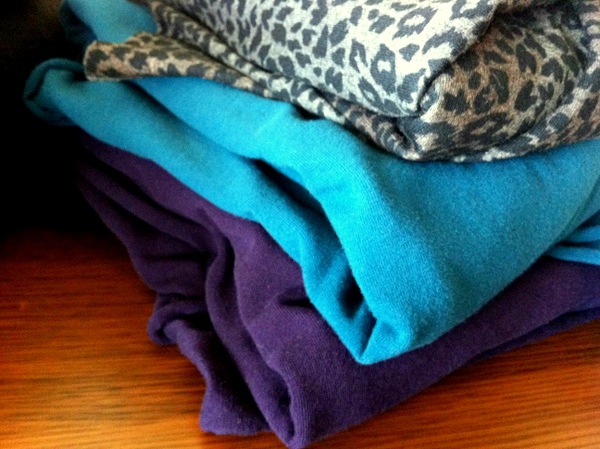 Lovely fall knits! What do you guys think of the animal print one on top? It's a knit of some rayon/poly blend, and I think it's pretty sophisticated to wear with the camel skirt. The other two are cotton knits – 95% cotton, 5% spandex. I know – knit fabrics, right? You're as surprised as I am! Well I havesomething planned for these fabrics, something that makes knit-sewing easy!
Last and certainly not least, wool coating! This is lovely, plush wool coating that's 80% wool and 20% nylon. It's going to be a coat to complete the mini-wardrobe. It looks way better in real life than it does in the photo – soft, warm and wooly!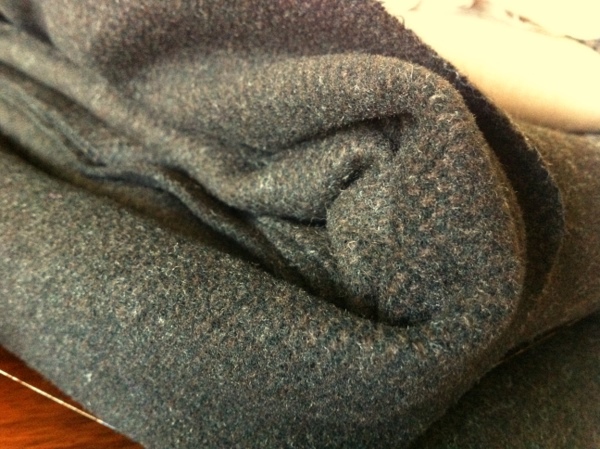 We have three knit tops, three blouses, a coat, and a skirt. Everything goes together! It's brilliant. I wish I always sewed with a wardrobe plan, it certainly makes it easy to know what to wear with each new item. And I love these autumn hues! All of these fabrics for less than it would cost to buy a wool coat.
Hopefully I'll be able to complete all of these projects before fall is over! Ambitious? You bet. That's just how I work, it seems! The wrap coat comes first, that's still in the works! Afterwards I'm most excited to make and wear the caramel wool Beignet skirt.
What do you think? Aren't these lovely? What a great birthday present! Thanks Mom!