Happy Friday, everyone!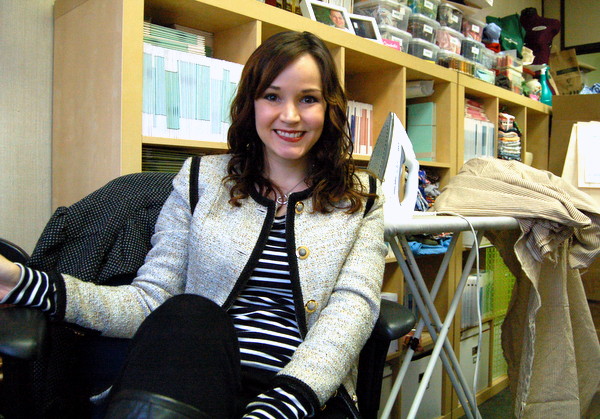 (Oh yeah, it's a mess in here…but isn't my jacket cool? My sister made it. I'm wearing it over a striped Renfrew top. And in the background, I'm finally working on something with this gorgeous striped hemp-cotton I bought in Portland last summer!)

What happened this month:
This month was heavily focused on the new webstore. Even after getting it up and running, there was still a ton to figure out and learn! I attended 4 webinars on the new system in total, learning about these things:
 SEO (Search engine optimization, so basically, making it easy for people to search and find my patterns)
conversions (how to provide the right kind of information so customers have all the information they need to buy, making your store look professional)
holiday promotions
general how-to set up the store.
I really liked the conversion workshop because we learned online customers spend 5 seconds evaluating your store and if it doesn't meet their needs or look legit, they're gone! Five seconds, that's it. I know what they mean, I've visited and immediately left websites that didn't look right to me. (Playing music automatically, wrong kind of website, doesn't look real – those are usually the reasons that I leave.)
Anyways, I love that there are free webinars available for people that need a little extra help getting set up. I'm using Bigcommerce and the support has been fantastic. I've used four different support channels: their live chat help, phone help, email help and the webinars, and all have been responsive and quick to find a solution. (Just in case you were wanting to set up an e-commerce store any time soon!)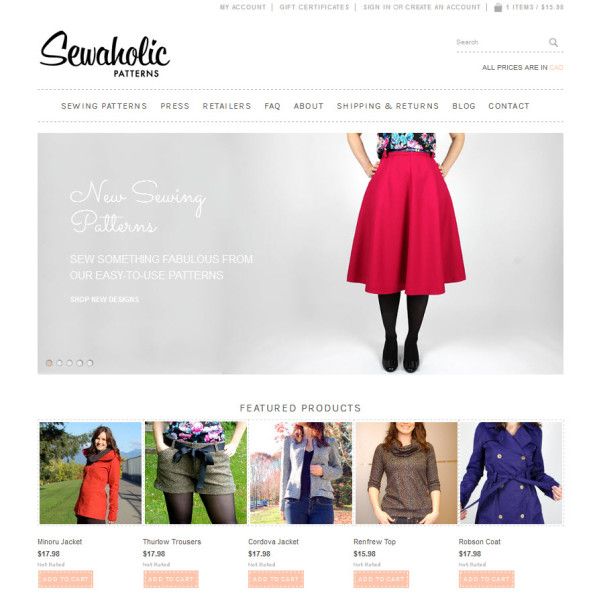 The web store has a SSL certificate as well, a certificate that verifies my online store and protects your security. You can see it at the bottom of the store page. The SSL icon can only appear on verified sites. It will actually disappear if the site isn't verified. (I learned this while testing the store, when I'd test it with a temporary URL, the icon would go away, but when I'd test sewaholicpatterns.com. the icon was there! Neat.)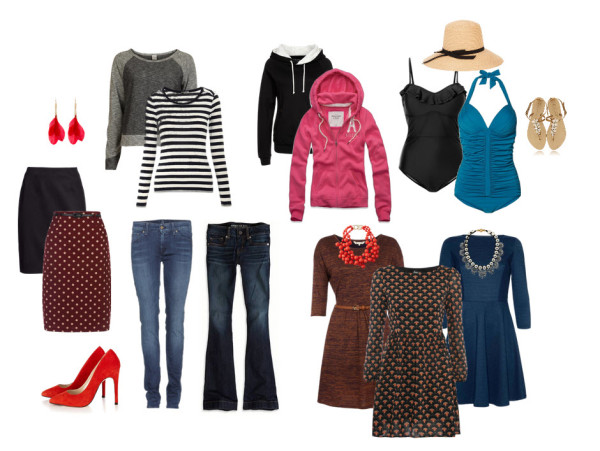 This month I asked what sewing patterns you would like to see. And boy did you deliver! I am overflowing with ideas now. You guys gave me some great design suggestions to think about as well as confirming some of the ideas I already have planned. Caroline and I got together one night, ordered take-out, and planned out a ton of design ideas for the new year. We're both super excited about the new patterns coming up, and so is Corinne! If the three of us love them I bet you will too. 2014 is going to be the best year yet, if we're able to put all of our plans into action!
This week, I turned on product reviews on the Sewaholic Patterns online shop… and my web store didn't explode with spam and insults! Funny how the things we worry about are often all in our heads. Thank you to everyone who took the time to write a review. Already the product pages are going to be way more useful to new shoppers. Your experiences are important and helpful, please do share them!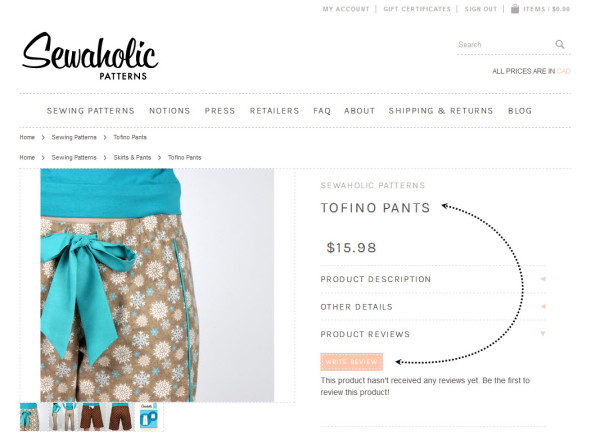 I knit a sweater! And matching mitts and a beret. I turned them inside out as well to show you what happens when you knit with multiple colours, and many of you shared your tips on colourwork knitting.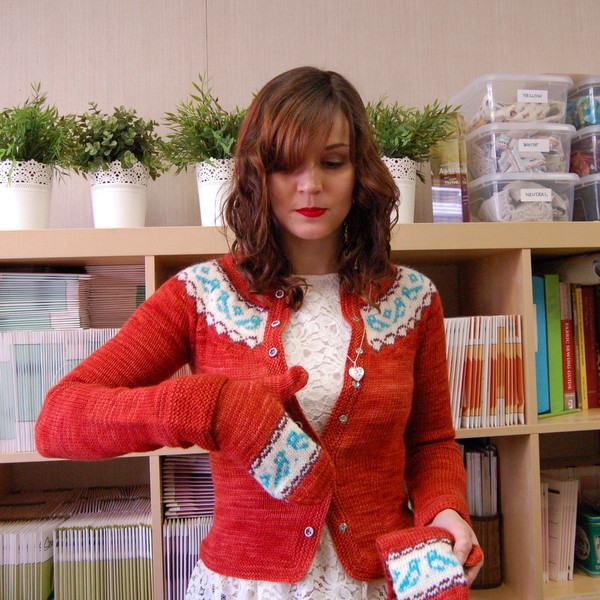 I have actually knit a LOT since, which is great, because it's really cold out. Cold for Vancouver, that is, I'm still riding my bike but my toes freeze if I don't wear wool socks. And my chin always freezes. What a strange body part to worry about – how do you keep a chin warm? My solution is to wear the biggest scarf I can and wrap up my lower face, or wear a snug-fitting cowl and tuck my chin into the loop.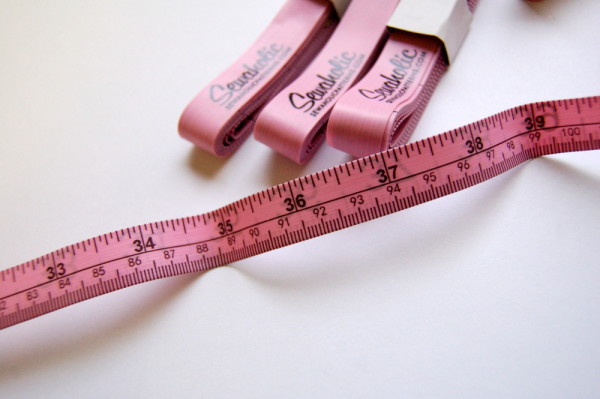 Tape measures! These are super cute. I'm pumped that you guys like them, too! I've had a pink tape measure since college but there's a cut in it, and it's faded, yet I still hang on to it because it's pink and different. Plus pink goes well with my branding, my business cards are pink. And I've always wanted to have notions with the Sewaholic logo on them, this is an excellent start!
Gift guide. Because we who sew usually have an abundance of sewing supplies on hand, so our loved ones might not know what to get us. Or, we have a hard time coming up with things we might want, so here's a list of ideas! A couple of people requested that we post a list of gift ideas for people who sew, so here it is! Things that Caroline and I suggest for the sewing people in your life.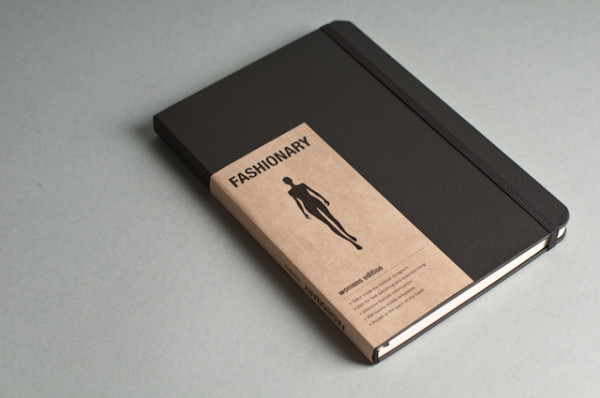 I have this Fashionary and it's awesome! Great for keeping your garments people-shaped, because there are faint outlines of bodies on each page. Even in school I tended to draw my women short and squat, this will keep them looking like fashion illustrations. (Which is a topic for another day, why are fashion illustrations so long and stretched when most of us aren't shaped like that… but anyways, it's a great little sketchbook!)
And last but not least, Gwen kindly offered another giveaway for her popular 'How Much Fabric?' reference cards. Giveaway closes today, get your name in the hat quickly!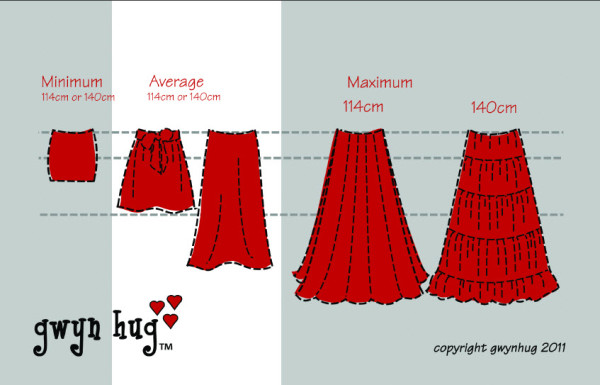 Top selling pattern item this past month:
The tape measure! Awesome. My #1 selling item this month was the new pink Sewaholic tape measure. Second was the Renfrew top, then the Minoru Jacket.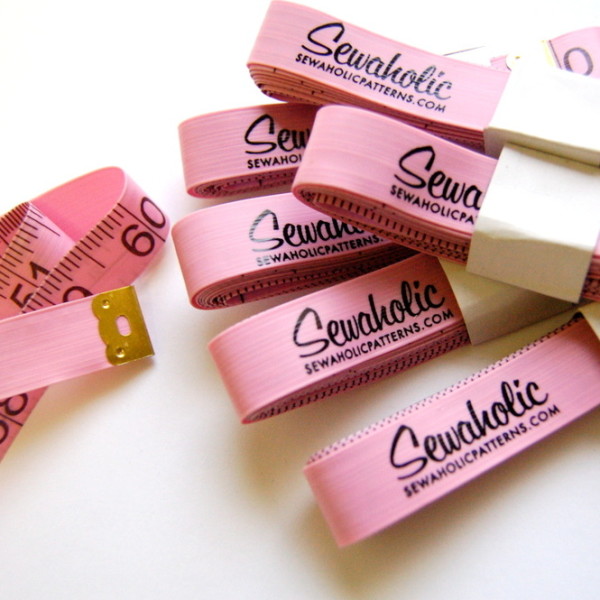 Report on last month's challenges
Last month, I mentioned that I wanted to spend more time SEWING and DESIGNING, and I'm working on that. I find it hard to let go, I feel really good about the business I've built and the wonderful people that buy my patterns. I don't want to do anything risky that could ruin that. Yet risks have to happen in order to grow. And I do want to grow, because I have so many cool ideas! Business ideas, as well as project ideas. Sometimes I post a project and you comment 'it's so neat to see your personal projects!' And then I think 'aww, I wish I had more time just to make stuff!' The ideas in my head far outweigh the number of personal projects I complete, for sure!
Anyways, the important part is, I'm recognizing that things are growing beyond the capacity of one person (and part-time Caroline) to handle. Stay tuned, because big and excellent things are happening. I will achieve my goal of freeing up my time in order to get back to sewing, designing, and experimenting!
Challenges
This has been a month of excitement and momentum. It's a really enjoyable time in my business. I'm really loving everything right now! And just like the low points, I'm sure this high point will dip into a valley eventually. So I'm making the most of my energy while I'm motivated! Lots of work, lots of sketching out new ideas, lots of planning for the new year, lots of setting up good systems so the business runs efficiently while I'm busy developing new patterns. I've been working late a lot, but instead of feeling like the work drags on into the evenings, I feel like I'm riding on a wave of excitement and energy and I don't want to go, I'm not done yet when the day is supposed to end. There's a good vibe in my office right now and I'm taking full advantage of that and going hard!
Ok, so it's been a month of fun challenges, rather than struggling with challenges. Really my biggest challenge is staying focused, deciding which of the hundred things I want to do is the most important to do right now, and seeing ideas through to completion. It's really easy to come up with new ideas that I think are awesome. It's harder to take that idea, turn it into a real thing, and keep on going all the way through the creation process when the most fun part is starting another new thing.
Question for you guys, do you like reading these Behind the Scenes recap posts? Would you like to see these these posts continue in the new year?
Like this? Read more Behind the Scenes posts!