Five months into the year, and things are going excellently for Sewaholic Patterns! (Which is me, but I do tend to think of my business as its own entity. Both the business and I are doing well!)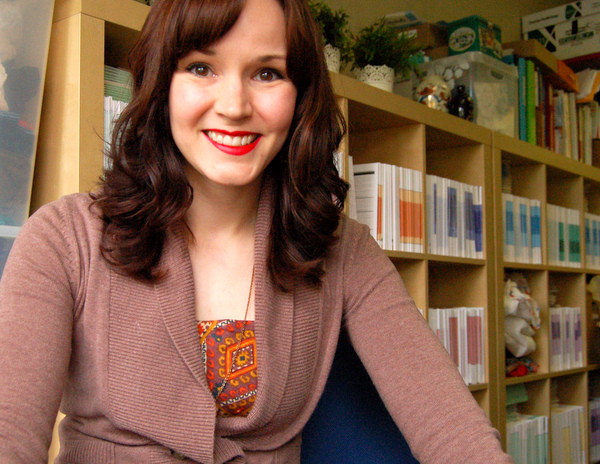 I have taken your advice and kept up with the red lipstick! I have to say, it does make me feel pretty.

What happened this month:
Launch of a new pattern! Here's something you can wear every day and feel comfortable around the house, while still feeling put-together. I wanted to make a cute pair of PJ pants with modern details, such as the faux fly feature and the contrast piping.
It's easy for pyjamas (pajamas? whichever you prefer!) to look sloppy and saggy, and even though they're comfortable we still want to look a little bit pulled-together, just in case. These are cute enough to answer the door in when the Fedex or pizza delivery person knocks! Make a matching Renfrew top and you'll have a cosy outfit that's perfect for movie night at home.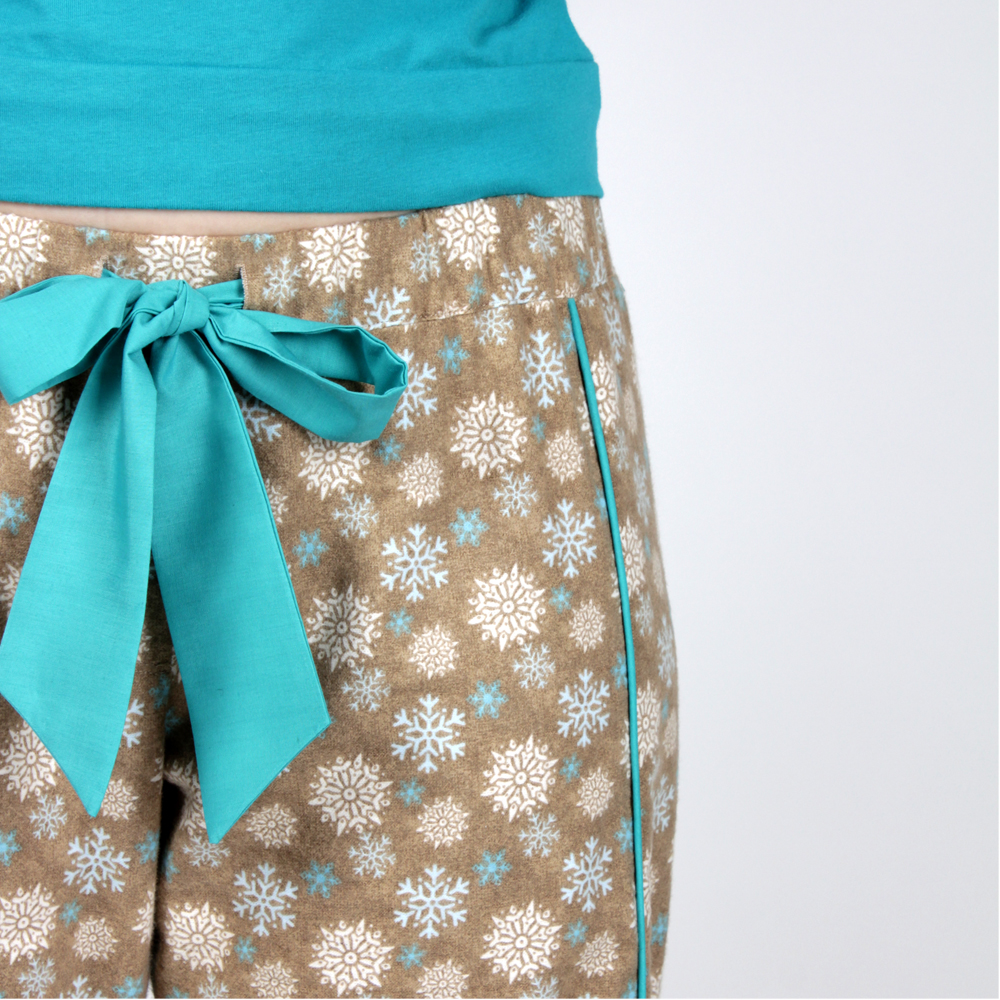 You may also notice that the lines in this pattern are thicker and the lettering is thicker as well. The printer has problems printing very thin text, so I've changed it for the future. I hope this also makes it easier for you to work with the pattern pieces! These are things I didn't think of when I did the very first pattern, and it took a few glitches to realize what the problem was and how to make it better. Now we've made it better!
Speaking of this pattern, Karen from Didyoumakethat is hosting a Pajama Party! Want to sew up the Tofino Pants along with hundreds of other cool women around the world? Now is the time!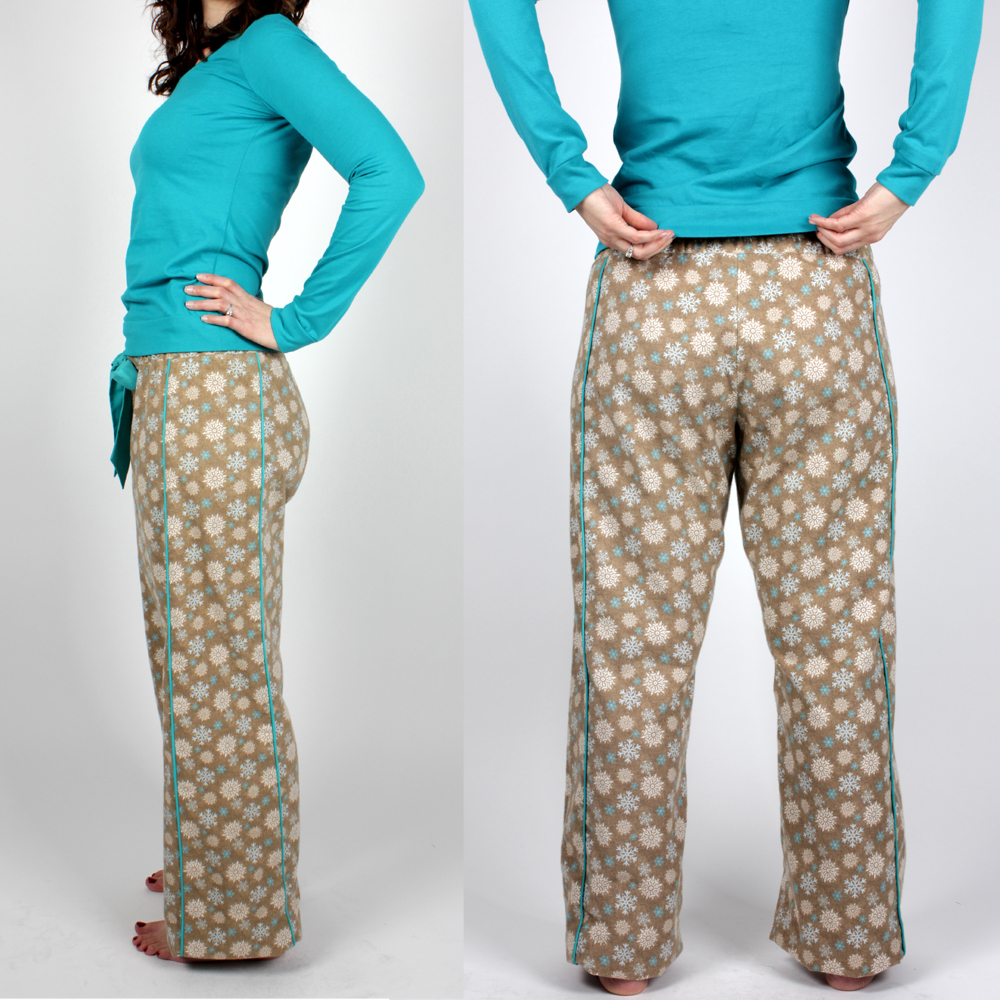 The Tofino Launch went really smoothly, except for one minor drama. I finished stuffing the very last envelope just in time for the big launch. The shelves were loaded in my office all ready for incoming orders, and the extra stock was boxed and ready to take down to the storage room. I'm feeling so good I might just get a treat at the Starbucks downstairs and sew for the rest of the afternoon! I load up the boxes, take them down to storage… and there's water on the floor of the storage room.
I quickly put down my load, and check to find where the water is coming from. It's dripping from the ceiling, an inch in front of my shelves full of pattern stock. Water is splashing on to my pattern boxes. I start to panic. I reach up to touch the box on the very top shelf.. and the box is soaked and squishy. I go to take it down and as I slide the wet box down from the shelf, a wall of water pours down from the shelf. Total panic! I climbed up to feel the wall that was dripping and the drywall was squishy and soft, soaked all the way through. Turns out there was a blocked pipe that burst, good thing I happened to finish packing on a Friday instead of over the weekend!
I ended up having to unload the entire storage room and bring all of my inventory up to a spare office. It took me over two hours to move all of the boxes, and of course I was wearing a dress and heels. In the end only three boxes were significantly damaged, and I was thankful that I went down there before the leak got worse! (Since then I've moved my entire inventory again to a separate secure and dry storage locker. Now that I have 12 patterns that's a lot of boxes to move around!)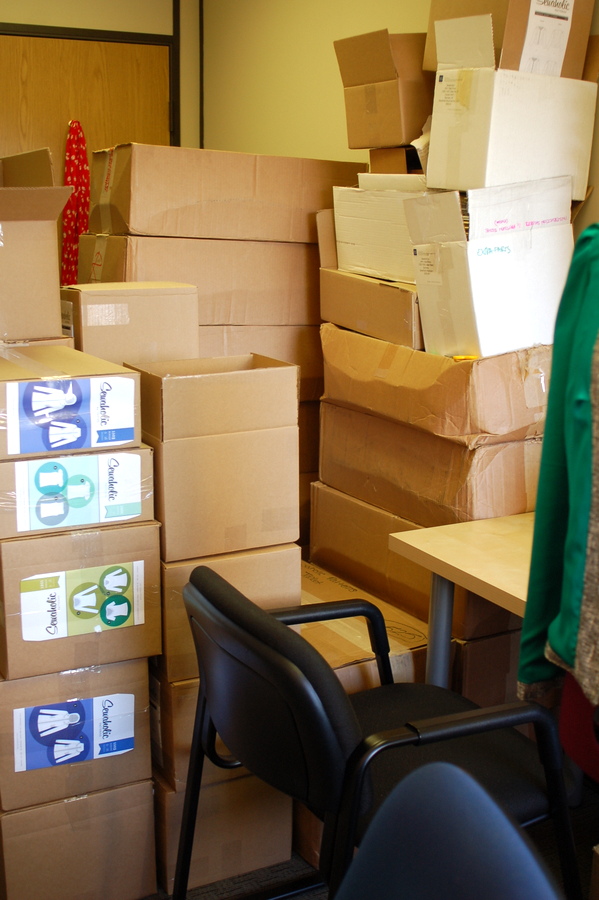 (an idea of what my storage looked like!)
When something like that happens, you have to look at the positive side or it's just too much to think about. What if I hadn't finished packing the envelopes that afternoon? What if the pipe had burst earlier and drenched my entire inventory? What if my stack of boxes on the floor didn't have a plastic box at the bottom, but a cardboard one? You can't predict what kind of disasters are going to happen in business, all you can do is prepare as best as you can and tackle the issues as they arise. (And have insurance. Definitely make sure you have insurance so you can sleep at night!)
Sewaholic Patterns is now an incorporated business! This month I worked on setting everything up to make this happen. There's a bit of work to do, lawyers and accountants to talk to, and even new bank accounts to set up. Once it's all in place we'll go from being Sewaholic Patterns the sole proprietorship to Sewaholic Patterns, Inc. Pretty cool, eh?
What this means is that the business and I are officially separate entities. It gets taxed and I get taxed, but at different rates. I could sell shares, and take investments. (Perfect for when I make my appearance on Dragon's Den! No, that isn't actually happening but I love watching the show and secretly imagine how I would respond to the same questions being asked about my business.) I am doing this at the advice of my accountant so I know it's the right time. This will mean more paperwork for me, but a stronger business structure that looks more legit to the outside world.
I made a dress! I'd made this pattern before, in 2010, but it was wearing out so I wanted a new one. The pattern is McCalls 7743, a vintage pattern from 1965, and the fabric is Nani Iro double-gauze that I bought at Spool of Thread in Vancouver.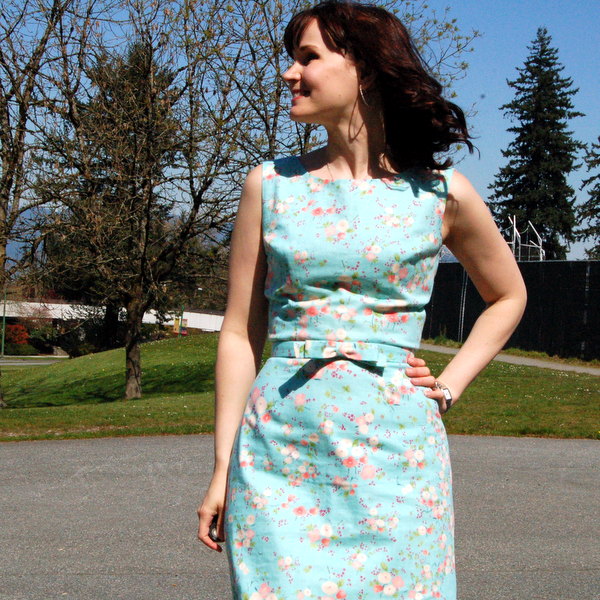 I made a few changes for round two, but there are still things I will tweak for round three! That's the beauty of making the same pattern multiple times. You can change it just a little each time to get it perfect for you.
We looked inside two vintage dresses, a black eyelet shirtdress and a red lace wiggle dress. Many of you admitted to always looking inside garments, whether vintage, second-hand or brand new! You've asked to see what the dresses look like on me, so I am planning to dress up and take photos to show off the dresses properly.
Top selling pattern in May 2013
The Tofino Pants! Very exciting to see the new pattern in the top spot. This new pattern is flying off the shelves! I would imagine that's because it's comfortable and easy, and just about everyone can find room in their closet for a cosy pair of lounge pants. Second place goes to the Cambie Dress and third to the Renfrew Top.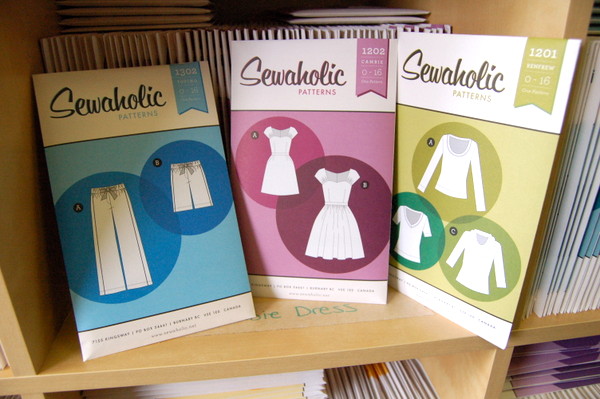 Report on last month's challenges
I really appreciated all of the comments about growing this business after last month's recap post. It certainly isn't an easy decision, figuring out how to handle growth smartly. I am thinking of the future, planning what I want it to look like, and deciding what things need to happen to get me there. The more sales, the easier it is to make decisions relating to money! I will say that every big decision I've made so far has worked out well, specifically moving into an office from my home, then later upgrading to a larger office. I haven't regretted either choice and as soon as the decisions were made, I never looked back. So I'll get to that point with outsourcing and hiring too, I'm sure!
Here is what I have already planned to do:
I am outsourcing my bookkeeping, because I am terrible about keeping up-to-date. I like looking at the numbers and I like knowing if I made money last month, but I was running about four months behind. (I did January and that's it.) In the office I work in, there's accountants and bookkeepers right here in the same office! Right across the hall even. Yesterday the accountant came in and did my books on my computer while I worked on other things, and I am now all caught up! That's way faster than if it was left to me to do. Not only am I much slower at entering things into the system, I prioritize other tasks before the bookkeeping and so the books sit and wait. Not anymore!
Caroline and I are going to work on some special projects together, so you may start to see appearances from her on the blog! She's come in to help on the weekends and it's been such a relief to have her assistance. During our weekend workdays, we came up with several ideas to try. I hope you guys like what we come up with!
There are a couple other things I'm working on but haven't finalized yet, once there is more to say I will be sure to talk about it!
The thing that I need to keep in mind, and I can be a little bad at this, is to balance work and life. The business needs to run so that all people involved are enjoying their work, but equally enjoying life outside of work. Just because I can work twice as many hours, do everything myself, and not have to hire someone, doesn't mean that's a good decision. In fact I'm pretty sure Mr Sewaholic would stop liking me, and my friends would miss me, and work would become the only thing I have going, which is dangerous. Sure, I may think about sewing and making stuff all the time, so much that I have created my dream job in the sewing world, but that can't be the only thing that defines me. I may be a sewaholic, but that's not all I am!
Here comes June, the longest day of the year, and summer in Vancouver! We only get a few months of nice weather so I am going to work on that work-life balance thing and try to enjoy it, as well as get things done. Have a wonderful weekend, everyone!
Like this? Read more Behind the Scenes posts!