Hello, everyone! Time for another monthly wrap-up post. It's now the end of July, we're over half way through the year and here in Vancouver, the weather has been delightfully sunny all month long. All month long! It's so nice to have sunshine, it deserves repeating.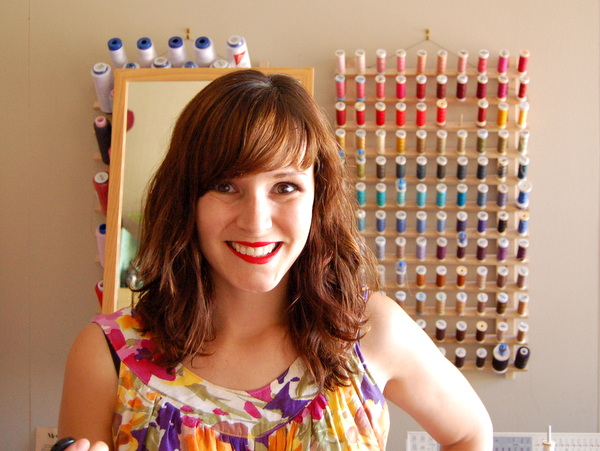 Hi there! I have summer hair, when it's too hot to spend time with a blowdryer and curling iron this is what it does on its own. Just a quick dry of the bangs and we're out the door! I put lipstick on just for you though.

What happened this month:
A new pattern launch! The Saltspring Dress has been incredibly popular since its release last week. I think we're all in a summer state of mind these days – no sleeves, nothing too tight – perfect timing for a loose, flowy dress in a lightweight fabric.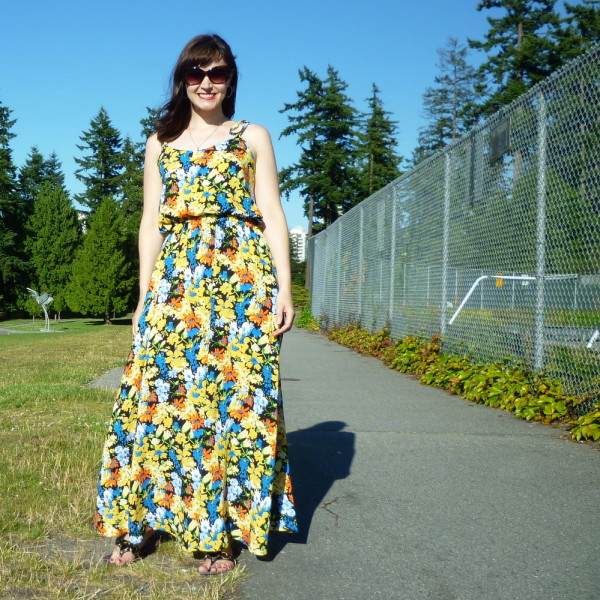 I made a dress – the Instant Dress. Along the way I posted bits about the making of this dress, which is useful to remember what I was thinking at the time and know what I changed, if I were to make the pattern again. And I modelled it with a poofy petticoat! (Great fun.) I enjoyed the comments on petticoats and whether they're for everyday wear or not. Which brought up the question, why are we afraid to wear certain things in public? And some amazingly cool readers who said, I would (and do!) wear petticoats, corsets and whatever I please and no one's ever told me I was too fabulous that day. Love it!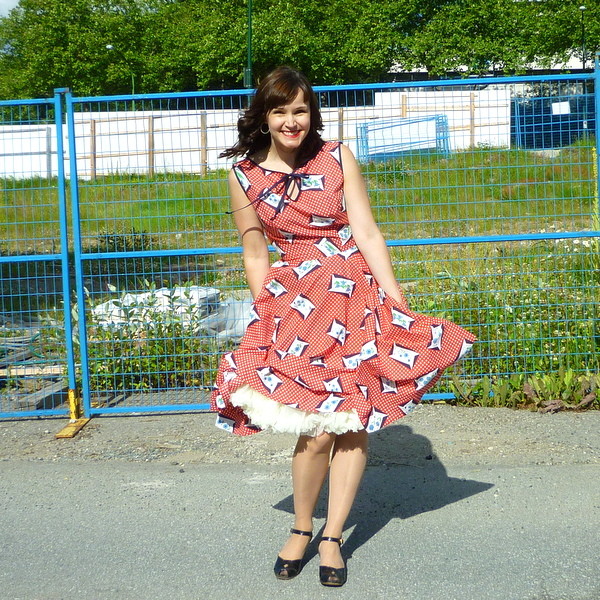 So after that bit of encouragement, I wore a petticoat out in public this month, all day, running errands and everything. And you were right, I got nothing but compliments! So perhaps my perception of what's appropriate for everyday wear is too conservative, and my fears are all in my head. I love that the women who read this blog are smart, confident, and dare to wear what they please! Let's encourage that way of thinking, it's a positive message.
Canada Day Sale! I was at the office working over the weekend, sort of wishing I was outside enjoying the sun, and decided since I was at the computer anyways we should celebrate the holiday with a sale. It was a last-minute decision and a successful one, with lots of orders going out to happy buyers. So many in fact that I ran out of envelopes and ended up using some off-size ones to get the orders out the door! Thanks to everyone who placed an order in the sale!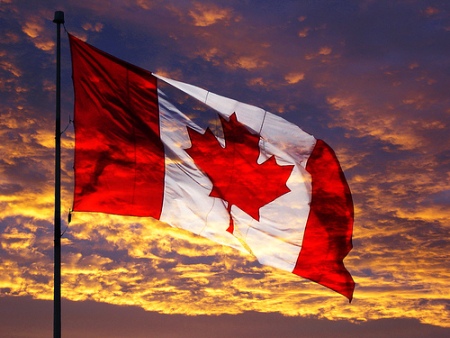 New retailers, including Sew Different in the UK; Santa Lucia Patterns in Berlin, Germany; Owl & Drum in Tulsa, Oklahoma; Schnitterling in Germany as well, and a retailer in South Africa, Stitch. So exciting to see Sewaholic Patterns making their way around the globe! This makes it easier and quicker for you guys to find patterns locally, or at least closer to home. Again, here is the complete list of retailers for your reference. (One day I'll figure out how to make a neat map thing on that page instead of scrolling down a long list!)
We announced the upcoming Saltspring Sew-Along! It's been a while since we had a sewalong on the blog, and I'm pumped that we're doing one again. There's only so much space in the pattern instructions, so it's nice to be able to write as much as we like, taking up as much blog space as we like, posting as many pictures as we like. When you're printing anything, space is limited, but not online!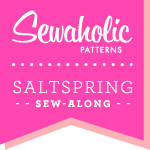 Caroline's going to be the leader of the Saltspring Sew-Along, and you're in good hands. I'm super excited to be able to have a sew-along for this pattern, and even more excited to see what you guys make!
Do you have a sewing group? Reading all of your comments about your sewing meetup groups, sewing guilds and get-togethers made me want my own group, too! I tend to be a bit reserved, even though I might seem loud and high-energy online, I'm not one to get out and organize events. But I do love to chat about sewing! (I'm totally that person in the fabric store who's chatting with the other shoppers about what they're buying, or giving suggestions, or talking about the things we've made and are wearing.) Perhaps one day I'll join or start my own group!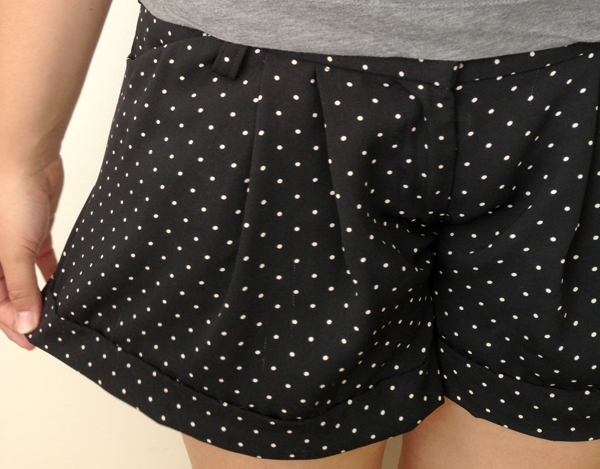 Caroline made a cute pair of Thurlow Shorts in the dot print I have! Love the pleats. I'm really happy to have Caroline contributing because like some of you mentioned, we have different styles. Which makes for a more interesting blog as it's not just me and my likes & dislikes. I love how her shorts turned out, but I wouldn't have come up with the idea! We have the same fabric, but I'm planning to make a Minoru Jacket with mine and even that is out of my usual comfort zone. (Normally a fabric like that would be sewn into a dress.)
The Super Online Sewing Match is on! Have you been following along? The part that features one of my patterns is still to come, so stay tuned!
Top selling pattern in June 2013
Saltspring, Cambie, Renfrew. It's dress season! And it's always tee shirt season. Note to self, design more dresses and knit shirts.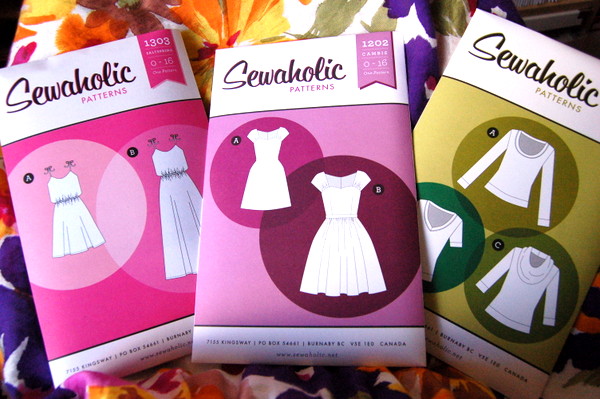 Report on last month's challenges
I didn't list any specific challenges from last month, except for a long ramble about how a business is always a work in progress. It's still true this month! I am working just as hard, but I am keeping my mind in a positive space. It makes the work more enjoyable when you remind yourself, you want to do this, right? Right!
Challenges
I'm starting to think I will always be faced with the same challenges: trying not to work ALL the time while still feeling happy with my work output, deciding how to manage the growth of this business, and giving myself time to be creative and not just an order packing machine.
This summer has been one of the most inspiring times in my business. I'm so ready to get into designing and making and sewing and experimenting, it's hard not to think about it all the time! It's the busiest it's ever been, and yet it's the most fun, as well. (Maybe I'm in a exceptionally good mood as I write this, but I think it's true. I just want to create stuff!)
My head is in a good space these days, and I feel like I'm handling all of the obstacles that arise with grace and style. That's about all you can ask for, right? To handle your affairs with a quiet calmness, to enjoy what you're working on, to feel like what you're doing matters to someone. Thanks to everyone who reads, comments and buys patterns. I'm honoured that what I do matters to you.
Like this? Read more Behind the Scenes posts!