Hello, everyone! February's ending and we're getting closer to Spring. (Even though it snowed this week and it felt like December all over again!) It's been such a great month, and a really exciting week this past week, with the sale, and the new pattern launch, and the new pattern preview. I love when there's a lot of things happening around here!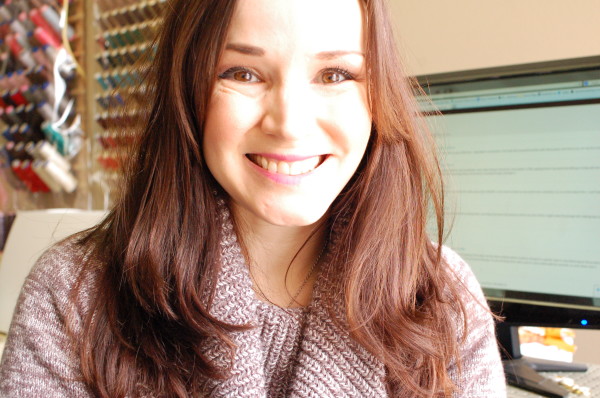 Not the greatest shot of me, but a true look inside the window here!

If you're wondering why it looks so bright in this photo, it's because of the snow. This is what was going on outside when I took that photo:
Go figure, I release a floor-sweeping maxi skirt pattern and then it decides to snow! For most of Canada, this would be normal, for us here in Vancouver, we have much milder winters. Ah well. It's melting now, and it's good to have something to look forward to.
What happened this month:
New pattern! The Gabriola Skirt pattern was released this month and it's been incredibly popular so far. Thank you all! I'm so glad you love it.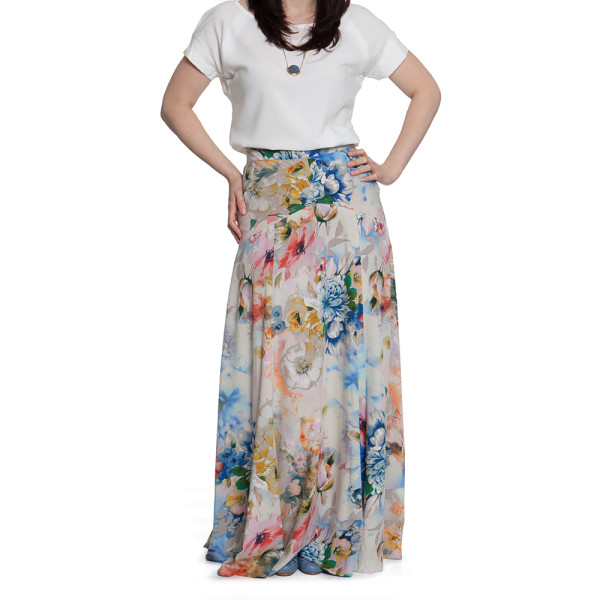 A preview of our second new pattern! The Belcarra Blouse was designed to go with the Gabriola Skirt, so you don't have to worry about what to wear with a maxi skirt.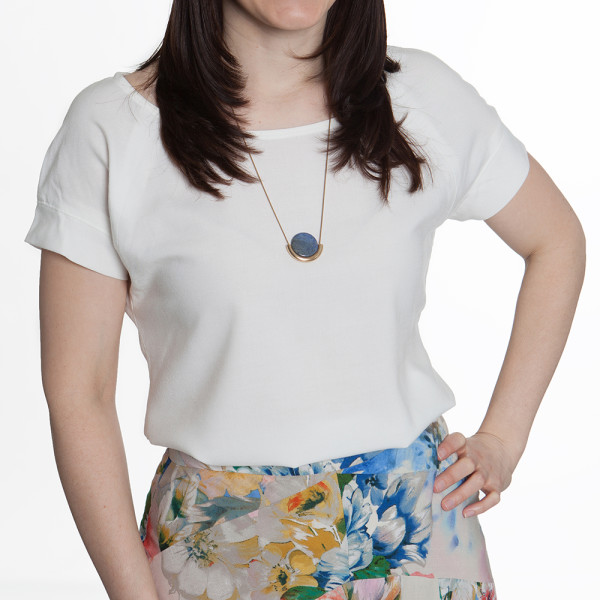 Upcoming sewalong! Caroline will be leading you through the making of the Gabriola Skirt. This is not a hard pattern at all, but it's nice to have someone there to guide you through the sewing steps. You can ask her questions on each post, see step-by-step photos outlining the construction, and get ideas on how to make your skirt perfect for you. Check out her post on maxi skirt styling inspiration – I love the outfits she's created!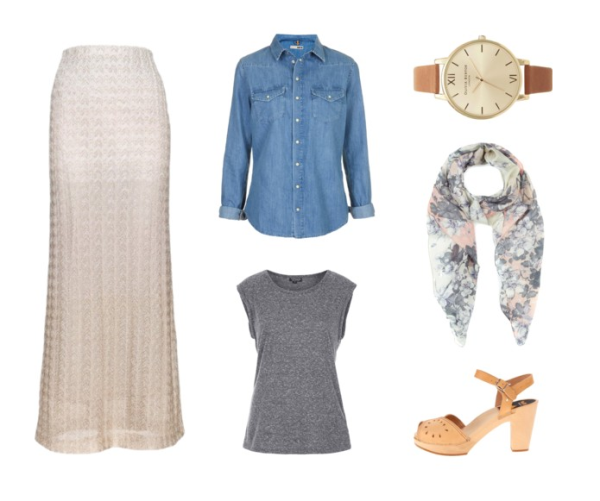 (it was hard to pick out of her outfit ideas, but I think this is my personal favourite!)
Birthday sale! I'm getting older, you get bigger discounts. This sale was a huge success! We sold out of the Cambie Dress very quickly, which was a surprise! I quickly reordered them but it'll be a couple of weeks before they're restocked. I've added a note to the Cambie page to enter your email address if you'd like to be notified when they are back in stock. If you need one urgently, try shopping one of our Sewaholic Patterns retailers. Also, sign up to the Sewaholic Patterns mailing list to stay in the loop and never miss a sale!
On a related note, my web store got a little aggressive about sending out those 'Complete your purchase at Sewaholic Patterns' emails. Sorry for annoying you and clogging up your email boxes! I thought it was acting out due to the volume, but it turns out there is a glitch in the system. The feature is now turned off until the glitch is solved. My apologies for the overzealous automated emails.
Bra-making class! Caroline and I spent a weekend at a bra-making workshop at A Great Notion in Surrey. It was fantastic! Highly recommend the class. I've always wanted to try making bras, and booking a class and setting aside a weekend to sew was a great way to try bra-making. We're going to write about it soon and share photos of our bras!
Climb Socks. Love these socks. They're my all-time favourite hand-knit socks, but yet I 'save' them and wear them last of all. Isn't that silly? I can make them again if they wear out! Anyone else do that, save their favourite items and wear them least of all?
Covered my thread racks, both the regular spools and the serger thread rack. So glad I did this. All the rainbow goodness, no dust from the ceiling vent.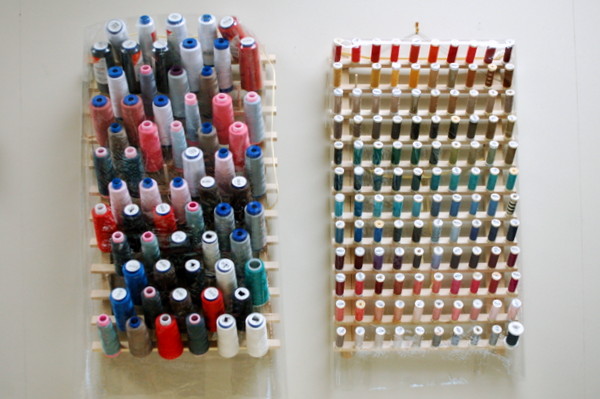 Highlighted some of your projects – Renfrew Dresses, Fiona's coat. There are so many great projects with our sewing patterns popping up all over the place. We love showing off your creations!
Knitting: Antrorse, Beret, Braeburn. I knit things, one last orange sweater, a gorgeous fuzzy heather grey beret, and a casual loose-fit aqua sweater with buttons on the collar. Plus the socks. This hat's becoming my new favourite because it's subtle. I can wear it with a dressier outfit, or indoors, and it still looks cute. (Though I do have to hold it down on my head when I run, or it floats off!)
Bed quilt! This hasn't left our bed since I took these photos. I love it. It's neat to think 'I made that' when I look down at the hand-sewn binding edges. I love quilting in a completely different way than I love sewing and knitting. It's not at all related to my business, it's useful and it's free from all those worries about fit or style or seasonality. Next up I'm going to make a scrap quilt, which is the reason I wanted to learn quilting in the first place.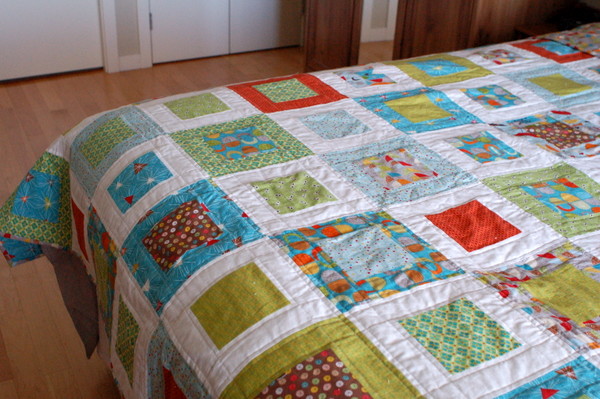 Top selling pattern this past month:
Renfrew, Thurlow, Minoru. That makes up an outfit if you have all three!
Report on last month's challenges
Last month, I declared that I'd focus on being realistic about my expectations of myself. Make the best choice with the information available, and move on. Onwards and upwards! I've done a pretty good job of that, no wait, I have done a great job of that.
I've done well at distancing myself from any issues – a problem may exist or arise, but it doesn't mean it's my fault or a reflection on me. It's still my responsibility to decide the outcome, but I don't need to obsess over the fact that a problem occurred on my watch.
Challenges
Patience! Oh man, I am so impatient. I've been wanting everything in my plans to happen right away!
With this new pattern, I changed so many things in the process. And every change adds more time to the development time. For example, having my patterns packed at a distribution centre meant that I need to allow time for someone else to assemble the patterns. Before if patterns arrived on a Friday, I knew what I'd be doing all weekend – packing patterns! Which was totally fine for the first three years, but it's not sustainable long term.
So I had to factor in more time for someone else to pack them. I had to be understanding of everyone's schedules and time commitments. Communication is key! When you delegate work, you can't always control everything, but the more you prepare the better equipped you'll be to adjust when something inevitably goes wrong.
Upping my level of organization. I'm highly organized because it stresses me out not to be. As I add more steps to the development process of each pattern, my to-do worksheet gets longer and more complicated! If I can suggest anything for starting your own business, it's this, be organized. Have a system. The system will evolve as your business grows, you don't have to define everything at the outset, but it helps to have a record. Don't think that because there's only one person in the business, you'll remember everything. I forget many things! That's where my Excel charts come in.
Taking risks. I'm making another big move next month, if all goes well! I have a hard time taking risks because I'm such a cautious person. (And cheap. Thrifty, if you prefer.) I'm not an extravagant business owner, everything I spend or do is very carefully planned out. So it's hard to make each next big move. But I know in order to grow you have to take smart risks and push yourself farther than you'd normally want to go. So that's what I'm doing. It's going to be an exciting year!
Like this? Click here to read more Behind the Scenes posts!