I'm so glad you guys enjoyed last month's Behind the Scenes post. It's now going to be a regular feature on the blog!
Here's a little bit about what happened here in the month of February.
Hello again! New month, new hairdo.

What happened in February 2013:
I was a guest speaker at Charles Best Secondary in Coquitlam, BC. I'd visited their Home Ec class last year, but came back again this year to speak to a fresh new group of students. I actually spoke to two classes one right after the other, so I did my entire speech twice in a row! Which was pretty great because I remembered a whole bunch of things for round two. Can you believe I talked for three hours straight? (Perhaps that's not too hard to believe. I do talk a lot on the blog, after all!)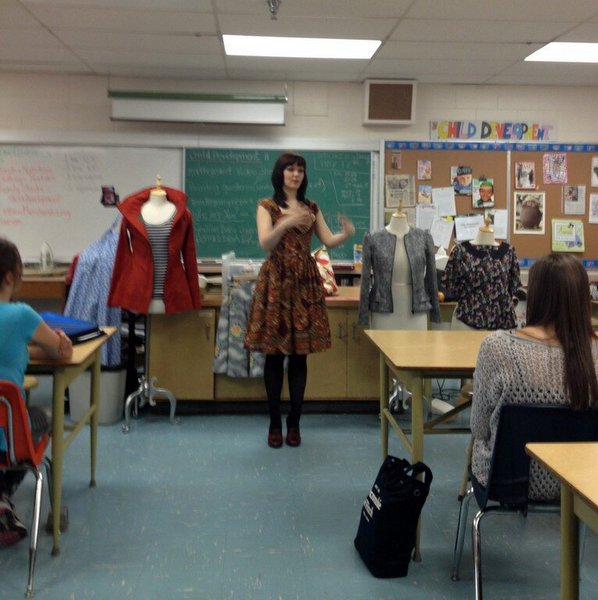 (here is me, talking with my hands! I think I do that the entire time I talk.)
I also spoke at a second high school this month (Archbishop Carney) in Port Coquitlam, which is just a little bit farther away than Coquitlam. I'd never been there before and enjoyed speaking to the home ec students there as well. This group of students was the most prepared, with questions all ready to ask me as soon as I finished my usual talk!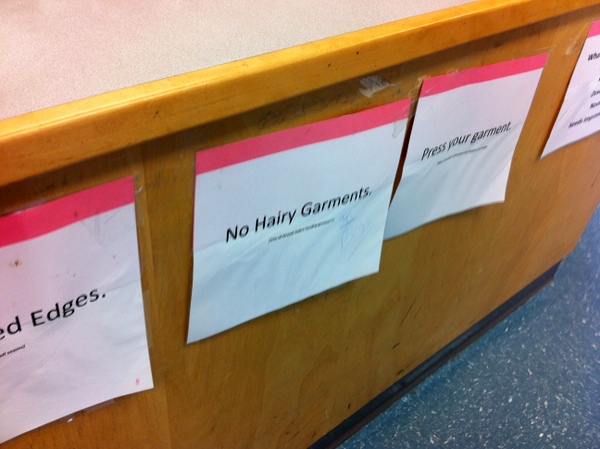 I had to snap this photo from the home ec classroom: "No Hairy Garments!" They're talking about snipping your thread tails and loose ends, but I love it! Gets the point across while making people laugh, too. No hairy garments, you guys.
New retailers added this month: i k a s y r in Finland, Thread in Tuscumbia, Alabama, USA. Always exciting to see new retailers in different countries and US States!
Birthday sale! The birthday sale was a smashing success, with so many patterns going out the door on Monday, I had to make seven trips to the mailroom. Thank you all for celebrating my 31st birthday with me! (Missed the birthday sale? Sign up for the Sewaholic Patterns mailing list here and never miss a sale again!)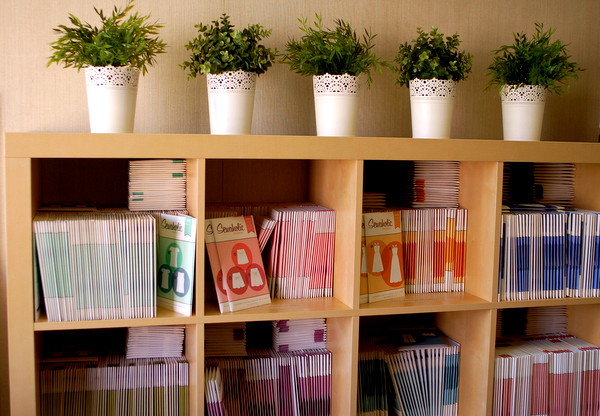 I turned thirty-one, which just seems bizarre because it doesn't seem that long again since I turned thirty. I thought I'd be reflecting on my life and such, thinking about my next thirty years, but nope. It's been go-go-go since then, no time to navel-gaze for me! (Though, I still look young enough to be mistaken for a student at the high schools I visited! That really happened. It's funnier now that I'm 31 than when I was in my early twenties.)
The new pattern I mentioned last month went through pattern testing, then to design, and then out to print! What happens during pattern testing is that a handful of people (15-20) sew up a draft copy of the pattern. It's not the final pattern, but it's pretty close. All of the instructions are written and the diagrams are drawn, fabric layouts are figured out, pattern pieces are nearly ready. Each tester fills out a survey with their feedback on the pattern – did they like it? were there any errors? what would make it better? Then I spend a day or more reading through all of the surveys, and noting down all of the things I'd like to change. The surveys are great fun to read. I get a range of responses from each tester, from brief  – 'loved it!'  – to a multiple-page document outlining all of the suggested changes.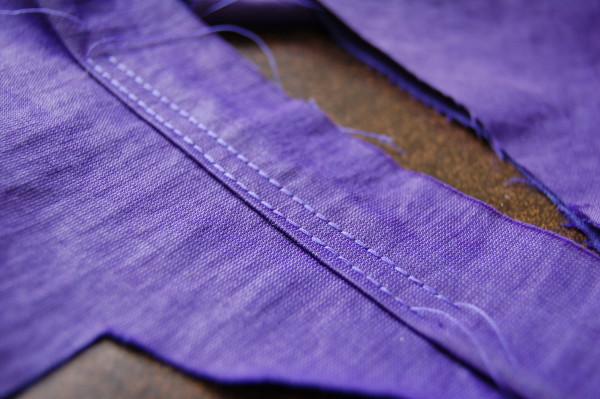 (I know, this is the same vague photo as last month. I don't want to give away the surprise!)
Then I make all the changes, and prepare all of the bits and pieces of the pattern to be put together into the final pattern layout. Then it goes to the printer! Once the printer gets it, they make a proof for me to approve. This is a very important part – I have to review the proof and make sure there aren't any mistakes before printing a whole bunch. I even visit the printers as they're about to print the final copies to make sure the colours are good. All of these things happened this past month, and if all goes well I'll be announcing the new pattern soon!
Remember the PatternReview Top Patterns of 2012 I mentioned last month? Sewaholic Patterns came up 3 times in the Top Ten! Thanks to everyone that took time to post a pattern review. I really appreciate it! Not only is it great to spread the word about my patterns, it's a wonderful way for new sewers to decide whether to give the patterns a try. Check out the full Top 10 list here and see if your Minoru, Cambie or Renfrew was featured!
I've been able to take a bit of time to sew for me. I finished the Hazel Dress and have plans to keep on fitting sewing time into my schedule no matter what! (Even if it's just a little bit here and there. Or a Saturday or two.)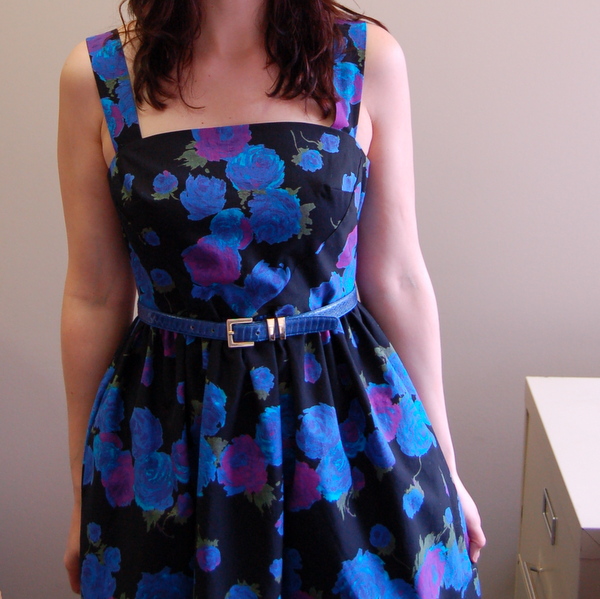 On the blog, we talked about Learning to Knit, which will be perfect next time someone asks me about how I learned! The first part of February was knitting-heavy (Chocolate Cake Sweater, Rubens Hat, Knee Socks) because that's what I've been doing. Talking about knitting on a sewing blog is interesting, because inevitably someone will tell me they wish there was more sewing content. And yet, a blog is a journal of my crafting activities, so it reflects what I've been making and doing. I also wish there was more sewing that I could share!
We also talked about quilting – you guys either love it, or want nothing to do with it! Plenty of helpful tips and ideas on getting started. I also enjoyed the anti-quilting comments – from 'sounds like torture' to flat out 'No.' Love it! No point pretending you like something if there's no attraction for you.
We talked about how much fabric we buy when we don't know what we're going to do with it, in which I said buy three metres and who cares if you have extra? Then I promptly ate my words when Gwen offered a generous giveaway of her useful and well-researched How Much Fabric reference cards. I like to be right, but even I can see the logic of buying closer to the amount you need, for one to reduce waste and reduce the small cuts of fabric in your leftover bin, and also to save money so you can buy more fabric later on! Thanks again, Gwen!
Top selling pattern of February 2013:
The Renfrew Top again! Second place goes to the Thurlow Trousers and third to the Cambie Dress. I'd say that the PatternReview article helped with sales, as did the birthday sale.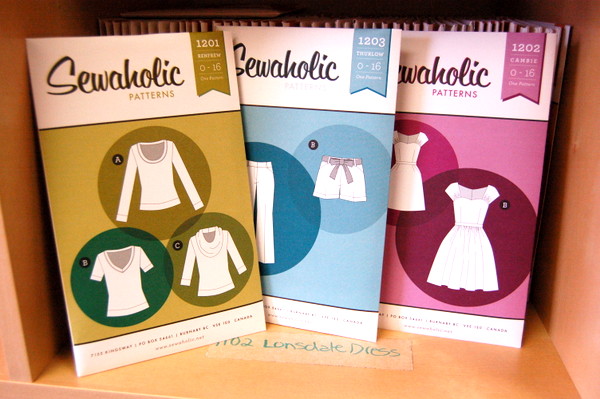 Report on last month's challenges:
I failed on eating lunch away from my desk, but in my defense it's been cold and rainy most days! I'll do better when it's nice enough to sit outside.
My office is much tidier, as you can see! You can see both the floor and the top of my bookcase (mostly) in these photos. Last month, I couldn't have shown you the floor as it was covered with boxes and other clutter.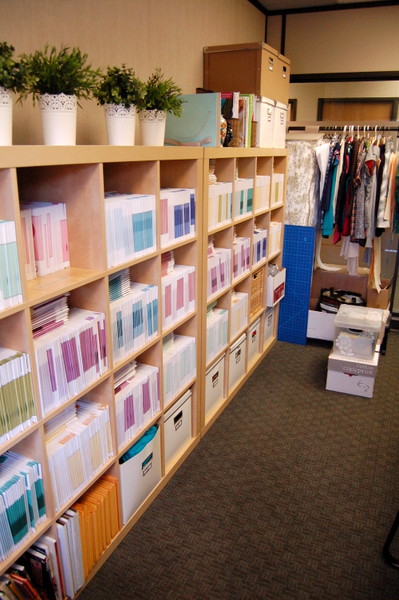 Challenges:
This month, I focused on taking action. My nature is to want everything to be perfect, which can stop me from starting. Even on the smallest things, I hesitate and re-consider my decision several times before proceeding. Some things just aren't that big of a deal, and it's better to act and move on than second-guess myself over and over. I have many projects on the go right now, and sometimes I can get caught up in wondering what to do next. Better to start, on anything, rather than sit there and get overwhelmed.
Here's to a great and productive March! Warmer weather is just around the corner, I am very much looking forward to longer days and less rain – ok, probably not less rain, but warmer rain at least. The days are already getting lighter in the evenings, which I appreciate! What's your month been like?
Like this? Read more Behind the Scenes posts! (Just one for now, but the list will continue to grow!)