Happy Friday, everyone! It's pouring rain as I type this, a sure sign that summer is ending here in Vancouver. Time to get cozy in sweaters, tights and coats, and break out the rubber boots.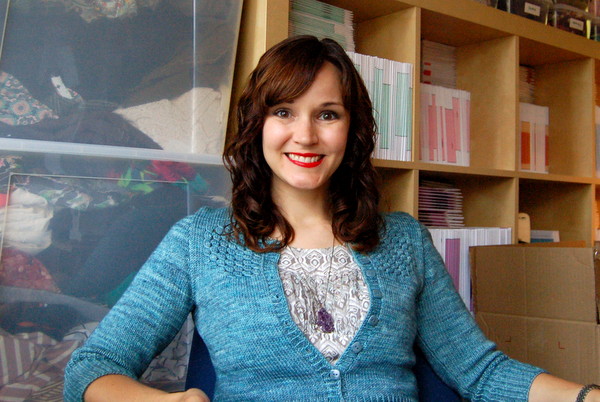 Hello, everyone! Yup, it's nearly sweater weather. Wearing my Happiness Cardigan and Chantilly dress. This neutral-print Chantilly dress is quite versatile!

What happened this month:
Saltspring Sew-along! Caroline has done a fantastic job of leading you guys through the making of the new Saltspring Dress. I love the fabric she picked and can't wait to see the final photos of her dress. And I can't wait to see yours too!
It's reminded me how much useful information we can pack into a sew-along, and all the little tips we can share on the blog. Not to mention the great questions you guys ask that we can address, and have a record of those questions and answers for everyone else out there who may be wondering the same thing! If Caroline is up for it, maybe we can plan more sew-alongs for the future!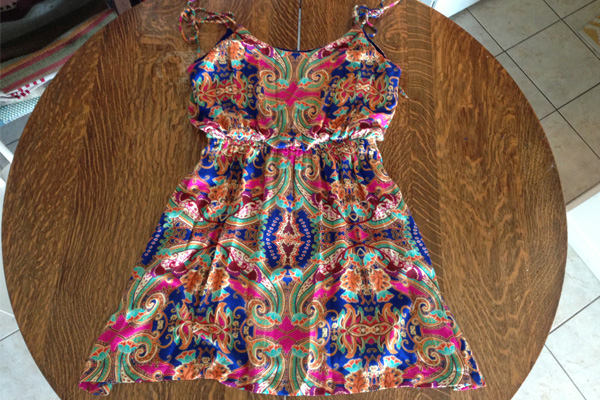 what a gorgeous fabric choice! it would look nice with my royal blue Robson Trench…
Swimsuit! It feels already like a long time ago that I posted my swimsuit-clad self on the internet. And surprisingly, not one negative comment about it! You guys are awesome. It's not like I expected any less from other people who sew and especially you who've also made the suit, but something about posting photos of yourself in a swimsuit makes you think it will bring a flood of drive-by comments, or something.
I guess I should stop thinking so much, right? Less over-thinking, more sewing. Stop obsessing about oh-my thighs and get on with life. Now there's a good lesson for me in general!
Cambie modification. So, so excited to have my pattern chosen for the final challenge of the Super Online Sewing Match at Sew, Mama, Sew! I wrote a rather lengthy tutorial on how to change this pattern from a zippered back to a button front. It's a pretty detail, all those buttons down the front! Like a shirtdress but a very feminine one.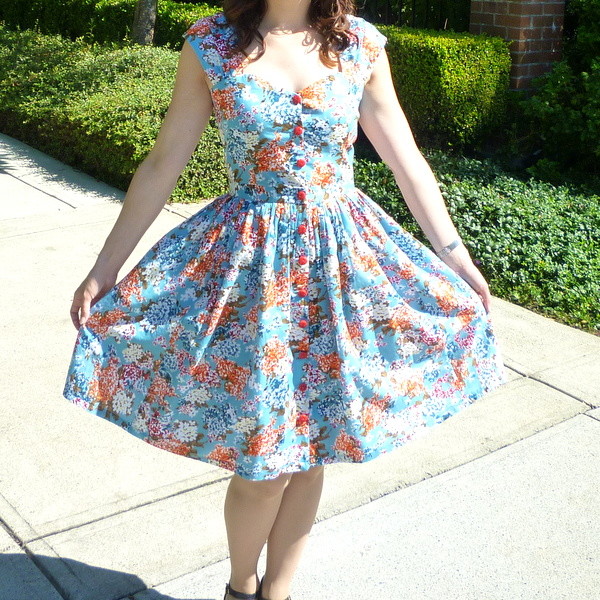 My sewing space. Here is where I work! After reading all of your comments I decided to upgrade my table to a higher height one. I spend too much time here to be uncomfortable! To test the height I propped up my folding table on boxes, and it was so much easier on my body to cut that way.
Shortly after that I bought this table from IKEA – the legs are adjustable so you can raise them up to a comfortable cutting height, and if I ever want it lower again it's possible to shorten the height. They're at the max height (raised up to where the legs say 'stop') and it's so much nicer to work on it now. Plus, the legs are A-shaped, so they take up less space visually. It's really messy in here today so I didn't take a photo but it's this one. I'll get one when it's looking less cluttered in here!
Some of you asked where the fabric is kept… here!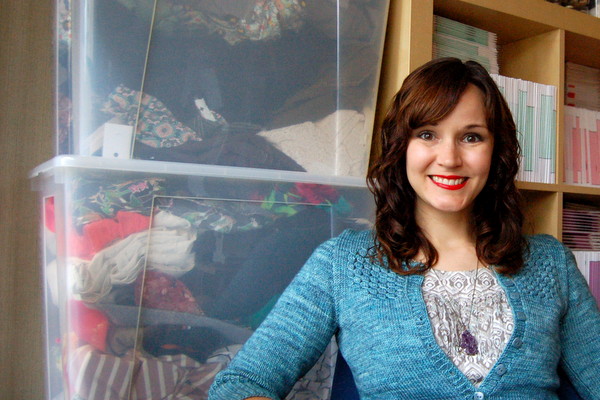 There are bins piled up as tall as I am, behind me in this photo. It's kind of claustrophobic having a mountain of bins to my right, so I think one day I'll put those somewhere else and get more space. It's neat to be able to see through the bin though and remember what's inside.
I also got a 'new' monitor for the computer, not actually purchased but a giveaway from Mr Sewaholic's office, and now I can work on two things at once! So fancy.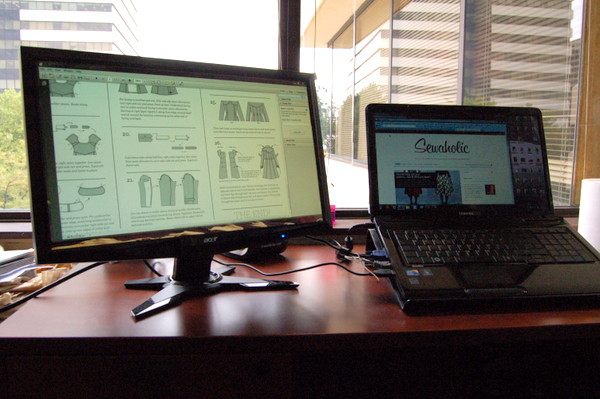 Excellent news – Sewaholic Patterns has its first intern! Meet Corinne.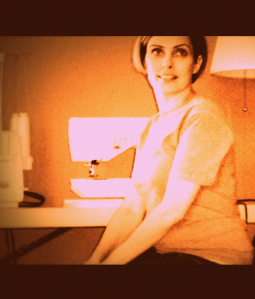 (photo borrowed with permission from her blog's 'About' page)
Just when I'm feeling the weight of the day-to-day tasks on my shoulders, and thinking I should hire a student or some part-time admin-type help, she contacts me and volunteers to be my intern. The timing couldn't have been more perfect! Corinne is planning to take the fashion arts program at VCC and wanted to get some hands-on experience. She's also started a sewing blog - The Sewing Affair – and when she's not sewing or helping me, she does ambulance training – a very high-stress job! I can see how sewing would be an excellent creative outlet after long stressful days. I'm so happy to have her help!
This month, I bought a label printer for address labels! Instant label-making capabilities!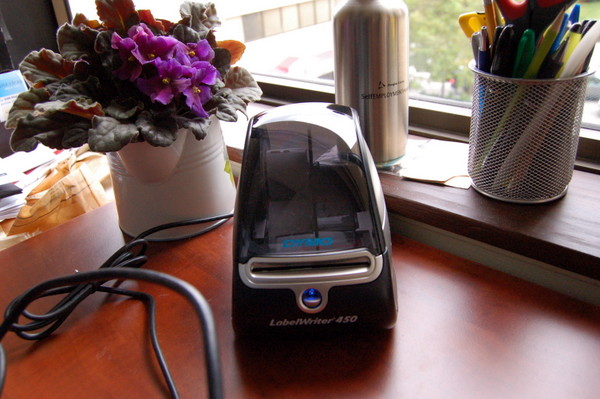 (And I am so pleased with my plant-keeping skills, that African violet has been alive since I moved into the office! Normally I'm a plant-killer so this is a major accomplishment in my world.)
I bet you're wondering what I did before. In my shared office space, there's one big printer that everyone shares, all 40 or so people that work here. I can print regular documents, but it's too challenging to print on sticker paper, as there's a good chance someone else's document could come out on the sticker paper and they'd be pretty annoyed. So, I ask the office team here to print out my labels, once a day. It's worked all right so far, but I try to wait till mid-day to send the label request to capture as many orders as possible, and inevitably right after I get the labels one more order will come in. I like to ship as soon as possible and since I'm in Canada and many of you are in the US, the UK, or even farther, the sooner I ship the sooner you can get to sewing! So this way, I can print labels any time, one at a time, as late or as early as I want. I can print them in the evening and have them all ready for shipping the next morning. It's such a little thing but so far, it's improved my efficiency!
I sure did a lot of little improvements this month. I think part of the motivation was having Corinne in here. It was time to clean up some of the less efficient systems and make it a better place to work. It's not very nice to ask her to help cut over a low, uncomfortable table – so we fixed that! Explaining how we do the labels and order shipping made me think perhaps it was time to streamline the procedure a little. When it was just me, it was less important to fix things up, but having someone else in my little workspace was motivation to make it as efficient and organized as possible.
Top selling pattern in August 2013
Cambie, Saltspring, Renfrew. It's still dress season, although the Cambie took first place this month in sales. (Last month it was Saltspring, Cambie, Renfrew, same three just in a different order.) They sure look nice together!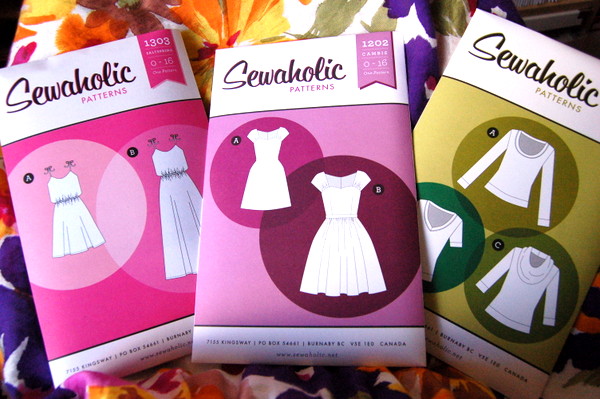 Report on last month's challenges
Last month I thought about trying not to work ALL the time while still feeling like I get stuff done, deciding how to grow the business, and giving myself time to be creative and experiment. I think a lot of this challenge takes place in my head: after all, I'm the only one who is hard on myself, no mean bosses (or perhaps, the meanest one of all – myself!) So I tried to really work when I was at work, and really not think about work when I wasn't at work. It's funny how when you run a business, it can take over your thoughts for most of your waking moments, if you let it.
Challenges
Thea brought up a good point in the comments of last month's behind the scenes post … and this applies to any goal, really. She wrote:
I too love reading the end-of-moth reviews :-) and I'm glad it's going so well for you! I was wondering with your challenges, or rather your challenge to not work all the time, maybe you need to make it more concrete? For example, say, 'I don't want to work more than two Saturdays' or 'I only want to work late three days a week'? I guess you would choose any aim that makes sense to you (being home for dinner would work for me, I'm quite simple!), and then at least it's 'countable', and you can see how well you do. A bit like fun-fridays!
"Become better at sewing' is hard to measure, but 'Sew five new garments this year' or 'Sew my first lined jacket' are easy to measure and probably will give you a greater sense of accomplishment when you get there!
What am I going to do? Well with Corinne's and Caroline's help, I'm getting caught up on a lot of things. So in the spirit of making a concrete goal, here it is: I am going to be home for dinner three times a week. The past four months I have been home for dinner maybe once a week. (And sometimes that dinner is at 11pm.) I made it three because once a week I meet with my knitting group, so that night is out. That means one knit night, one late-night, and the rest of the weekdays I'll be home for dinner. Weekends are more flexible because sometimes I roll in here around noon and work until dark. Overall my goal is to work hard and efficiently when I'm here, then leave the office behind when I go home. It's not the most ground-breaking goal but it's something I think I can stick to.
Have a wonderful weekend, everyone! Last weekend of the summer, hope yours is a good one!
Like this? Read more Behind the Scenes posts!