Guess what? We have another Cambie wedding dress to show you! We're super flattered that this pattern is being used in such a special way, and it's not the first time! We've seen several Cambie wedding dresses out there, and they are all so lovely. Today we'd like to give you a peek at Becca's wedding dress.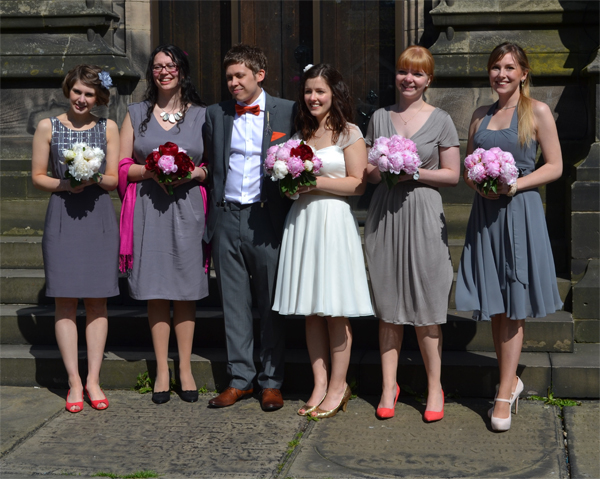 Becca and her husband Jon were married on a sunny day in Macclesfield, UK. Sounds idyllic doesn't it?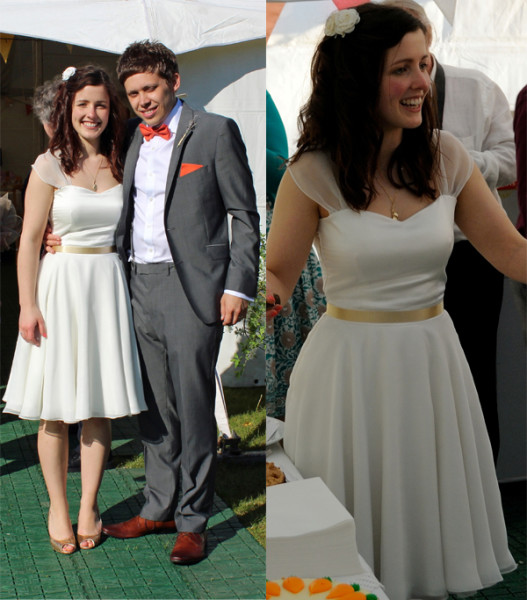 In Becca's own words:
"The main fabric is bamboo silk, which is really lovely and soft. I underlined the bodice (using the sewaholic tutorial) and lined the whole dress in the same fabric to give it a bit more body. I moved the zip to the side and handpicked this (again, using Tasia's tutorial!) as I figured people would be looking at my back a lot! I also made the sleeves and top of the bodice back out of chiffon, as you can see in the picture of me at the cake table. I drafted a circle skirt for the skirt instead of the gathered one, as I just love the swishyness of them!"
I absolutely love her use of the chiffon. I also think that the idea of doing a circle skirt is really smart, and turned out so flattering. And isn't that satin bow such an adorable touch? You know we love bows!
Thank you so much Becca for letting us share your wedding dress! We want to wish you all the best as you enter this wonderful new season of your life!
P.S. Toni also made an amazing non-traditional Cambie wedding dress! You can view her blog post here. Congratulations Toni!