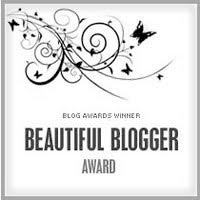 I've been nominated for a Beautiful Blogger award by the talented Sherry. Thank you! I've also been nominated by Roobeedoo, and Faye, and Kristen. I'm blushing! Thank you guys! Be sure to check out their blogs for more inspiring adventures in sewing.
Now the fun part – listing 10 things you don't know about me!
1. I used to play the bagpipes! Yes, it's true! I started learning at fifteen, when I played in a military band. The front row was reserved for the pipers, swirling kilts and loud, bold pipes – and there I was, back row playing the clarinet. I wanted to be up with the pipers! So I bought a used set and started taking lessons. I played in a junior band (for kids under 18), in a ladies-only band, and in a police band that didn't allow women to join, that is until I came along.
Here is proof – see the girl on the left? That's me! I have more photos wearing the full get-up, tall feather hat and all. The whole thing weighed thirty pounds! That's one of the reasons I quit, wearing over thirty pounds of wool and metal (not including the bagpipes) was really hard on your body. (If you want to see it, I'll try and dig up a photo of me in the two-foot-tall feather hat!)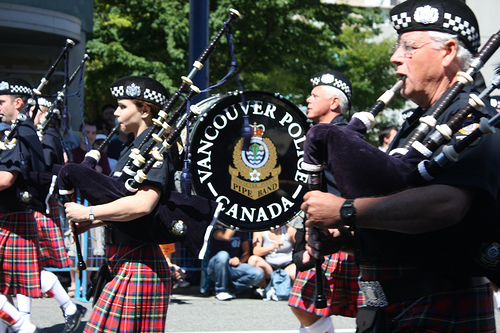 2. When I was 12, I joined Cadets at my dad's request. Cadets is military-type training for 12-18 year olds – physical fitness, teamwork,  survival skills, and marksmanship. My dad said I had to try it for a year, and if I hated it afterwards, I could quit.
Well, I was 12 years old and very uncool and awkward. Suddenly I was in a world of uniforms, where no one judged you based on the coolness of your running shoes, where I could go camping and play in a band and learn to navigate a map and compass… and where there were 25 boys to every girl! 
I stayed for four years, right up until I needed to get a job to start saving for college. I became the leader of our band, and took us to our first band competition where we placed second in the province! I was the token girl on the rifle team and won several 'Top Shot' awards. I travelled to Germany for seven weeks – for free! You know how you get older, and thank your parents for the things they forced you to do? This is one of them.
3. My first job was at McDonalds. Let me tell you, I know why they suggest it as a first job for teens. Some of the highlights:
Cleaning the grill and emptying the grease traps into the giant grease dumpster.
A customer once threw a burger at my head because it had ONIONS on it, and she specifically said NO ONIONS.
When we offered Beanie Baby toys in Happy Meals, I answered a thousand phone calls asking what Beanie Baby we had today – and women were FURIOUS that we still had Chip the Cat, because her lil princess needed Bob the Slug. How dare we offer the same toy two days in a row!
I also worked at a tiny location that would run out of things: tomatoes, lettuce, ice. People would be so angry at me when I told them there was no ice! Or they'd get on their phone to check with their family whether ice-less drinks would be acceptable.
After keeping a smile plastered on your face no matter what insults are hurled at you, anything else is a piece of cake! It was an amazing learning experience and an interesting way to experience human nature at its meanest – HUNGRY. I'm always super polite to fast-food employees now!
4. I really like puzzles. The old-school, clear-off-your-coffee-table and put 500 pieces together type. In fact, I won't even bother for less than 500 pieces, minimum! Once I was in Las Vegas and at the toy store there was a puzzle with 18,000 pieces. (Yes, I went to a toy store in Vegas – but I was with a friend who had kids! I did dance on the giant piano though.) One day, when I have a big house, I want to build the 18,000 piece puzzle. It's MAPS of the world, too, did I mention I like maps, too? Probably why I like sewing and putting patterns together, sewing is like a giant, detailed, wearable puzzle. Better than a puzzle, because there's not just one way to put the pieces together.
5. I skipped a grade. What a nerd, I know! I put up with a lot of teasing in high school because of it. Not only because it wasn't cool to be smart, but also because when everyone else could get their learner's permit and driver's licenses, I was a year behind. Technically, I didn't offically skip a grade, I was in a grade 1/2 split class where half the students learn grade 1 work, and the other half learn grade 2. Before the Christmas break I was on the grade 1 side, and after the break I came back to the grade 2 side. So I did half and half, and the year after that went into Grade Three.
6. I only learned to swim last year! One of my new year's resolutions was to conquer my fear of water, so I enrolled in a class at the local community centre called 'Swimming for Apprehensive Adults.' So embarassing. But on the first night, I realized that I wasn't the worst person in the class! I have a stubborn refusal to be bad at anything. Plus, the teacher was a young guy with tattoos and I didn't want to look like a big baby in front of someone young and cool! So I bravely put my face underwater, and floated, and blew bubbles. I totally rocked my Apprehensive Adult swimming class: I can now front crawl, and back crawl, and DIVE! (Most embarassing moment: bobbing around with a lifejacket on, in the deep end of the pool with twelve other scaredy-cats…)
7. I can sing the alphabet backwards. Why, you ask? When I was a teenager, I heard that police would ask you to recite the alphabet backwards if they thought you might be intoxicated. So I practiced and practiced, and after I mastered the order of the letters, I thought it would be fun to sing it! Wouldn't that show those cops who's NOT drunk? It's also a fun party trick. Have you ever heard someone sing the alphabet backwards before? I'm guessing you haven't!
8. This one's a semi-secret: I can read upside down, backwards, and through paper. Oh yes I can! Plus I read very fast. So in case you ever want to break some bad news to me and you've prepared a speech… don't hold up your notes, or leave them anywhere I can sneak a glance at them, or I'll know what you're going to say well before you say it! I also have a habit of reading everything. Signs, labels, cereal boxes, papers lying around on desks – I can't help myself! If it's within view, I'll read it.
9. Except now I wear glasses, which limits the amount I can sneak-read. Surprise! You've never seen me in glasses before. I'm not a full-time glasses wearer, but I do need them to drive and to read far-away things. Before I knew I needed glasses, I was driving along looking for 88th Avenue and needed to turn left. I realized that I'd pulled into the left lane at 80th and again at 86th thinking I'd found 88th – the signs all looked the same! So I got tested. And go figure, I needed glasses.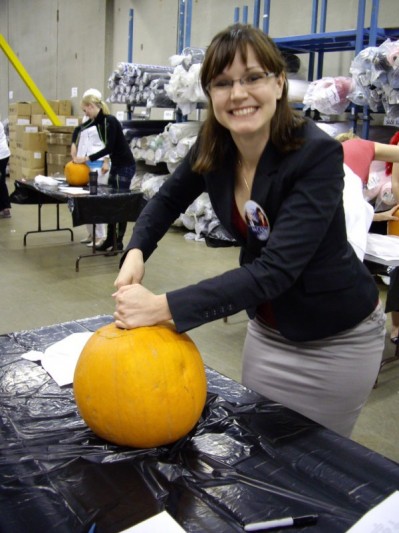 10. However, glasses can come in handy when you least expect it! Two years ago, back when the election was happening, I dressed up as Sarah Palin for Halloween. I won 'Scariest Costume' because it was so lifelike!
And now, the hard part – nominating five more Beautiful Bloggers!
Amber from Confessions of the Pink Obsessed
Sarah from Rhinestones and Telephones
I have been s-l-o-w to pick up this award – perhaps you have already been nominated and I've missed it! If you don't feel like playing along I won't be offended. Just thought I'd share the love, you are all so beautiful! (All of you, not just the 5 people I mentioned.)
Have a fantastic weekend and happy sewing!