What do you guys think of this fabric? Ugly, sort of? A bit of a weird print? It's a cotton twill, slightly heavier than a quilting-weight cotton but much drapier than expected.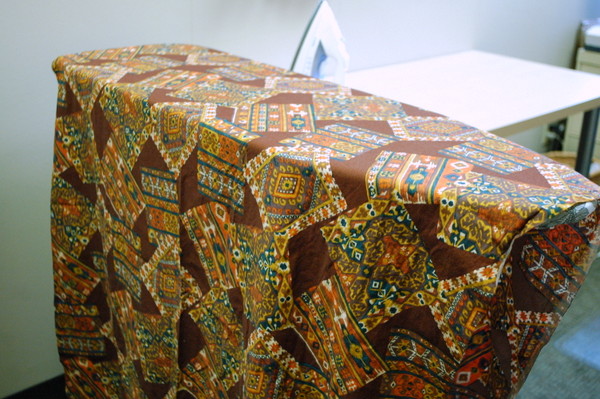 I was drawn to the autumnal colours when I bought it, but looking at it next to some of the prettier, brighter coloured fabrics on my shelf, it started to look a bit ugly. For a fabric that borders on the ugly, a pretty sewing pattern is a must!
That's where the Cambie Dress pattern comes in – it even looks good in ugly fabric!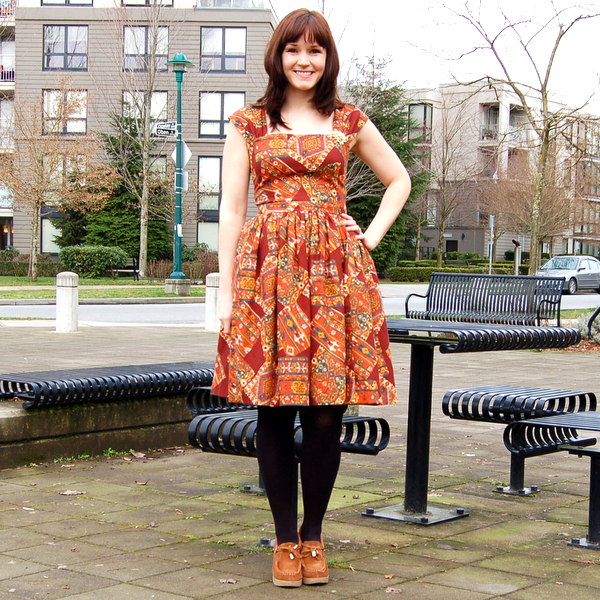 You may have noticed this dress in my February recap post, I wore it for my high school talks as it's a crowd-pleaser!
I quite like how this version of the Cambie Dress turned out. When it's cool outside, I tend to wear and love warm, earthy colours, so this dress fits nicely into my fall/winter wardrobe. (And I find it hard to reach for bright or pale colours on gloomy days.) Mustard, brown and forest greens feel natural to wear in the cooler weather.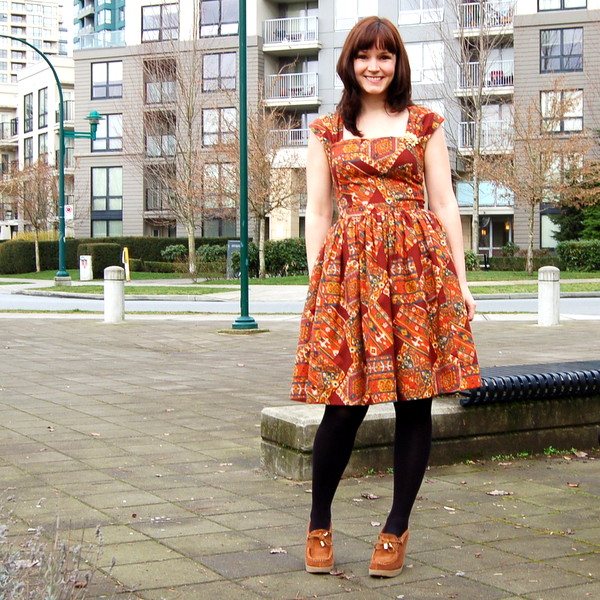 I went with the straight-across neckline (see how to create your own straight neckline here) to echo the blocky lines of the geometric print. Because the skirt is so fully gathered, the patchwork-like design is hidden in the folds of the skirt, showing flashes of colour as the skirt swishes, instead of straight lines. It's worked out very well!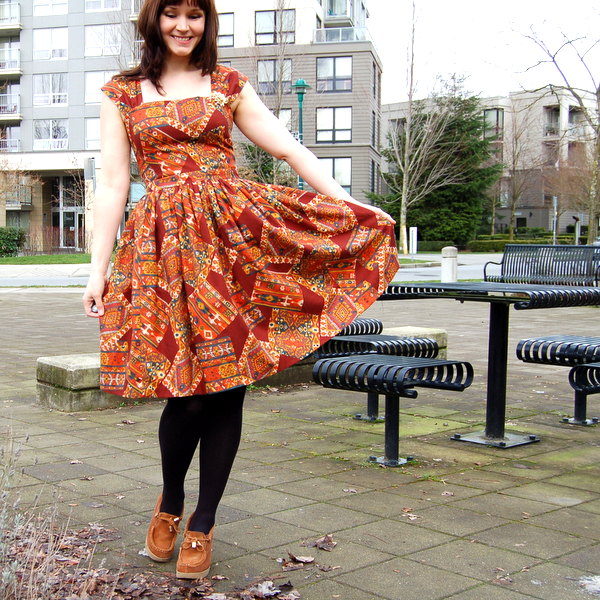 I pinned a vintage brooch to the bodice where the straps connect, for an extra touch of gold. Fancy! I think that concept would look even better on a solid dress.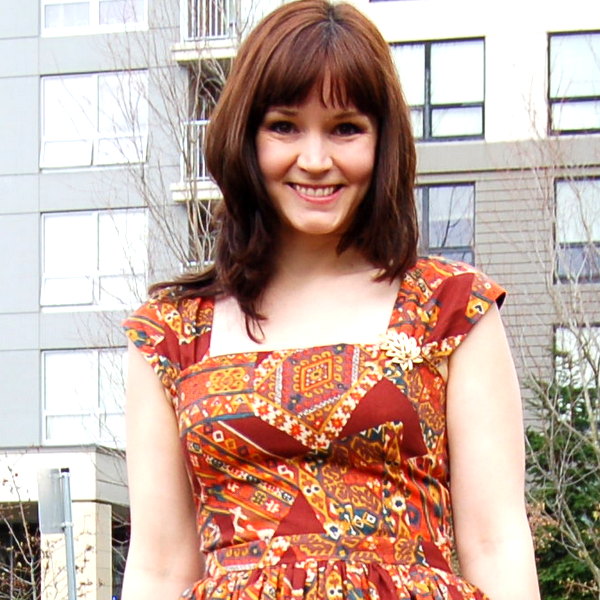 There was a bench nearby, so I sat for a couple of photos. Let me tell you, sitting-down photos look really strange if you don't stretch your legs out. That's my amateur modeling tip of the day!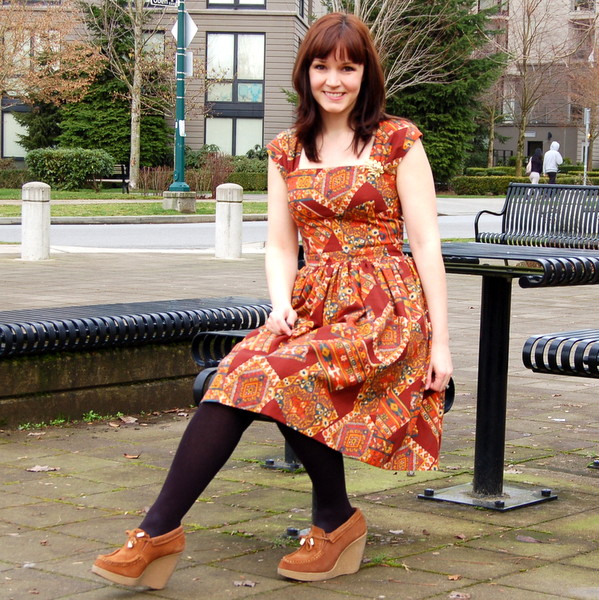 I was lucky to get a couple hours of dry weather to take photos outside – a welcome break from the non-stop rain!
I lined the fabric in a forest-green rayon. I had odd pieces on hand so the skirt and bodice are different shades of the same colour, but no one will see! (You can't even tell the lining is green unless I show you. Or if I ride my bike on a windy day…)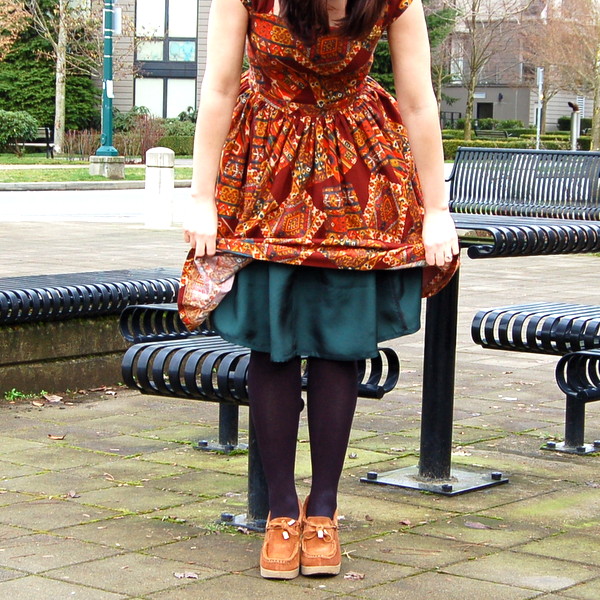 I really like this dress! I thought the fabric was doomed but in the right pattern, it works quite nicely I think!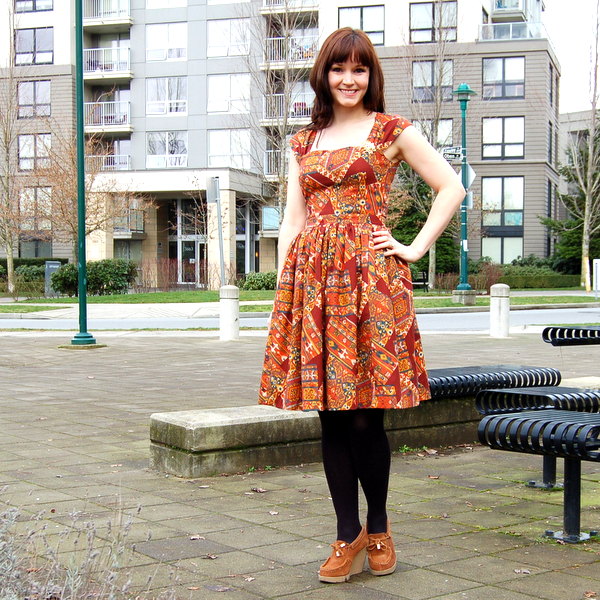 Do some of the fabrics you buy start to look less attractive or dull next to the others on your shelf? Have you ever bought a piece of fabric that seemed awesome, but started to look ugly when you brought it home? How did you make it work?
Want to make your own Cambie Dress? Get the pattern here.
One last thing! I also did a hand-picked zipper on this dress, and I think I'll do a quick post to demonstrate how to sew a hand-picked zipper into the Cambie Dress. I did a few things differently from the instructions to make it easy to insert and finish off the opening edge. It's not difficult to do at all!