I'm sewing a batch of new Renfrew Tops and for efficiency, I'm going to cut and sew them assembly-line style! What does that mean? I'm going to group together the cutting, sewing and pressing processes to make the sewing go faster. For some of you, this might sound awfully boring. I like efficiencies, so this actually sounds like fun to me!
I'm making a bunch of new knit tops out of striped and solid fabric: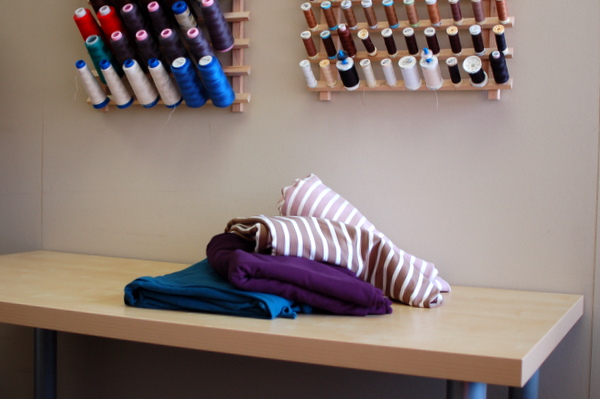 The first stage is cutting. If you have to cut in a public part of your house – the dining table, perhaps – then assembly-line cutting might be perfect for you. While the cutting surface is clean and empty, it's a great time to do all the cutting at once. You'll save time in the long run as you'll only have to clean the table once. After a marathon cutting session you'll be ready to sew a whole series of projects!
Plus, it's so easy to cut the second and third projects after cutting the first. The tape measure is handy, the pins are easy to reach, and you're already in the cutting frame of mind. If you love cutting out projects, you get to do it over and over, and if you hate cutting, then it's all done at once!
Note: This is not a good idea if you're a great starter but terrible finisher. Do you love starting projects but never get around to finishing them? Do you have a dozen UFOs stashed in a drawer? Then perhaps cutting projects one-at-a-time is more your style, as there's a better chance of finishing the project if you've only started one.
Here are more blog posts about the Renfrew Top. (Get the pattern here.)
Do you ever sew projects assembly-line style? Are there certain types of projects that seem to work better this way for you? Does it end up saving you time, or do you find it more tedious? I'd love to know what you think!