I mentioned how I love getting questions through the contact form the other day, and it's true! I get a lot of awesome questions and always try to answer them as completely as possible.
Just before I left on vacation, I received a really interesting question from a reader, and thought you might be interested. I asked her if I could use our Q&A convo for a future post, and she said yes!
After reading my post on matching prints along seamlines, Samantha wrote:
Great post on matching prints along seams!  I realized that I usually 'cheat' on back seams where there is no zipper, and simply remove the seam by cutting the pattern on the fold (minus the seam allowance).  You seem to be a very knowledgeable sewer who could tell me what I messing up by doing that … what IS the reason for a back centre seam when the seam is straight anyway?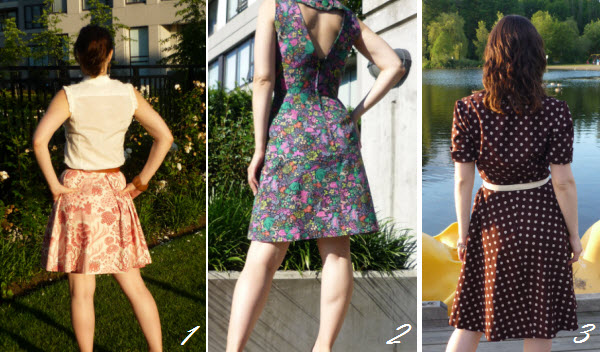 Here's my reply – I added the photos above to help illustrate points 1, 2 and 3 for added clarity!
Hi Samantha!
Thanks for visiting and I'm glad you enjoyed my post on matching prints!
Regarding your 'cheating' technique, you haven't really done anything wrong, as long as the seam is completely straight not curved, the original piece asked you to cut along the straight grain, and you remembered to remove the seam allowance (not mocking you, I've done it myself!)
Why is there a centre back seam? Well, a few reasons.
One, and usually the most common one, is because there's a zipper at centre back, so the seam needs to be there to insert the zipper.
Two, if the seam is not completely straight, then the seam is there for extra shaping and fit. (If you were able to put it along a fold evenly, then this wasn't the case on yours…)
And three, sometimes the centre seam is there so that the pieces can be put on the bias. So if you remove the fold, then your pieces might not hang correctly, or worse, they might have used the bias of the fabric to stretch (like in a bias slip) and therefore you might not be able to get the skirt on if you cut it straight!
Also, in older patterns, there's a fourth reason. Fabric in the 30's, 40's and 50's seemed to be made in 35″ or 45″ widths, so if you wanted a nice full circle skirt, it would be impossible to cut in one piece. The centre seam was there so you could get a full circle out of your fabric, the only way would be to add a seam. (Does this make sense?)
Thanks for asking! Would I be able to use your question in a future post? I bet a lot of people are wondering the same thing and this answer might be relevant and interesting.
Have a fantastic day!
All the best,
Tasia
The same theory applies anywhere you have a centre seam: backs of jackets, front seams of skirts, front bodice seams. You COULD place it on the fold, just make sure it won't compromise the fit and drape of the finished garment.
Hope this was helpful! If you have a sewing question, feel free to use the contact form and send it over. I'll do my best to answer – and if I can't, it's a great excuse to learn something new!
If I get enough questions, I could start a series of regular posts on 'Ask the Sewaholic' – what do you think?
Be back soon!! Hopefully I'm out visiting exciting new fabric stores and soaking up the sunshine!