Another Anna! This is a fast pattern. No lining, easy seams to sew, and in a stable fabric like cotton it's a dream to sew!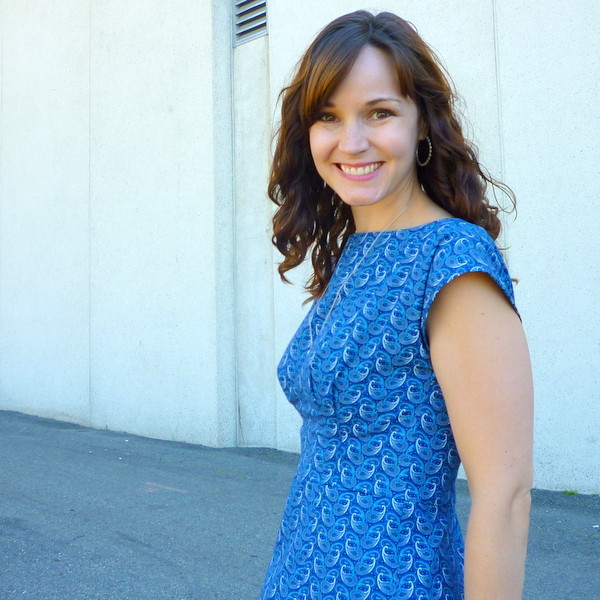 I've nicknamed this dress the 'Around the World' Anna because her parts are from literally around the world. The pattern is By Hand London, from the UK. The fabric is from South Africa, and I'm here in Canada!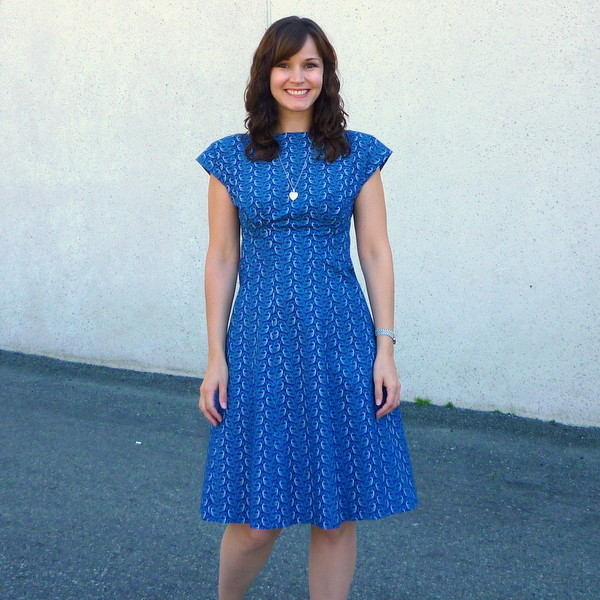 Let's talk about the fabric. This is a South African cotton print, from one of our Sewaholic Patterns retailers, Stitch. Emily asked if I would like to try out their fabrics and I said, as long as you don't mind if I don't get to sewing it right away. That was in July, and for me this is reasonably fast to have it turned into a garment already! After making the first Anna I was excited to make a second and thought this fabric would be perfect. It reminded me a little of Karen's version here.
Here's a link to the print I used: Blue, Turquoise and White Shweshwe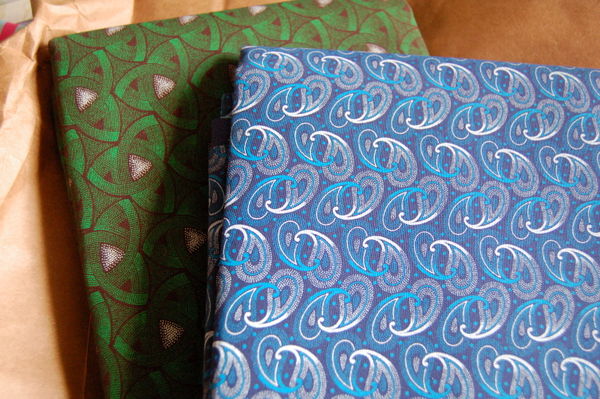 It's a 100% cotton print, and Stitch stocks a wide range of different prints and designs. I picked this blue swirl and a green triangle print.
This fabric feels like stiff paper at first. I was wondering what on earth I could make! After washing though, it comes out soft. It's no longer stiff and rigid. And when you hold it up to the light you can see through it a little. Don't let the stiffness of the original fabric deter you!
I love the stamp on the wrong side – I didn't notice it until I unfolded the fabric to pre-wash it!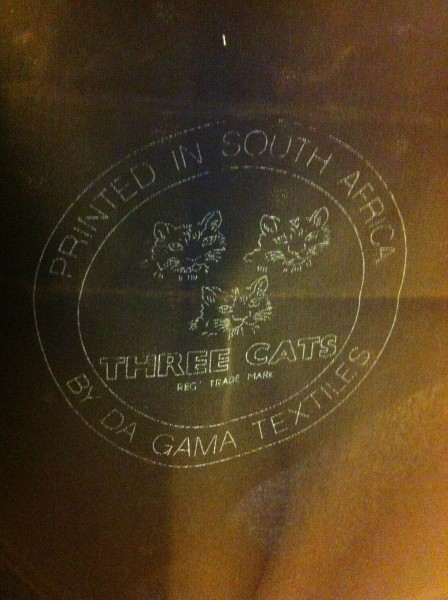 I didn't notice right away that the print is directional, that is, the swirls all face the same direction. And this fabric is quite narrow. So I wasn't sure if I could fit all of the Anna pieces on the fabric with the same direction. I decided it would be OK if the skirt panels alternated, up and down for each panel. I'd laid out the pieces that way, and cut out the bodice first. Once I had it arranged on my dress form to admire while I cut the rest, I decided that I absolutely had to have all of the swirls facing the right way.
So, I had to cut the facings on the cross grain instead of the lengthwise grain. I had to seam the front facing down the middle as well.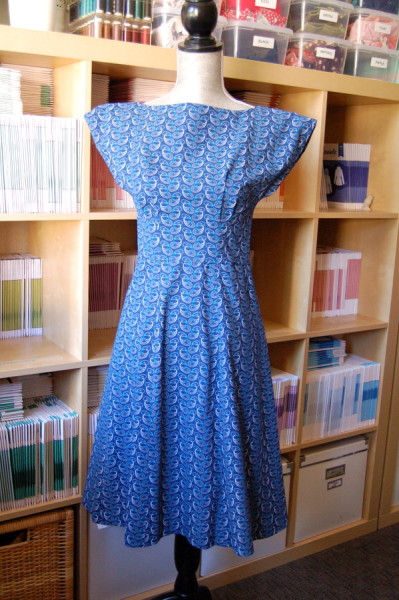 And – not only does the print all go in the same direction, but it matches across the skirt and bodice! Totally accidental but it looks great. It looks almost like vertical stripes from afar, and there's two nice vertical stripes running down the centre front. They are not exactly in the centre, but that's the way the fabric was printed and it's close enough.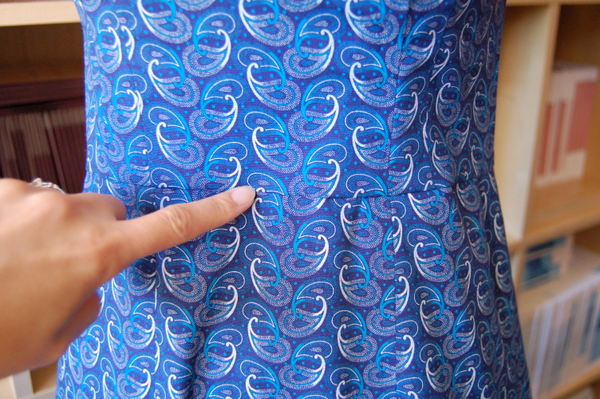 Mods this time:
I did not interface the facings this time. I figured this fabric was stiff enough on its own.
I angled the hem ends so it wasn't so full when pressed up, and smoothed out the lower edge of the hem so it was less pointed.
I took in little darts at the back neckline as the back neck was gaping a little on my last version, do I have rounded shoulders? (oh no! must sit up straighter!) and pinched out the same amount from the back facing.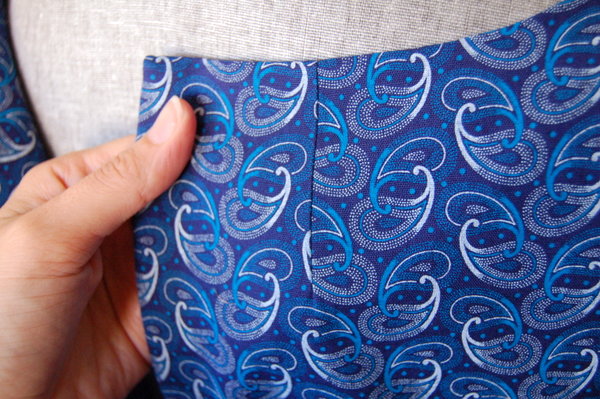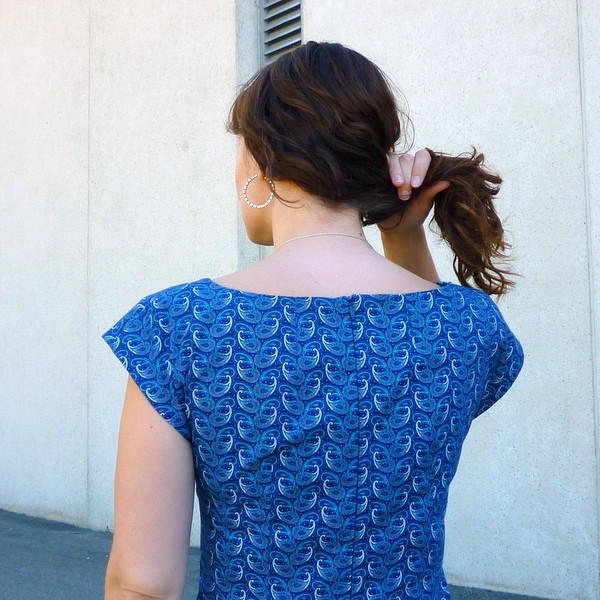 I slipstiched the sleeve hems and catchstitched the skirt hem by hand. I didn't have a matching blue thread and I thought the stitch lines would interfere with the print.
I serged my seams to finish them this time.
I did the same with the facing, sewing it on last and cleanly finishing the edges (like the Cambie Dress method here)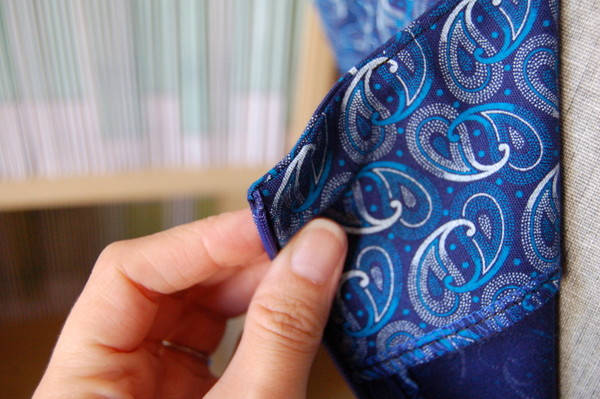 Thoughts? I love this pattern, I've got it down to a couple of hours of cutting and sewing time. My little tweaks – sewing the facing on last, angling the hem ends – make it more professionally finished. I just love the clean invisible zipper corners that are created with this method. I would recommend doing the facings my way but then again I might be a little biased. Slipstitching down the ends is perfectly fine too.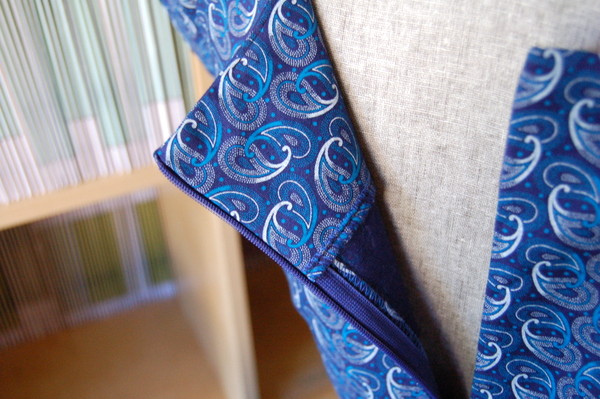 This is not my last Anna dress, there will be more! Especially since it's so quick to make.
It's very flattering to smaller busts, and I'd imagine it would look just as good on bustier figures too.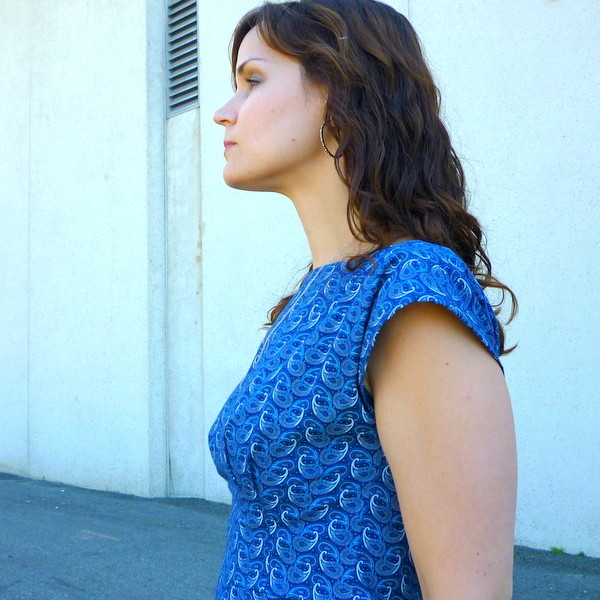 I like the finished garment a lot, it's a good weight for fall. It crosses over the seasons well, which is something I often forget to think about when getting excited about summer sewing!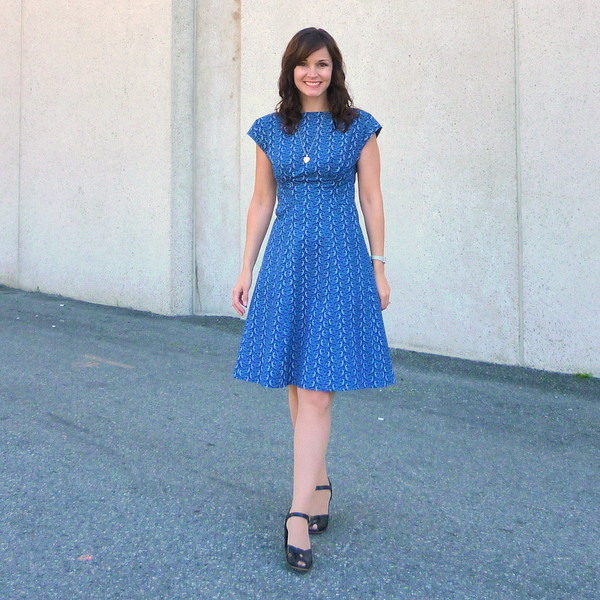 I really enjoyed working with this fabric. It has a nice weight to it, without feeling crispy or stiff. It's very easy to sew, lining up seams is effortless. I hardly used any pins to sew the skirt seams. It has a distinct smell when you press it, likely from the printing process, but I liked it.  Then again, I like the smell of muslin when it's ironed, too. I would definitely use this fabric again (well I will, I have it in green triangles too) but if the shipping to Canada is reasonable I would buy more. I like wearing cotton and sewing with cotton. I think the stamp on the inside is super cool and I'll enjoy seeing it when I get dressed, even though no one else will!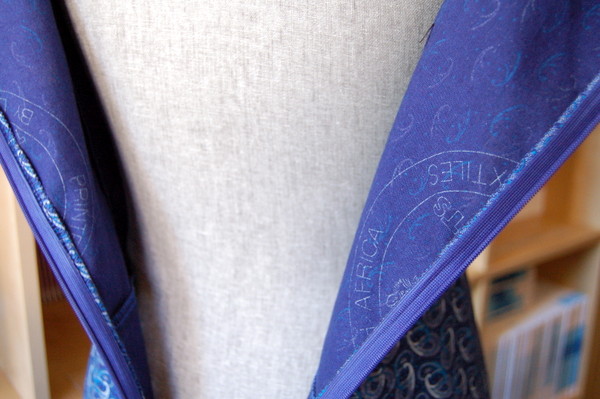 It is hard to tell the scale of the prints from the website, but then again I often have a hard time imagining scale from photos online so that could be just me. I found both prints pleasantly smaller than I expected, and easier to wear.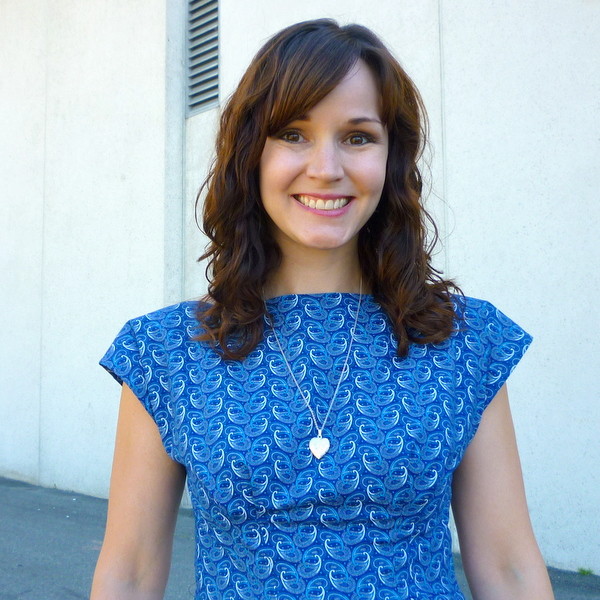 Also, when you see the prices online be sure to do the currency conversion! At first I was like whoa.. $69.99 per metre! But that's in South African Rands and closer to $7/metre.
I like this colour of blue. And I may even prefer this slightly-heavier fabric for the Anna to my first version, it's got lovely structure. That flared skirt stands out on its own practically, without being stiff or uncomfortable.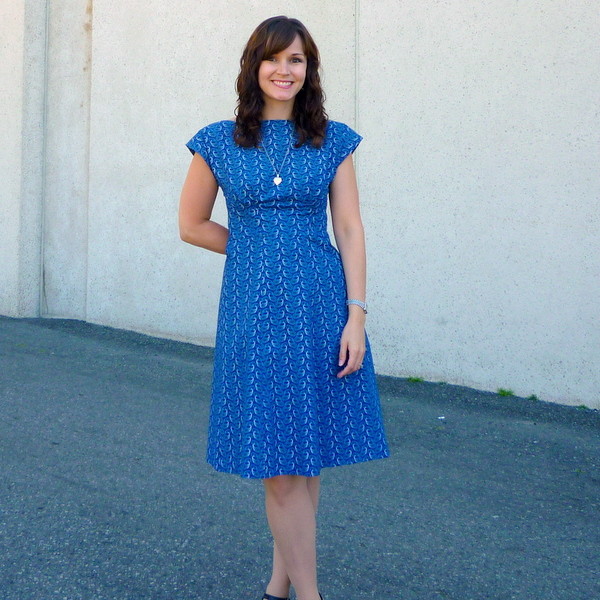 I feel like I should do something different with the second piece of fabric, the green one, but it sure would make a great Anna dress!