Since we're talking about sewing the Renfrew Top out of knit fabric, and there are all kinds of fabric-related questions that come up about knit fabrics, I'd like to recommend this book, Claire Shaeffer's Fabric Sewing Guide by Claire Shaeffer. This book is a great resource for answering the question 'How do I work with this fabric?'
She talks about matching fabric to pattern, planning the garment to get the most out of the fabric's natural properties. Pressing, needle recommendations and stitch length are all covered.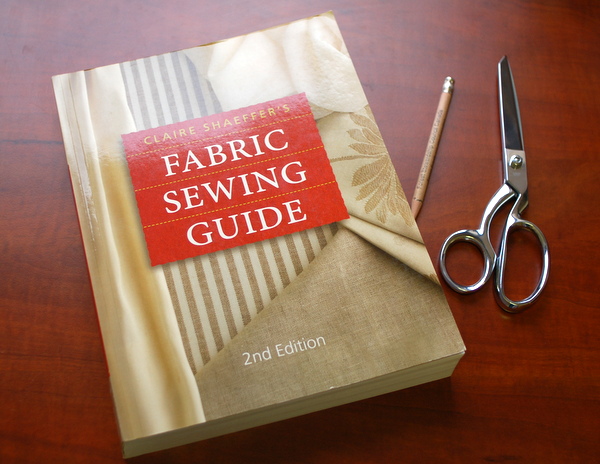 Of all the sewing books on my shelf, this is the one I refer to most often. Often it's to confirm what I suspected, or to see if my planned choices are correct before proceeding. It also helps identify fabrics in your collection – do you have a double knit, or an interlock knit? This book will help you know the difference!
Also, before I start posting how I sewed the most recent Renfrew Top, I thought I would talk about my approach to sewing knits. Otherwise, you might have a lot of questions as to why I did certain things!
Plus, if you decide on a general approach to sewing knits before you start, it's a lot easier to work through the project.You'll have already decided how to sew each seam, what stitch to use, and what machine to use (serger vs. straight stitch) for each stage. Planning it out beforehand saves time as you sew!
My approach to sewing knits
I tend to treat knits as wovens, almost. I like to sew the seams first, then serge them. You don't have to do this, you'll see inside your purchased tee shirts than the seams will be serged only. This creates a stretchy seam that's fast to sew (just one pass through the machine!) and the edges are finished all in one step.
But I like the extra security of having a seam, and the serging separate. Both seams have to break before I have to mend the shirt, which is good in my books. I like durability in my clothing. You might not want to sew your knit tops this way, and that's all right too! I thought I'd talk about why I've done it a certain way now, rather than each time I talk about a sewing step.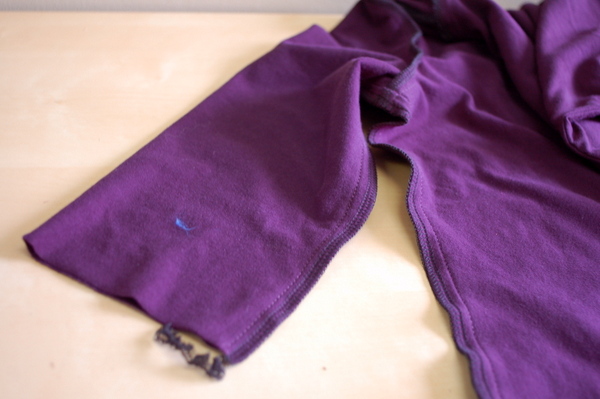 I don't have a coverstitch machine or the option to convert my serger to a coverstitch. Personally, I don't desire a coverstitch option. I'm not a fan of any hem that can come completely undone and unfinished with one loose thread. (Ever had the hems come down on a store-bought top? It's a pain to re-stitch that unfinished edge!)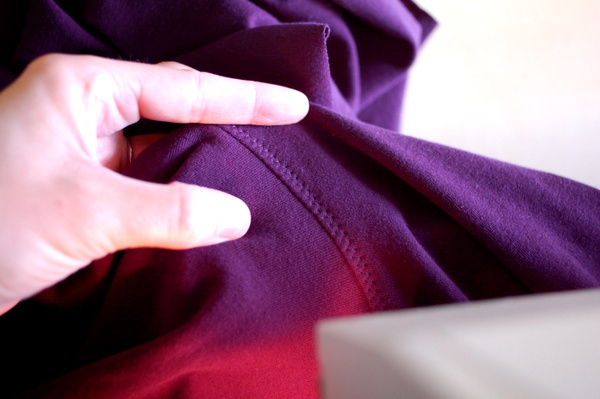 I like the look of zigzag stitching. I know, I know! You might not agree. Many of you have commented that visible zigzag stitching looks homemade. I suppose that's because in factories, their straight-stitch machines can only straight-stitch. In order to sew a zigzag, they have to move to a completely separate machine. The garment would have to be passed to a second operator to sew the zigzag stitch, then back to straight stitching (or serging.) It's not cost-effective to have zigzagged stitching in a factory setting, unless the factory does a lot of volume in zigzag-stitched garments. So that's likely why we don't see it in store-bought clothing. It's truly a mark of a home-sewn garment. (Is that really so bad, or is just that we're so used to seeing factory-sewn clothing that anything else looks unusual to us now?)
There are plenty of options to the zigzag stitch – basically, any decorative stitch that stretches will work! We'll talk about that when we get to that part of the sewing instructions.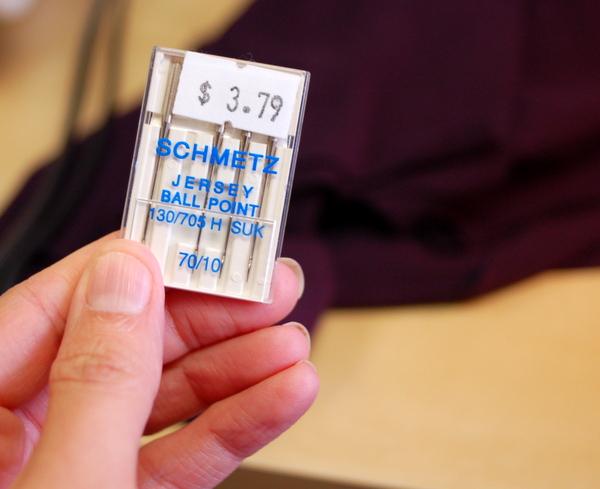 I do switch to a proper needle for sewing knits. I use a ballpoint needle or a needle marked 'Jersey' – these needles are designed to poke through the knit loops of your fabric, rather than pierce them or puncture the fabric. (Imagine poking a pencil through a sweater, dividing the loops to get through to the other side, rather than poking a sweater with a sharp skewer, which could pierce the yarns, weakening them, potentially causing holes. That's the general concept of using a ballpoint needle!)
Your approach to sewing knits?
Your turn! Tell me how you approach sewing knits. How do you feel about zigzag stitch? Do you trust the strength of a serged-only seam? Is there a book that really helped you sew confidently with knit fabrics?
Here are more blog posts about the Renfrew Top. (Get the pattern here.)