Lots of questions came up about the Pendrell Sew-Along yesterday! I'm going to answer them in today's post. Feel free to ask more questions if yours is still unanswered!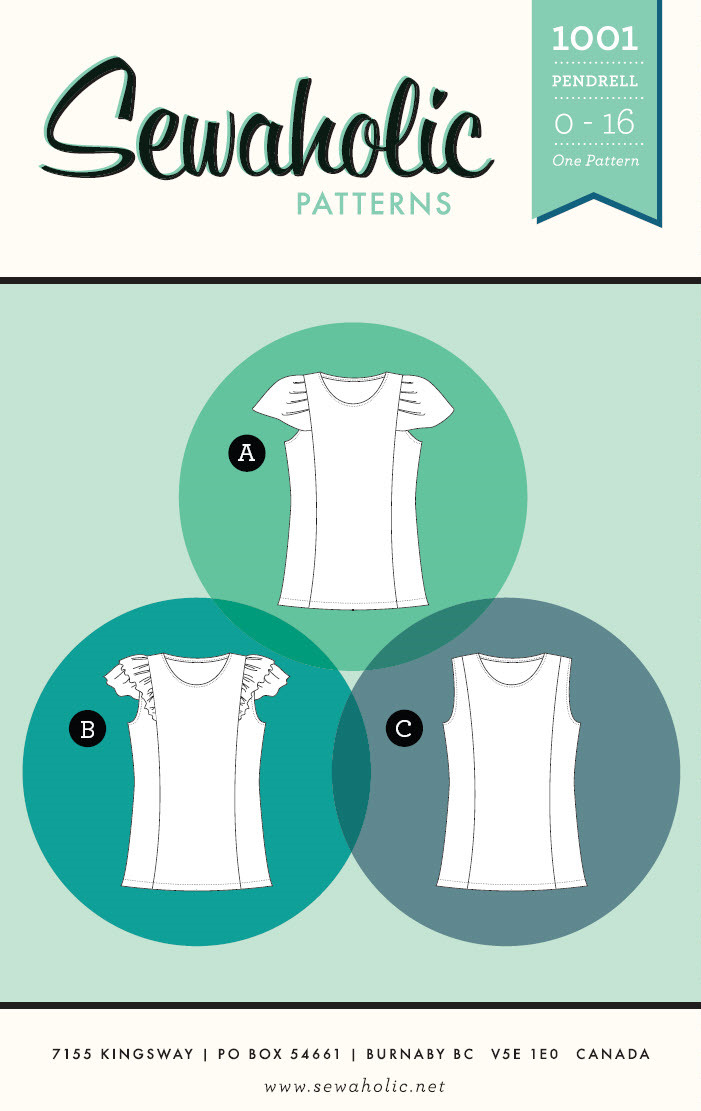 Is there a lining in the Pendrell Blouse?
No, there's not a lining in the blouse pattern. But that doesn't meant you can't use sheer fabrics! You may want to underline the blouse if you are planning to use sheer fabrics, like silk chiffon or very light colours. Can I ask, are a lot of people considering sheer fabrics and underlining? Let me know and I'll see what I can build into the sew-along. I do have a pretty silk chiffon print that would be great to demonstrate with!
Is the blouse easy to slip on?
Yes! It's easy to slip on, even without any closures. However, it all depends on your head, and probably your hair too! I wear the size 4, and it fits over my head no problem. The neck doesn't get too much smaller as the sizes go down but if you're concerned about the neck opening, we can drop the neckline and enlarge the binding piece to match. I'd suggest measuring off the neck opening on the pattern tissue for your size, make a loop with the tape measure and poke your head through, to see if you want to increase the neckline!
Will you cover the FBA (Full Bust Adjustment) in the Sew-Along?
For sure! However, my bust is less than full, so this type of pattern adjustment is uncharted territory for me. I can definitely put together a demonstration though! If anyone is pro at doing a FBA, I'd welcome a guest post! Or jump in with what's worked well for you, when I post about how to make the Full Bust Adjustment.
A couple of helpful FBA links, in the meantime: Patty from The Snug Bug did a great rundown of a FBA using the Lady Grey Coat. This coat has princess seams, so it's similar in shape to the Pendrell Blouse. Alana, another great explainer of the FBA, shows the adjustment on a basic bodice. It gives you a visual of how it all works.
And check out Gertie's fantastic round-up of bust adjustment links here. All of your bust questions answered in one place!
What about adjusting the pattern for different body types?
In addition to the FBA, I plan to cover how to narrow the hip measurement, and how to turn it into a dress. Is there anything else you'd like to see? Let me know and I'll do my best to fit it in!
Will there be a Flickr group for photos?
Yes! Here's the Sewaholic Patterns Flickr Group link. The group has already been started, so come join us! (This is an old screenshot of the Flickr group. We're up to 29 members already, with a few fabric selections posted too!)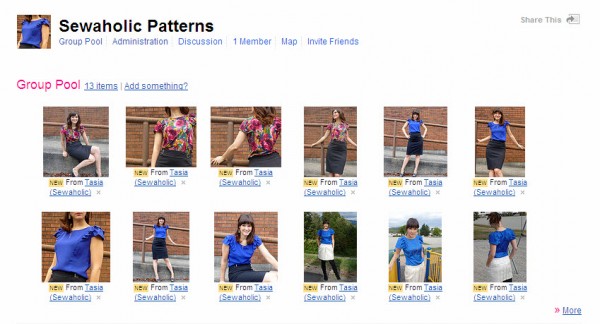 Will we make a muslin?
That's a great question! I've had a couple of people ask me this one already. So I'm going to put it back to you guys – do you want to make muslins? Normally I wouldn't, for a blouse, especially if you are the exact measurements or very close. If you plan to make a lot of adjustments, or if your fabric is especially fancy or pricey, then I'd suggest using a cheaper, lightweight and drapey fabric for a test run before cutting your expensive fabric. What do you guys think?
Any more questions? Ask away! Don't be shy, there are no silly questions when it comes to sewing. Better to ask and know the answer. Have a great day, everyone!