Another year is coming to an end, and before the holidays I wanted to take a moment to look back on everything that's happened so far! I swear the years are going by faster. Do you remember when you were little, and an hour felt like forever? (An hour until dinner? That was forever.) And while it still sometimes can feel like forever until dinnertime, this sure has been a whirlwind of a year! Last year I wrote a 2010 in Review post to look back on the last year, and I wanted to do something similar this year too.
I made a lot of stuff, although would you believe I finished more knitting projects than sewing projects? (Click here to check out posts tagged with knitting, if you're interested!) It's because I can knit purely for fun, I don't need to blog about it, or take step-by-step photos. I can make a cup of tea, sit in my comfy chair, and knit happily until my hands get tired. Last December, I rambled on about wanting to learn to knit, and I sure did learn! I'm somewhat of an obsessed crafter who likes to be good at things. If you're going to do something, do it right!
I wish I'd had more time to sew for pleasure this year. It's amazing how quickly the days fill up and the months fly by! There were so many things I wanted to make, yet not enough time to sew anything that wasn't related to pattern development. Plus, moving my sewing machines to the office meant that I'd have to bike in to the office if I wanted to sew, or stay late after the workday, and as the days grew shorter it was less enticing to stay late and sew. This next year, I'm going to make an effort to set aside more 'fun' sewing time!
Instead of listing everything I've made this year, I thought I'd point out one of my favourite sewing projects and my favourite knitting projects! (Click here if you want to look at more finished sewing projects.)

Favourite knitting project I made this year: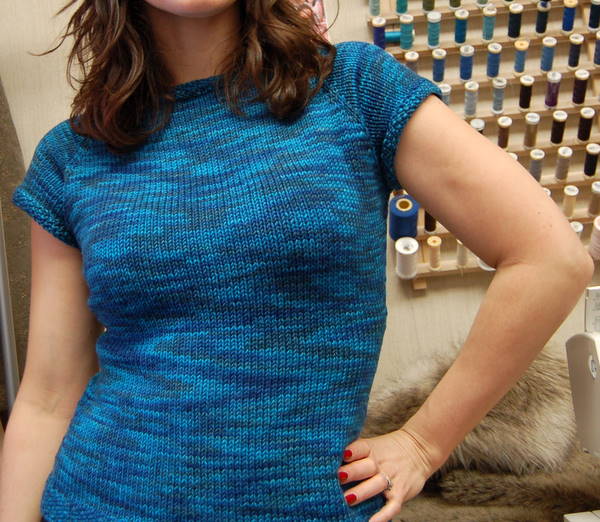 My first sweater! I'm proud of this one because I kept on trying until I got it right. Everything about this sweater is right – the fit, the colour, the beautiful quality yarn. I'm definitely going to make this one again in another colour!

Favourite sewing project I made this year: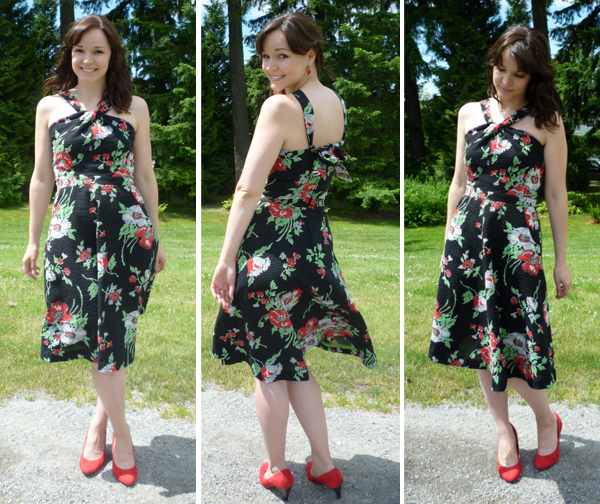 My Lonsdale dress! I wore this dress so often in the summer. I'm happy with how well it fits, how great it looks on everyone who's made it, and how simple it is to construct. I'll be making a few more versions of this dress when summer comes again!

We had some awesome discussions on the blog! It's fascinating to read about how sewing is different all around the world. Things you forget might be different, like taxes, availability of certain fabrics and supplies, balancing life and sewing.
Some of my favourite discussion posts:
I feel a bit sad that these great discussion posts are going to get buried in the archives. Although, as different groups of readers come and go, we can always revisit these question again later on and see if anything's changed! (And as we get older.  I feel like a large segment of you are close to my age and similar in lifestyle.)
I attended the Self-Employment program, moved into an office, launched three new patterns, held three sew-alongs! Hard to believe that's all been in the last year. There are so many little things that I haven't talked about, like getting Sewaholic.com. (Type it in, it works!) I've taken my new business to the next level with an office, an expanding product line, and better pattern testing systems. I've gone from two retailers to 16 retailers carrying Sewaholic Patterns and I'd love to grow that number even more in 2012.
I took up cycling as part of my commute to the new office, and I was surprised to find I love it so much! I still bike every day unless I have a mid-day meeting. I've biked in rain, in snow, in hail, in weather so hot it required a cold shower as soon as I got home. I'm hooked! Cycling makes me feel great when I get to work, relaxed when I get home. That half-hour ride gives me time to replay the day's events in my head at the end of the day, and get pumped up about my workday on my morning ride. I love that I can dress for the elements, and get myself around using the power of my own two legs. It's a liberating feeling! My worst, wettest, coldest bike ride is still more fun than my best car commute. I enjoy cycling way more than driving. And why not find ways to incorporate things you enjoy into the daily routine?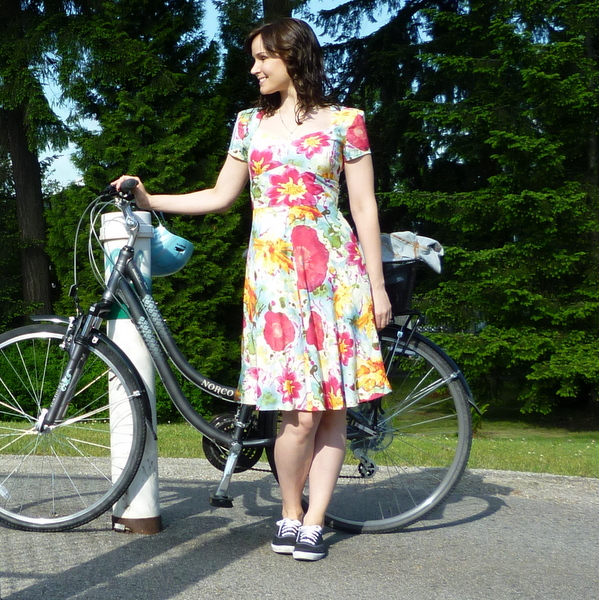 I can't wait for summer again, looking at this photo and remembering how hot it was that day. That was the day after the riots in Vancouver, but cycling to work wearing a cheerful dress certainly helped lift my spirits!
When I wrote my business plan for the Self-Employment program,we had to include potential business risks. And would you believe, every single one of them happened in the first six months? A postal strike? Sickness? Supplier issues? I didn't even include the possibility of having my website disappear and that happened too! The thing they don't tell you in school is that everything goes wrong in business. It's true! That's just the nature of being in business. Things go wrong, and you have to find ways to handle them. (And then, prevent them from happening if possible next time around.) Even better if you can handle them with style and grace, although I'll admit not every disaster was handled calmy and confidently!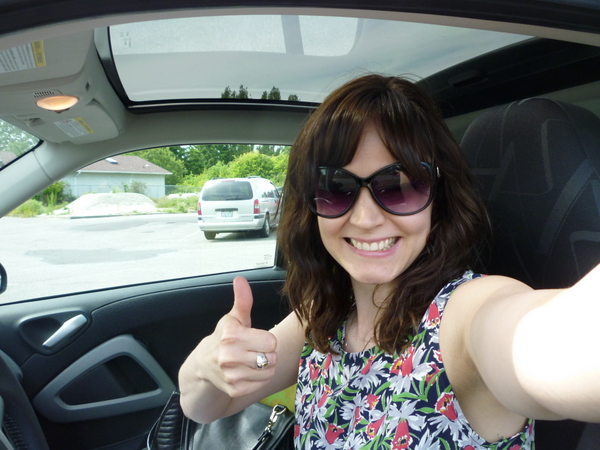 This is me in the parking lot of the Point Roberts, USA post office, looking pretty happy about being able to ship orders during the strike!
The hardest part of this year has been not taking things personally. When things go wrong, when you get a negative comment or email, it's hard not to let it get you down. Any time you put something creative out there, you're opening yourself up to feedback – some good, some bad. When I feel overwhelmed, like there is so much to do and so little time, I forget how much I've accomplished. It's easy to let one negative thought overshadow a hundred good ones. Or to let the three things left on your to-do list stress you out, forgetting you've crossed off ten things already.  Why is it hard to let ourselves celebrate successes? (Why do we make a dress that fits, yet feel compelled to point out its flaws to our co-workers and family?) It's important to not be too so hard on yourself – or we'll lose that creative spark, that excitement that motivated us to start something in the first place.
oooh, shiny! I've been wearing it for two months now and I still love the ring – and the man!

And I got engaged! I haven't talked about wedding stuff since the engagement because honestly, it stresses me out. And I'm working on keeping stress out of my life as much as possible. When it comes to weddings, everyone has an opinion on how it's supposed to go and it's so easy to get overwhelmed. So we're not planning, just enjoying being engaged. It will all come together on its own when we're ready. (I'll definitely show you the dress, and the shoes, and share a photo or two when it happens!)
I'll stop here, because if this gets too long no one will read it, and the point is to share my successes and learning experiences with you guys! And to thank you, for reading, for buying patterns, for asking thoughtful questions and for cheering me on along the way. I couldn't do it without your support.
So thank you all, so much! I truly appreciate being part of this wonderful online sewing community. There's so much more I want to do in the next year. I'm excited to be able to do something I absolutely love, every single day. Thank you!