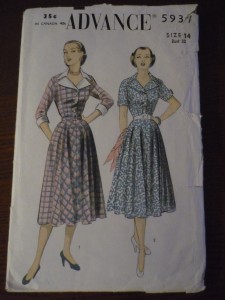 This adorable shirtdress pattern is my most recent vintage pattern purchase. I love the blazer-style notch collar, especially done in the contrast fabric!
I bought it online at RustyZipper – a site that sells both vintage clothing and vintage sewing patterns.
This dress just has to be done in a plaid fabric to start, to take advantage of the bias skirt where the plaid stripes meet along the
centre seam. That's a lot of plaid to match though, which equals a lot of pinning, basting, and testing to make sure it matches perfectly. Maybe a stripe instead..
The instructions inside are so cute too. Here's what it says inside:
'When you follow in this order and consult your dressmaking steps as you go along, you will complete your garment with ease, to fit right, to look right, and be admired by all.'
Gosh, who doesn't want to be admired by all in a dress that fits right? Sign me up.