Hello everyone, I am both thrilled and nervously excited to share my big announcement today! I've been working on something major for a while, and it's been so hard not to say anything this whole time.
So, I'm proud to announce that I'm designing my own line of sewing patterns. Introducing – Sewaholic Patterns!
I'm developing a small line of styles designed specifically for pear-shaped women. Being pear-shaped myself, every pattern out there has to be altered to fit over my wide hips. Sewing patterns are made to fit the average body, but wouldn't it be great if they were made specifically to fit (and flatter) our pear-shaped figures?
I'd love to create and build up a line of wardrobe essentials that fit and complement women who are small-on-top, curvy-on-bottom. So far I'm planning the perfect coat, the essential skirt, the simple-yet-elegant blouse – patterns you'll want to make over and over again.
I'll be printing and packaging the patterns, and selling them online. You'll be able to buy the first one hopefully by the end of October! Many, many details still to work out but here's a preview of the first style:
This blouse is my first pattern design, named Pendrell. I've decided to name each style after a Vancouver area landmark or street name. Pendrell is the street where my sister lives, in Downtown Vancouver's laid-back West End near the beach, so it's fitting for this breezy, feminine blouse. Adding dimension to the shoulder area helps minimize wider hips!
For the draped sleeve version, the sleeve is self-lined, so the pleats hang softly and there's no hemming required. Extra-long length makes it easy to tuck into skirts and pants comfortably. This sample's made in silk charmeuse and though you can't tell from the photo, there is no closure! I wanted to have the best fit possible while eliminating zippers and buttons to keep it easy.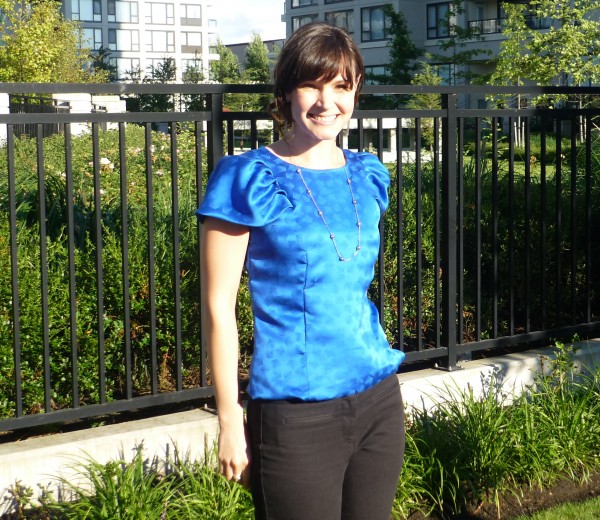 I'm also working on a ruffled version as a second option, based on the same basic blouse.  The goal was to make a great-fitting blouse that was simple to sew without being boring. Do you like it?
I'd love to share bits and pieces of the process with you guys. Are you interested? I have many big ideas, and am planning giveaways and contests closer to the big launch. Lots of good stuff coming up – as well as regular sewing projects and tips! September's going to be one busy month…
So that's my big news! I'm dying to hear what you think, now that I've shared my plans and dreams with you. It's a bit scary to post this announcement and share my work-in-progress so I'd love to hear your thoughts. Do you have any questions? What do you think?
UPDATE: Like this blouse? Make your own! The Pendrell Blouse is available in the Pattern Store here.