Happy June, everyone! Sorry for the late post. Internet was down at the office yesterday, and early this morning, but luckily things are back up and running!
You just never know what's going to happen when you're in business. First the postal strike, then a day without internet. Never a dull moment, I tell you! Which also means I haven't been able to answer all of your cotton batting and padded bra-cup questions. Now that things are back to normal, I'll be responding to comments shortly.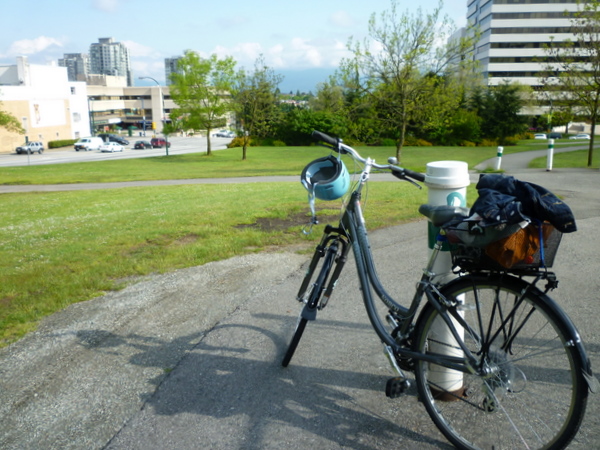 This is how nice it was on my bike ride in yesterday! The night before, I had the wettest, rainiest ride home EVER. I was soaked through all layers of clothing, hair was drenched. On a good note, the bike path was empty! And still I've decided my worst bike ride home is still better than driving. Traffic makes me so mad, people are so rude, and I feel restless sitting in a car for so long. Biking, even at its wettest and coldest, is still more fun. At least I'm doing something!
Back to today. I was hoping the weather would be nice for the kickoff to Me-Made-June, and sure enough it was! I wore my all-time favourite dress, the Twin Spruce Dress. I was terrified of getting the skirt caught in the back brakes or fender, so I wiped down my bike as best as I could using wet-wipes.
The Details:
Dress: Twin Spruce Dress, made from a vintage Simplicity Pattern (3965)
Shoes: Keds
Belt: thrifted
Bike: Norco Malahat
You may have noticed I've moved the basket setup to the back of the bike. The original front-basket was scratching up my handlebars, and too much weight up front was making steering difficult. The friendly folks at Jubilee Cycle suggested I switch to a back rack instead, and I'm so glad I did! I instantly noticed the difference with steering, it's so much easier without all that weight on the front. Although, now I am constantly checking to make sure nothing's bounced out of the back! I just picked up a set of bungee cords to secure the back load. Anyways, enough bike talk!
Where'd you go today?
To the office, then to dinner with Mr Sewaholic and his parents. And to watch the hockey game – go Canucks! (Any readers from Boston?)
Good things about this outfit:
Skirt has lots of room to move!
Sleeveless bodice lets me lean forward on the bike comfortably, no restricting sleeves.
Full, swingy skirt makes me feel pretty – always a good thing!
Keds are cute and practical for bike riding!
Things that weren't so good:
The belt is a little snug for biking. Next time, I'll pack the belt and put it on at the office. Or loosen it a little!
I was worried about the skirt getting caught in the back brakes – I've ruined two skirts that way and I really love this dress! Perhaps next time I'd pack the outfit and change once I get to the office.
Would you wear this outfit again?
Absolutely! I love, love, love this dress. Whenever I need to feel pretty and put-together, this is the dress I wear. It feels very 'me' – isn't that how our clothes are supposed to feel?
Anything to add?
Biking makes you way more relaxed. Not only the physical exercise part, but you just can't control everything when you commute by bike! So you learn to go with the flow. You might arrive with your apple covered in pasta sauce. Just wash it off and get on with your day! (This happened too.)
Perfect hair? Impossible! So you might as well embrace your hair's natural texture. I have naturally curly hair, that I've been straightening for years. Or spending even more time on it: straightening, and then re-curling it into a nicer looking shape. These days, there's no point when it's getting squashed under a helmet! Now I just dry the bangs a little, work in some curl cream and let it do its thing. (When all else fails, I have a hat in the office for desperate hair emergencies.)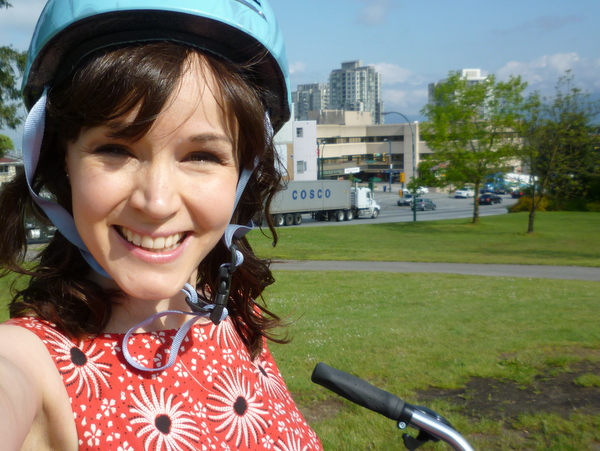 The other thing I'm doing this month is reassessing my wardrobe and deciding whether to keep or toss some of the items in it. As I've gotten older, I want my clothing to fit well, feel good, and reflect me as a person, not just be 'good enough.' I want to love the things I wear, not just put them on by default. This is a lifelong process of building and editing, learning from mistakes and cultivating a small but well-thought-out wardrobe of flattering clothing. It's been a transitional year for me and I want my clothing and appearance to reflect who I am, even as I'm still figuring it out!
I've kept a couple of Me-Made items just for the challenge, that I may end up donating at the end of the month either to Dress for Success or to local charities.
I hope this self-reflection isn't too boring for you guys! The point is not to ramble on about myself, but to keep us thinking about what we put on every day, why we gravitate to certain things (hello, loud floral prints!) and the image we reflect to the outside world. And of course there will be plenty of sewing posts, tutorials and such over the next month, as well as the ramblings!
Here's to an interesting and thought-provoking month!