I try to keep my blog posts sewing-related – after all, that's what you come here for! Tips, tutorials and finished sewing projects, my latest fabric purchases, and vintage pattern finds. Answers to sewing questions, projects turned inside-out (literally!) and the occasional giveaway. Lots of sewing goodness!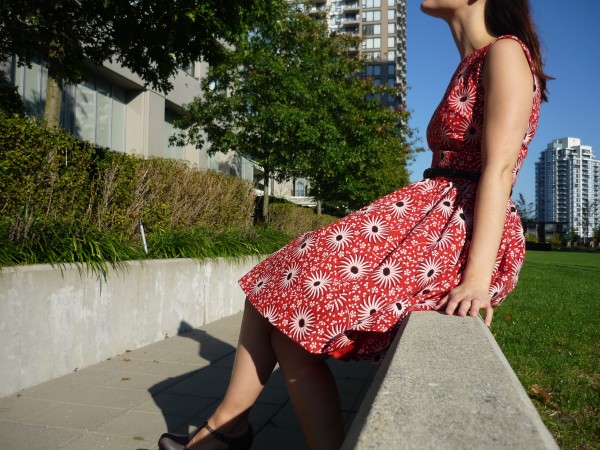 However, I've just been laid off. It came as a complete surprise! One minute I was making things happen at work and a minute later, I was emptying my desk and de-briefing my supervisor. Kind of wild how you can spend almost eight years somewhere and then poof – it's all over in a matter of minutes.(My first thought was "yay, more sewing time" – like you might have guessed! My second thought was, of course, the panic of reality setting in…)
I'm twenty-eight years old and all my life I've worked and worked hard. Even through college I worked two jobs, double-shifting on the weekends so I could pay my tuition and books.
I've spent the past seven and a half years working in the apparel industry, starting a month before completing my degree, and then working literally full-time since the day I graduated. I was the third employee at a growing company that took a chance on a fresh-out-of-school fashion graduate and I'm truly grateful for all I have learned so far.
And most of all, I'm excited to see what happens next!
I'm taking this unexpected change as an opportunity to do something new. It's onwards and upwards, full speed ahead for me and my dreams of Sewaholic Patterns. This is my chance to make it happen. I've been trying so hard while working full-time but it's been such a challenge! Suddenly my schedule is completely free, and I can devote my days to doing something I love.
Even though it's scary to be unemployed in this economy, I'm going to look at this as a positive thing, not a negative. My friends, my family and my wonderful Mr Sewaholic are all incredibly supportive and are behind me all the way. I have time, I have passion and drive, and I'm hoping it will turn into a great success!
So thank you all for reading and commmenting, for being so wonderfully supportive, and stay tuned for exciting things to come. Wish me luck!