I first saw the Anna dress by By Hand London on Sew Busy Lizzy's blog. She's made at least five versions of the Cambie dress, so I know we have similar taste in dresses. When she mentioned that she had a new favourite dress pattern, I had to take a look!
The pattern in the web store doesn't have line drawings and personally, I'm a line drawing fan. I want to see the lines of the dress more than I want to see the sewn sample. So I went digging, and checked out other versions of the dress sewn up. After seeing Karen's so cute version here and this pretty floral version by Emmie and Kim's perfect-for-black tights dress here  and Jane's dress that proved this pattern looks great in solid fabrics too I was convinced I should make one too. Besides, trying patterns from different pattern companies is market research, right?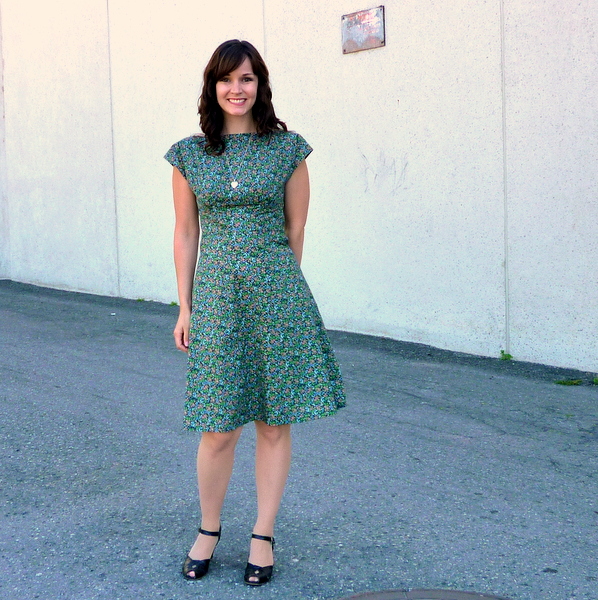 Oh, I like this dress. This is a very nice looking design.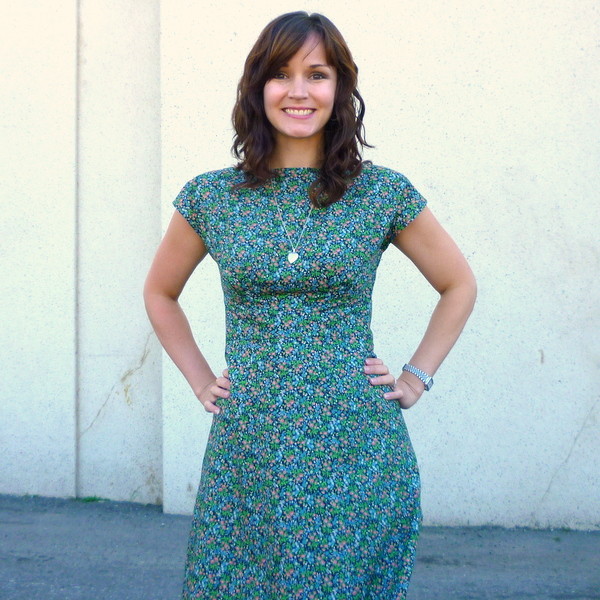 My fabric is from Fabricana in Richmond, another piece that came home with me when I meant to pick up something else. It's a cotton print, not as light as voile but not as thick as a sateen, with a soft hand feel.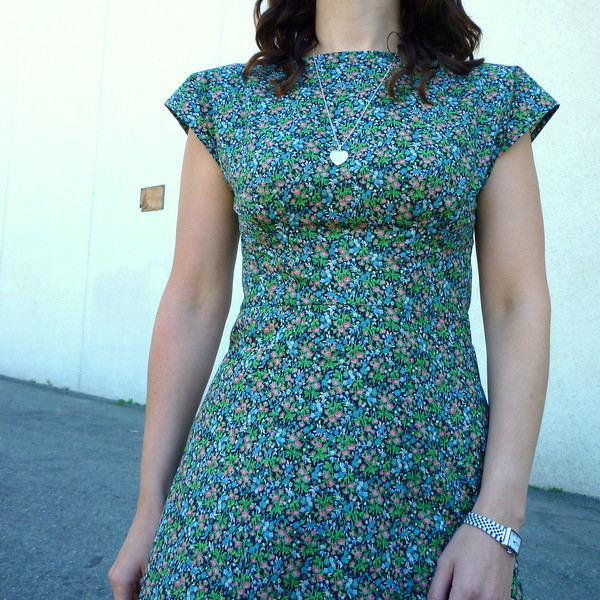 I made size 6, without making a muslin. I measure closer to the 4 but checked the finished measurements and there isn't a lot of ease. I'm hard on my dresses, lifting things, cycling, and generally moving around a lot, so I went with a size up for a little more room. And it fits!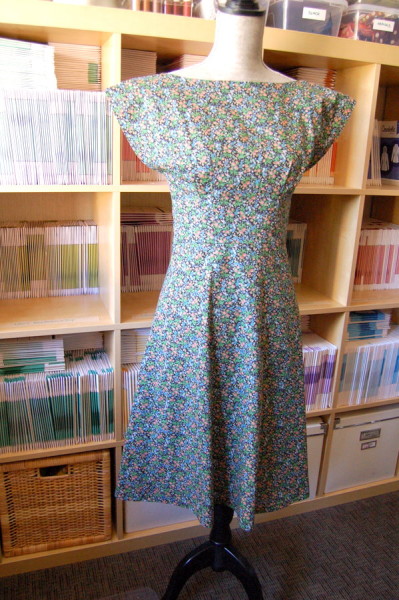 This dress looks better on the body than on a dress form. It needs shoulders to fill out the neckline.
There is plenty of room for curvy hips in this style, even without cutting a larger size on bottom. Wonderful for us pear-shapes!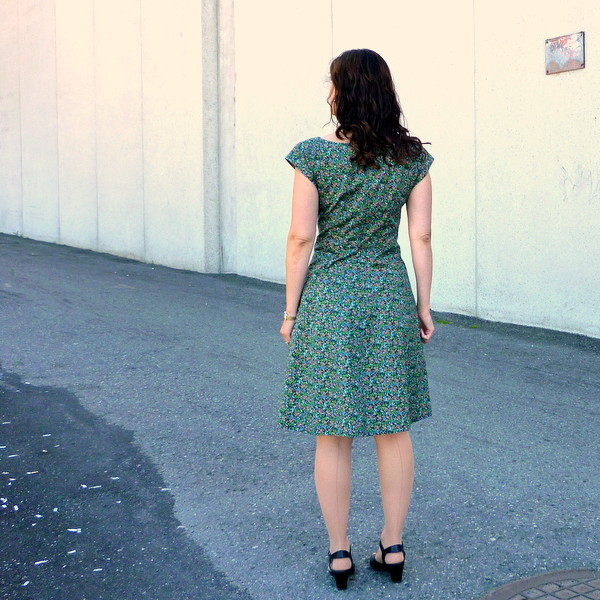 (looks a little wrinkly through the back in this photo but I think it's how I am standing…)
Love the cut-on cap sleeves! They balance out wide hips. I  don't even think about my hips in these photos because the first thing that stands out is the neckline.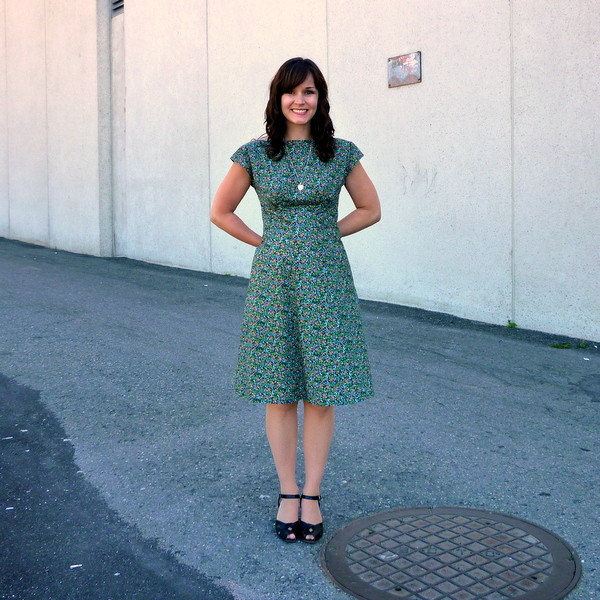 Modifications:
Interfaced the facing.
Did turned-and-stitched seam finishes for the purely lazy reason of not wanting to set up the serger and rethread it.
Decided I didn't want to press the waistline seam open. Instead pressed it upwards, towards the bodice, and sewed rayon seam binding along the seam to strengthen it. (Finally, a use for this odd colour of green!) I sewed three lines of stitching, the third in the middle is mostly decorative but it looks neat, I think!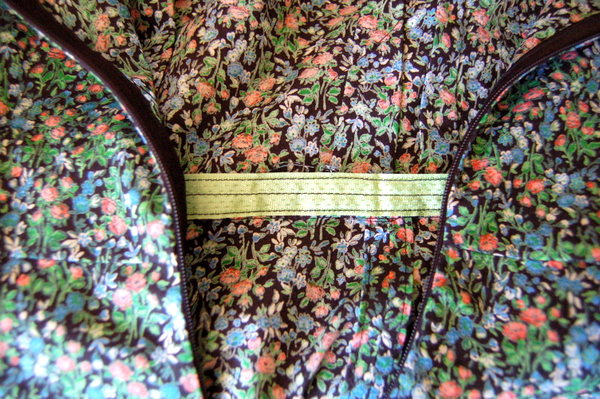 Sewed the facing on last, following the steps to sew the lining to the Cambie Dress here. This method gives the top corners of the zipper opening a nice, square appearance and bonus, no hand sewing!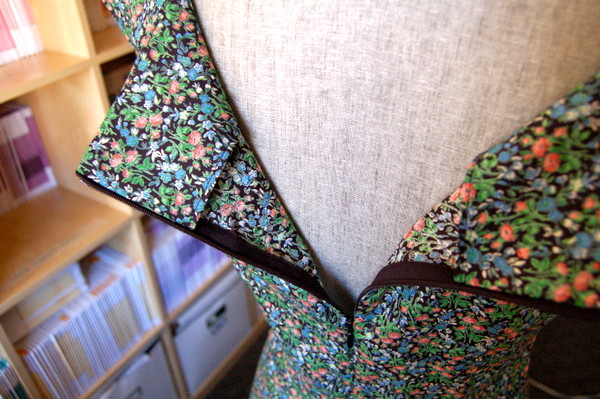 For next version:
I'd taper the edges of the hem at the bottom of each seam. If you've made some of my patterns, you might have seen angles at the hemline. This makes it easier to turn the hem up without extra fullness to ease in. I ended up smoothing out the lower edge so it was more even, like Francesca noted, the hem on the short version does end up a little pointy.
It gapes a little at the top of the zipper. I think if I took it in about half an inch it would fit the top of the neckline better.
I'd make the same modification to the facing, sewing it on last.
All in all, a very nice pattern, great fit straight out of the envelope, and a versatile design. There will be more Anna dresses in my life, I'm sure of it!