..and I came out with TWO gorgeous pieces of fabric! That's often the case when I go into Fabricana our local store, especially if it's been a while since my last visit. Everything looks fresh and new, the spring fabrics are calling my name, and it's impossible to pass them by to get to the thread section.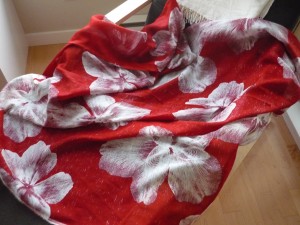 Check out this lovely linen-cotton blend. It also came in neutrals but the red jumped out at me and said 'make me a skirt!' I might listen, or I might make it a dress. Either way, it needs a swirly circle skirt to fully appreciate the large floral print. I'm lining it in red Bemberg lining to add extra oomph to the red. It's gorgeous! I want it to be done and in my closet already.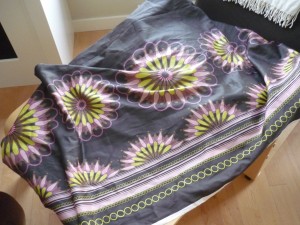 This pretty cotton border print also says circle skirt to me. Either pleated into the waistband or gathered, it needs to sit high at the natural waistline. It's a quick and easy one-night project. Or, should I not take the easy way out with the skirt project, and instead create a dress with creatively used borders? Maybe with the border trim around the neckline? There's something to be said about quick, simple projects though – it's fantastic when you can start something Saturday morning and wear it Saturday night.
Seriously though, all I needed was white thread to finish my White Dress I mentioned the other day. I bet that happens to everyone – you didn't know you needed (fill in the blank here) until you see it!