Remember the green Nani Iro double gauze print I mentioned at the end of this post? I thought about making another Bleuet dress using this fabric, but then decided to try something different. With the big floral motifs, I wanted to use a design with less seams so they wouldn't be chopped up into half-blooms across the princess seams.
I chose a popular pattern in sewing blog world: the Alder Shirtdress. When this pattern was released I wasn't sure it was my style. I thought it was super cool and classic and simple, like all of the Grainline patterns, but not 'me.'
I think it's fun to try something outside your normal wardrobe style now and then. Especially if you sew! It's a chance to practice new skills, try a new design and learn something new. If it works out, success! But if not it's never a wasted experience. You always learn something with every project.
Short story: I made the Grainline Alder Shirtdress, I loved the sewing and construction of this pattern, I'm undecided on the final result.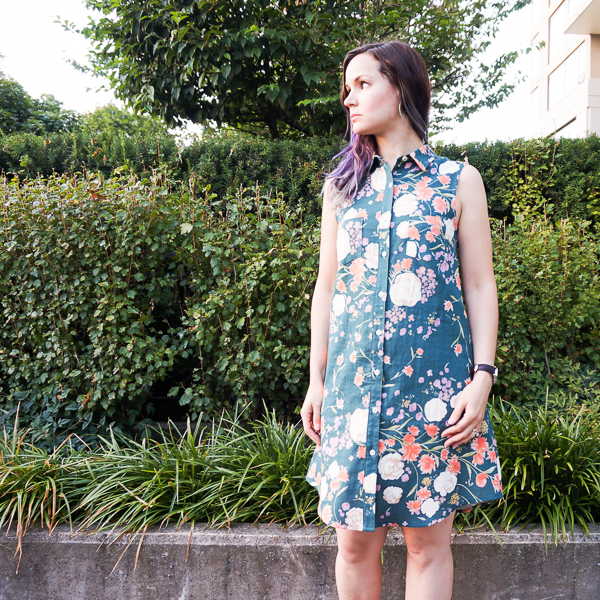 I didn't make a muslin. Shocking, I know! I usually do, and I was tracing out the pattern on a Friday here in the office, planning to make it from the Nani Iro double gauze. Marissa suggested that I go for it in the real fabric – at the end of the day, I'd have a new dress!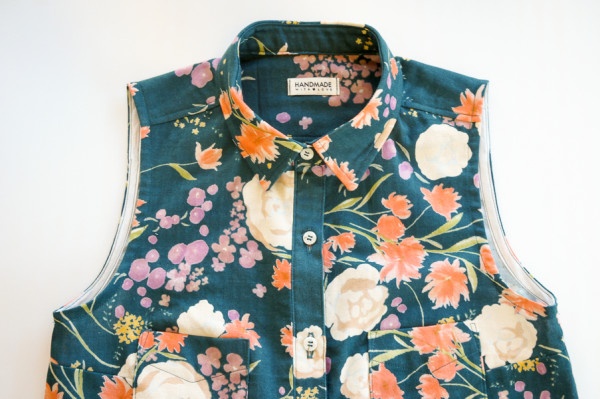 So I did. I cut the size that matches my bust, tapered out to a size that matches my waist, and tapered out three more sizes to the size that matched my hips. I aimed to keep the lines straight, not curvy, since the whole look of this dress is loose and swingy. I ended up taking out all of that extra I added at the hip, resulting in pretty much a straight size.
If you fit our Sewaholic Patterns size chart, and wanted to make this pattern, you'll likely be able to cut a straight size according to your bust measurement. The bust does fit quite snugly, so don't be tempted to choose a smaller size for a closer fit. It won't give you a fitted look, it just won't button up.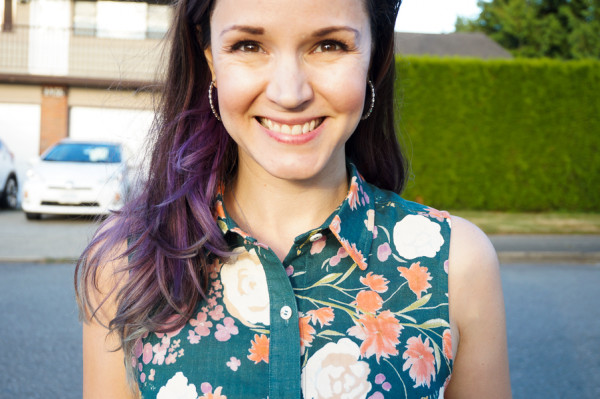 (Nice lighting in the late evening. Photo-taking tip of the day: prop your camera on a mailbox for face-level photos!)
This dress is all about the legs. Legs and arms. There's absolutely no waist definition. Awesome when you know you're going to eat a big meal, or perhaps you already did and need to switch out of skinny jeans. Because of this, good posture is really important if you want to avoid 'bump' rumours. I took lots of photos that made me look extra-maternity, which made me wonder, what do I look like when I'm not conscious of my posture?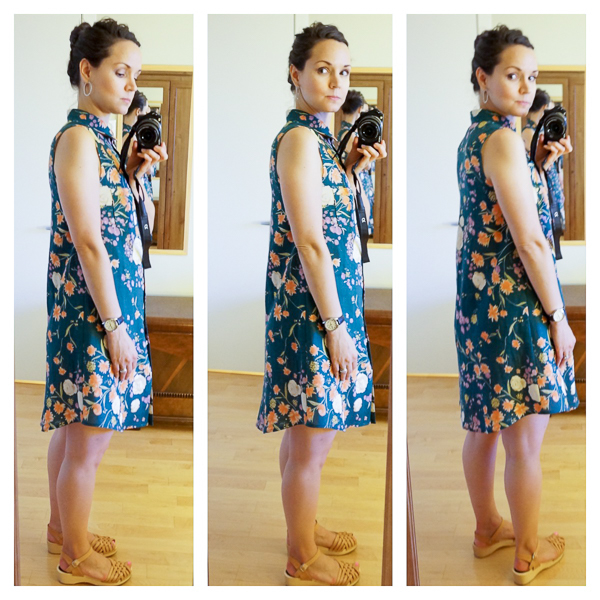 It's very different from my usual style. It's super comfortable to wear though, especially in the soft cotton double gauze. I tried belting it, but it looks better without. Best to own the A-line shape in this one and just go with it!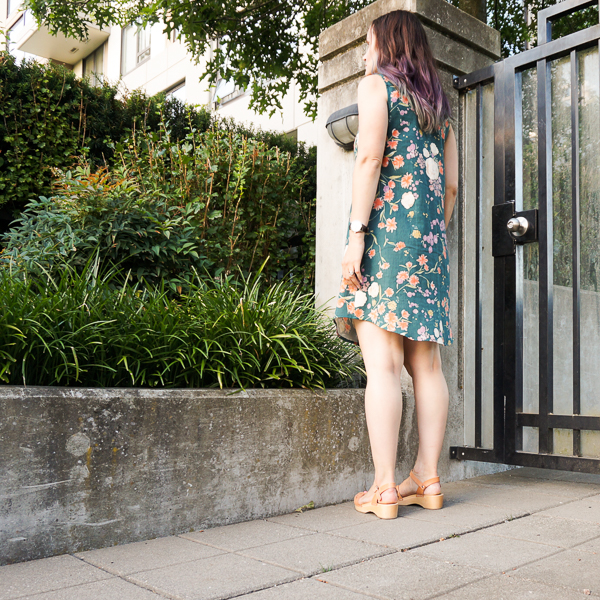 I have mixed feelings about whether it's too cool for me, or not the right style for my body, or it's just different. I am A-line shaped in a way, so it makes sense that a dress of this silhouette would work. You can see how straight the dress is cut when it's hanging up.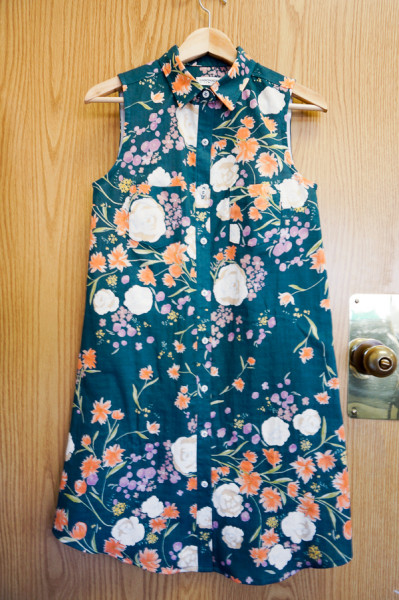 I like where the print ended up. I didn't want to match it and I didn't want a mirror image on left and right front. The big ivory blooms alternate from side to side down the front. There's a lot of flowers concentrated on the top and near the hem. I couldn't have planned it better, in fact I didn't do any planning except for making sure no one big flower ended up over the bust or bum.
I do have a big ivory flower 'target' on my back though. (Now that I've pointed it out it's obvious, right? After I noticed it, it's all I could see!)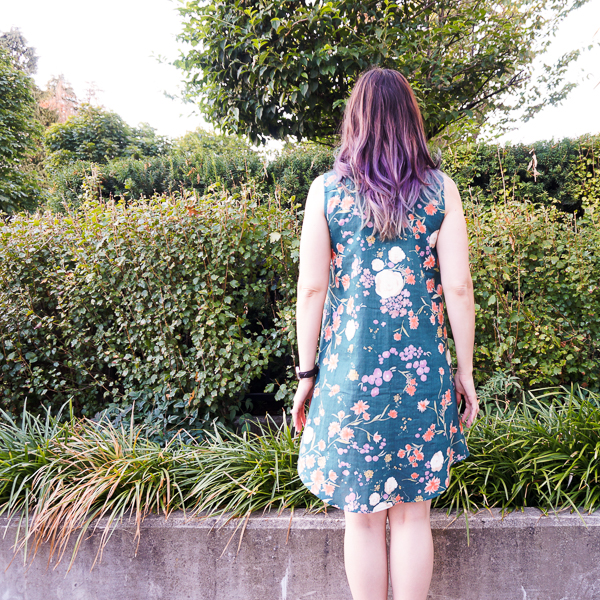 The details on this pattern are really nice. The pockets have a cool angled shape to the top hem. The hem is curved nicely, I really like the shaped hemline here.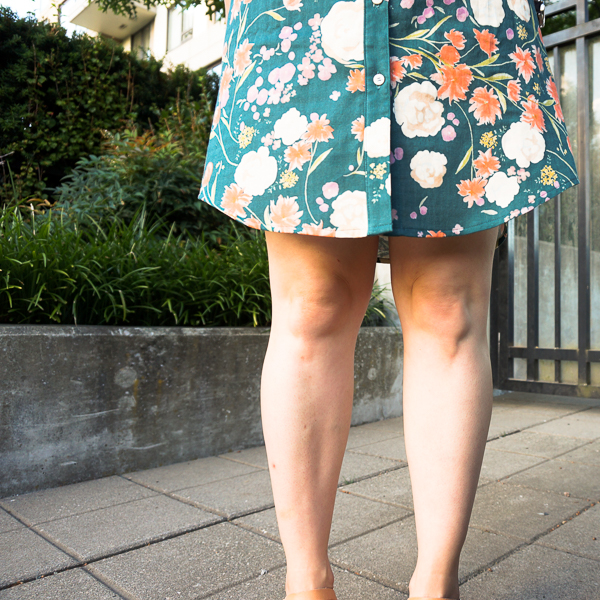 I used plain ivory voile for the armhole bias strips and that worked out well. Double gauze (my main fabric) has two layers of fabric, using something thinner made the binding process easy with flat, smooth results.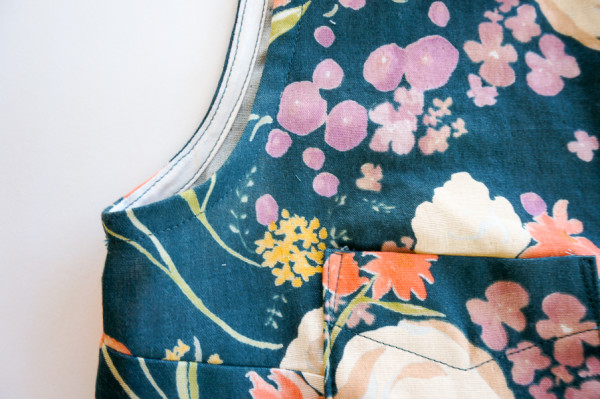 I haven't sewn labels into my projects for a while, but remembered to add one here!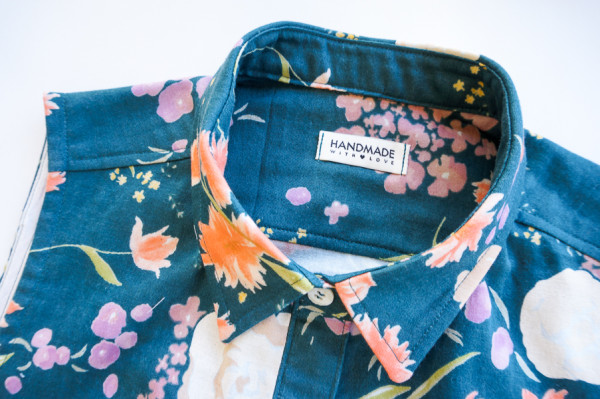 More notes on this project:
I like the pockets on this design. Even in a print, where they don't stand out, it adds interest and makes it look finished.
You might not need to add length if you are short. I added 4″ (why so much, I'm not sure) and cut it all back off. It looks more appealing as a short dress, it looked overwhelming  on me when it was 4″ longer.
I prefer my method for attaching a collar. I followed the pattern directions but I wish I'd stuck with the method I like best. There's no best or correct way to sew on a collar, it's all a matter of preference. I prefer mine and no matter how many collar methods I try, I still have a clear favourite method.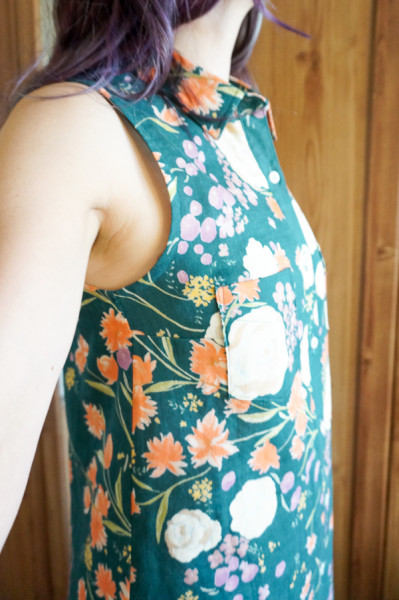 Quite different from the fit of the Bleuet Dress (try to ignore the slip seams showing through!) You can also see the difference in where the collar sits. The collar is open on the green dress, fully buttoned on the pink dress.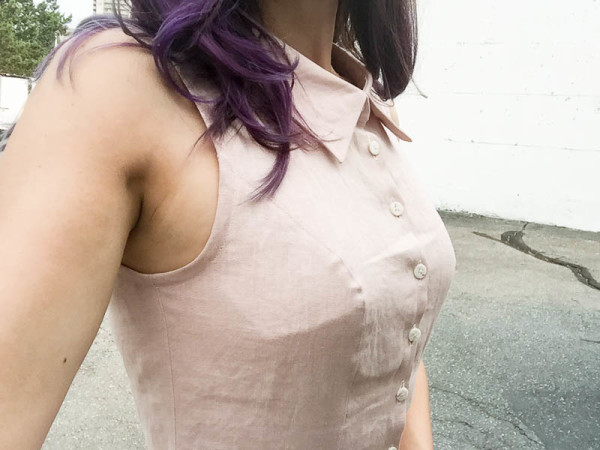 I think it'll be great in winter, layered with jackets and sweaters. The collar looks great peeking out of sweaters. The hemline has a lovely shape and will look great with tights and boots, or under a long sweater.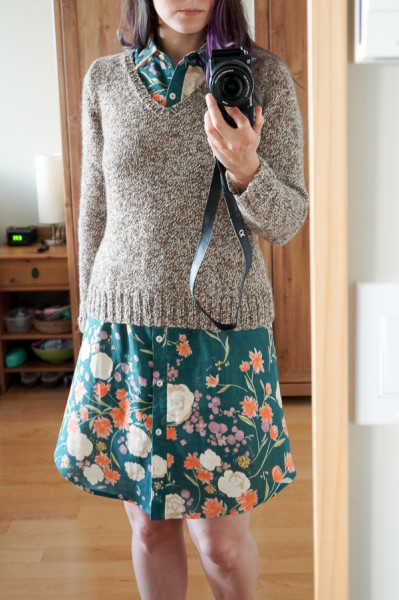 I'm 75% sold on this style on me. The other 25% wants to stick to my usual shape of defined waists and hourglass silhouettes. I'm not certain I'd sew it again, but that's not a reflection of the pattern itself, just my own style preferences. It's incredibly comfortable so I know I'll wear it, either way!