I thought I'd point out these great-looking flap pockets that Kirsty from Rocket Sews is adding to her Minoru Jacket. Isn't the fabric fantastic? Talk about brightening up a dull rainy day!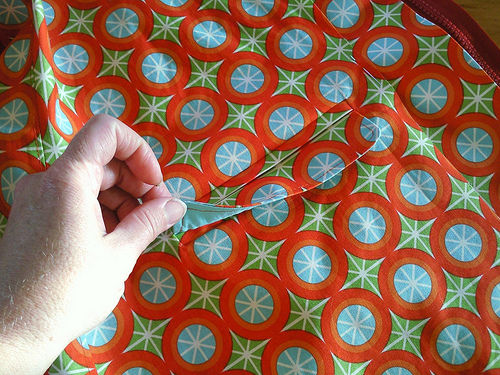 If you're up to speed with or ahead of the sew-along, it may be too late for some of you to add these pockets to your Minoru Jacket. It's not impossible, but pockets might be trickier to construct if you already have the jacket sewn up. (Adding pockets while the jacket is still flat is always easier!) This is a great method for adding pockets on your second or third versions of the jackets, as an alternative to inseam pockets.
She's even shared her pattern for the pocket flap and pocket bag for you to make your own. Click the image, or click here to read her post on the pocket details! And while you're there, take a look at the hood features she's added. A drawcord and toggles make it easy to tighten the hood on particularly wet or windy days! Looking good so far!