I made another Chantilly Dress! It's getting a little too cold outside for this dress, but that doesn't matter. I can layer it up and when summer comes around again, I'll have a new dress in the rotation.
I made this on the same day as the lace underwear. The big plan was to go into the office on a day off and whip up several new pairs of undies, but after finishing the first pair I really wanted to wear-test them before sewing a second or third pair. That way I could make changes and get the fit just right. Since I was already here, I thought I'd sew something else just for fun!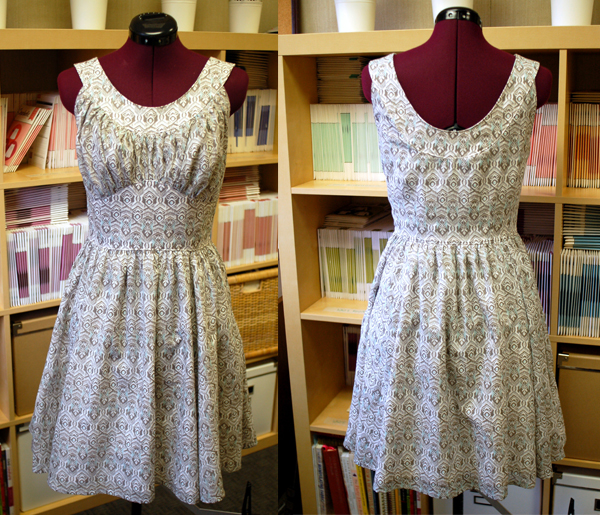 This dress was made for a couple of reasons – one, to use up the fabric from my stash and two, to go with a blue cardigan. (What blue cardigan you ask? You'll see soon!)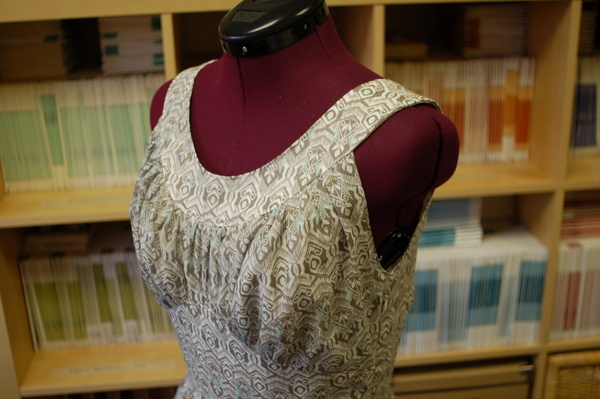 My second time making this dress was even faster than the first, as I knew it still fit and I didn't want to make any changes.
One thing I'd suggest if you make this dress? Hand-baste around the yoke when you get to that part. It says 'baste' in the instructions, but I remembered hand-basting last time and it worked well. You can re-adjust the fabric so it lines up as you sew, rather than machine-basting when the layers might slip.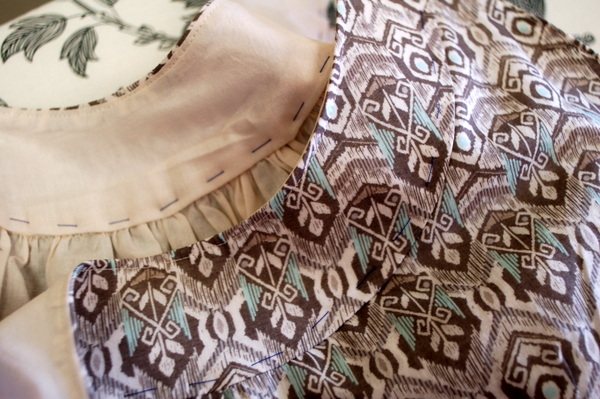 I'm hoping this becomes a wardrobe favourite that's easy to wear. The original version is so bright and fun, but I feel like it's limiting. If I wear it two days in a row, you'll definitely notice! It's hard to 'restyle' into a different look, where this plainer version can work with a blue cardigan or a brown pullover for two completely different looks.
It was too chilly to model it when I finished the dress. I wanted to show how it looks on a body, but didn't want to undress on such a cold rainy day! I'll take photos when I wear it for the first time.
It's interesting to look at the same pattern, done up in two different fabrics. Side by side, the brighter colours photograph better, and you can almost tell that one photo was taken on a sunny day, one on a cloudy grey day.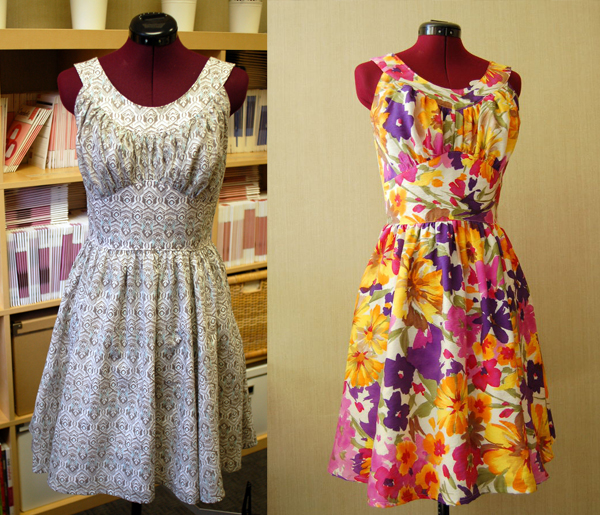 The neutral-coloured print shows off the yoke detail better. You can see the scoop of the neck, the bustline gathers and the curve of the midriff seam more clearly. Both are pretty in a completely different way! It's easy to instantly like the bold and bright coloured version, but I'm thinking that the subtler colours of the new dress will be less obvious when I wear it repeatedly.
What do you think of Chantilly One and Chantilly Two?