A fabric this wild and bold needs a simple style. Wouldn't you agree? (Many of you did, and at least one of you wasn't even sure this would turn into a decent-looking garment!)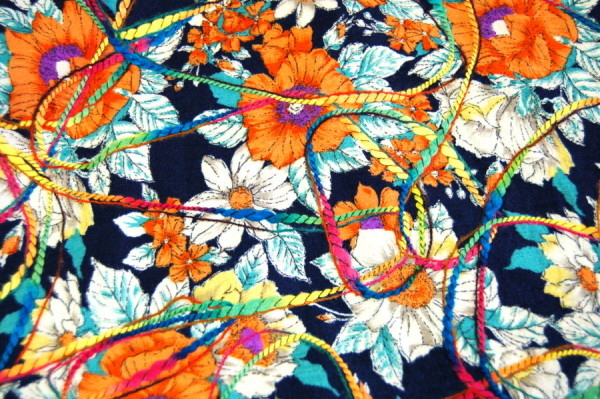 This is the awesomely wild fabric I posted about here. It's 100% polyester, from Télio, and when I saw it hanging in the showroom I had to have it! Here's what I did with it: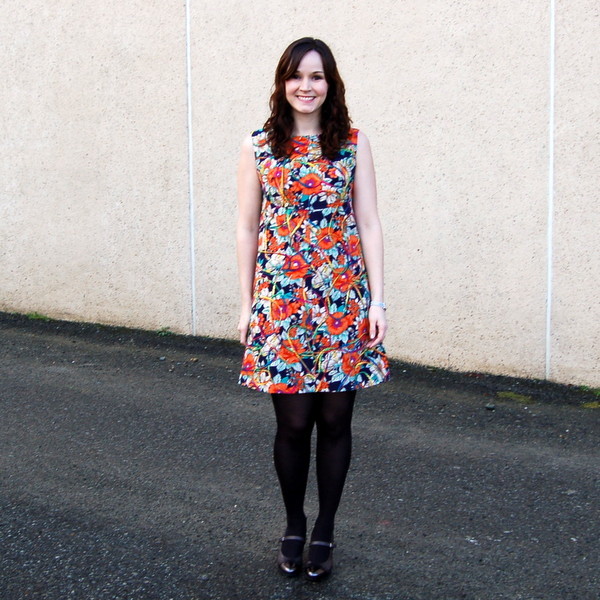 I chose Simplicity 8498, which you might remember from my not-loved dress I posted here. As you can see I took none of my own advice (making it in a solid fabric to show off the lines) but I did take your advice when you said to make it shorter! For a very short moment I debated making it long sleeved. (Too much intense fabric in one garment, Tasia. Keep it simple!)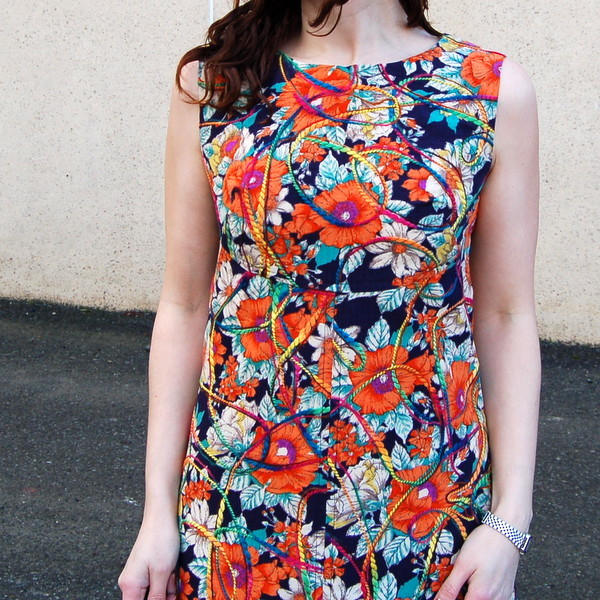 I did topstitch the centre seam and curved seam, which I thought you'd barely be able to see but you can in fact see it! It's subtle but it adds a vertical line. I like it. It would be even better in a solid fabric, the topstitching, or even large topstitching with thicker thread. Hand-topstitching, maybe!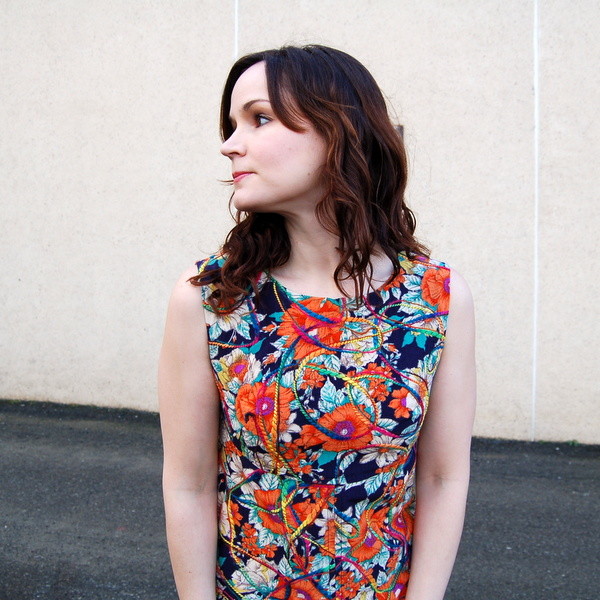 This is the most fun dress. Love, love, love! I know that classic prints and solid colours make timeless garments. But this makes me happy to wear!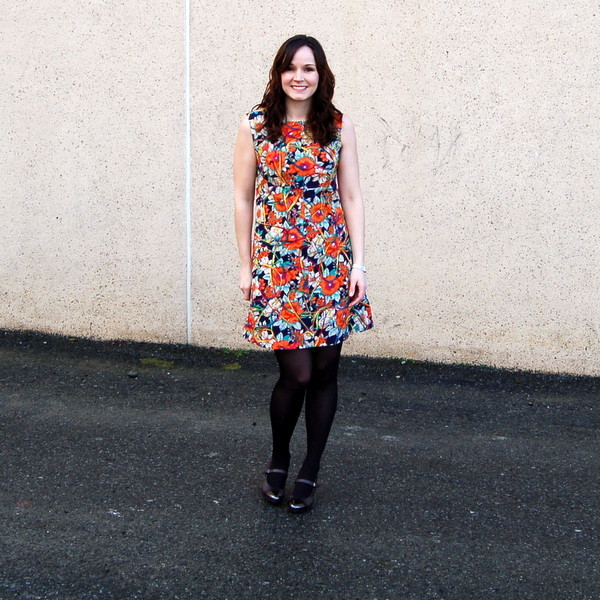 It was really cold so I wore my coat on my way to take photos, and my coat and scarf were a great match for the dress. Got to love when a new item goes with your current wardrobe!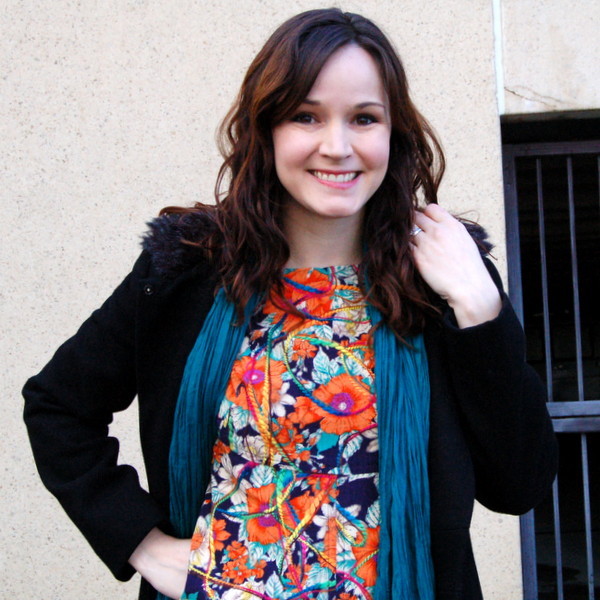 Short skirt, and a long jacket…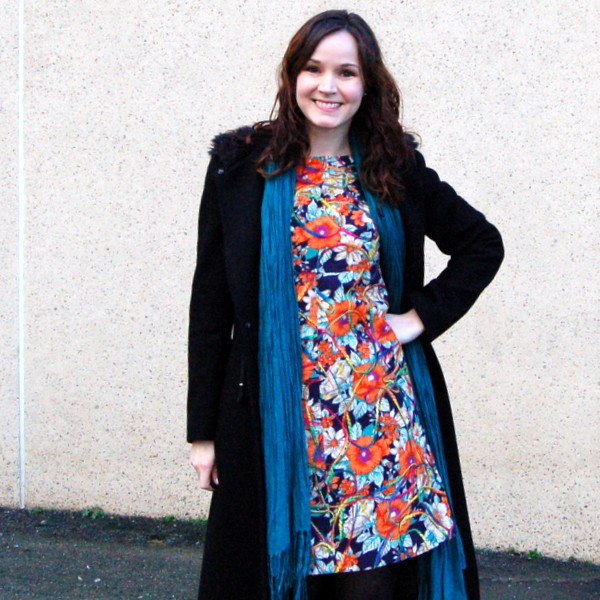 The key is to keep the rest of the look simple, I think. Black tights, black pumps. Sure, the dress is a bit eccentric. But the shoes are simple and black tights keeps the focus on the dress. (I just thought of coloured tights, wouldn't that be .. colourful? Actually, maybe navy would be ok.)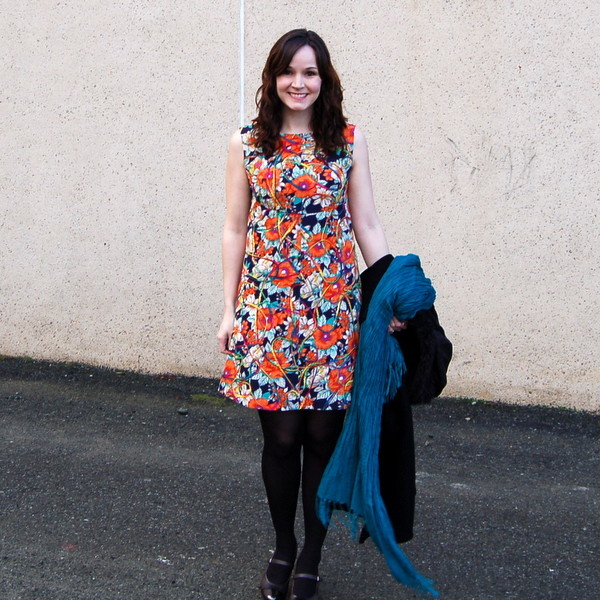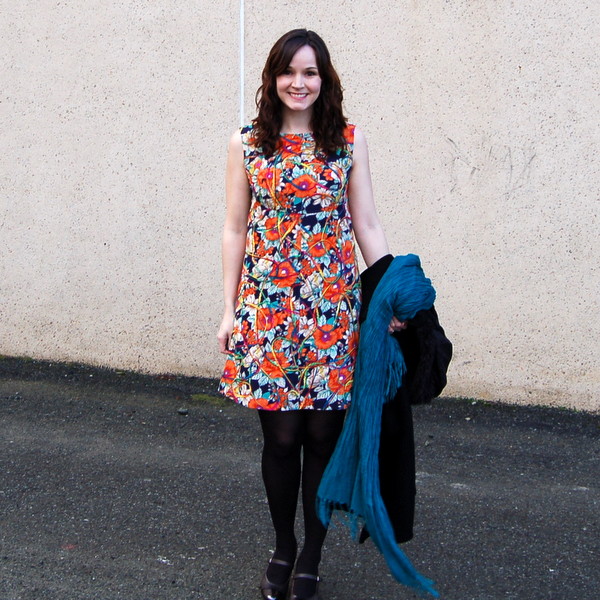 Cutting embellished fabric can be hard on your scissors – and your hands! Cutting through the felted yarn bits took extra pressure. I could feel it when I was cutting through a thick lump. I thought it would be harder on the rotary cutter but perhaps that might have been a better solution.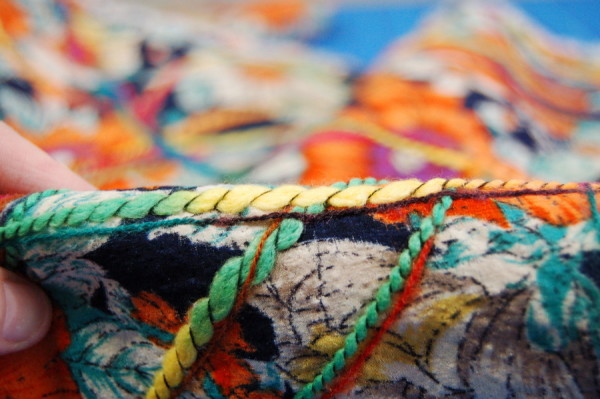 A bonus of using wildly-printed fabric? Your hand-stitched hem will never show through to the right side! I probably could have machine-stitched the hem and it still wouldn't show. Instead I used taupe seam binding, machine-stitched it to the hem, then hand-stitched the other side. (Much like I did for the Lonsdale Dress sew-along here.)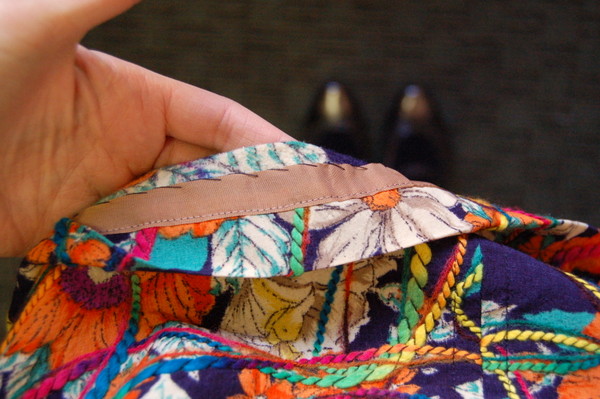 This realization inspired me to catchstitch the neckline facing to the dress. This keeps them flat, in place, yet none of the hand-stitching shows through. I just tacked the armhole facing to the dress at the top and bottom of the armhole.
Plenty of room for a big meal. You can see the side view, there's plenty of space around the midsection  but then again, you have to stand up straight or risk 'bump-watch' commentary. (No bump here, just a yummy lunch and slouching posture.)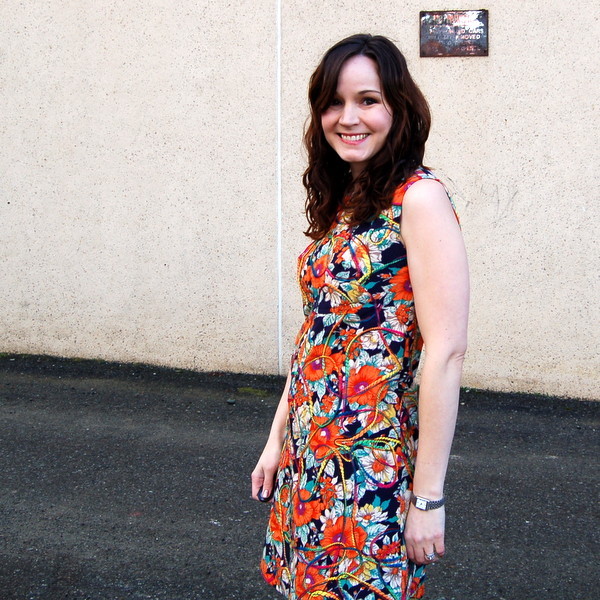 I really liked the fabric, but I love this dress. After seeing the photos especially. Even if you don't blog, it's really useful to take photos of your finished projects. It helps to see them at a distance and evaluate proportion, colour, flattery. This dress works with dark tights and dark shoes, and bare arms if it's warm enough to keep the attention up top.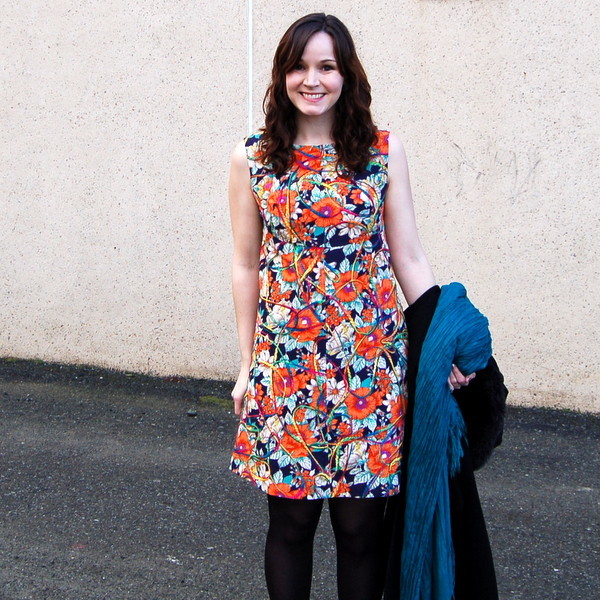 Here's the back view, it fits through the back better than my first version but there's still a comfortable amount of ease.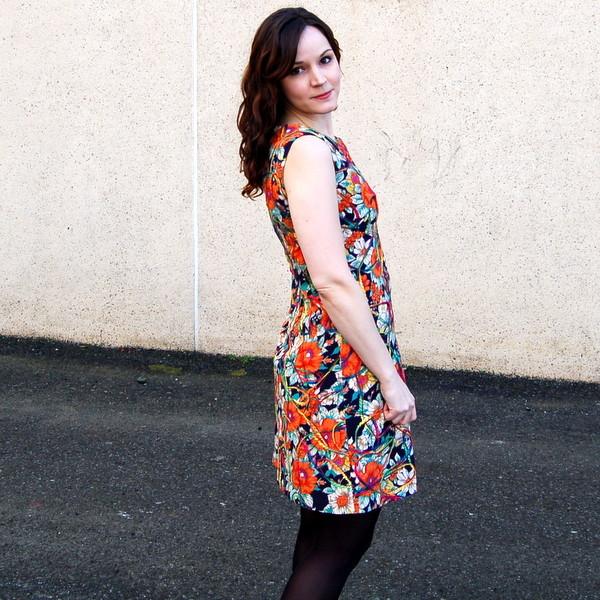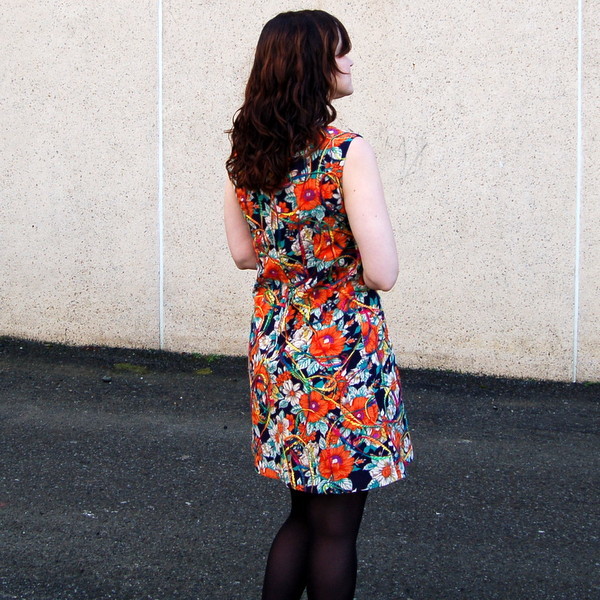 I'm thinking a cosy ivory cabled cardigan would be nice with this dress. Something to calm the crazy print and make it wintery and warm-looking.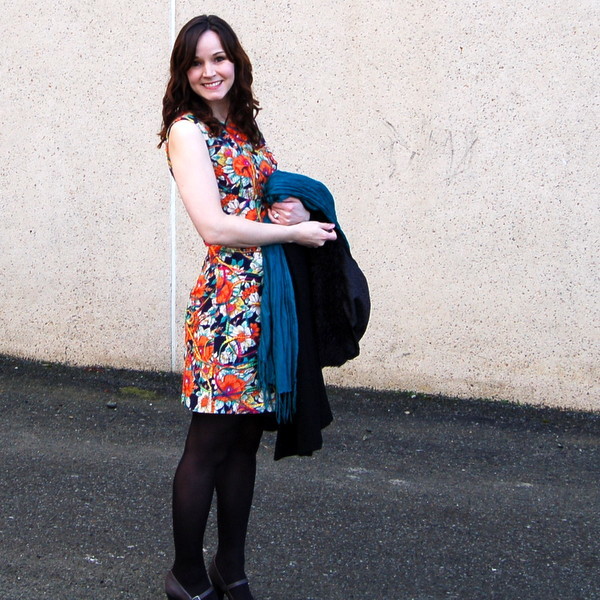 I also  realized that I meant to wear a chunky gold necklace for these photos and forgot! I didn't notice at first because the dress itself makes such a statement. Black tights and pumps are all it needs. (And my favourite teal scarf.)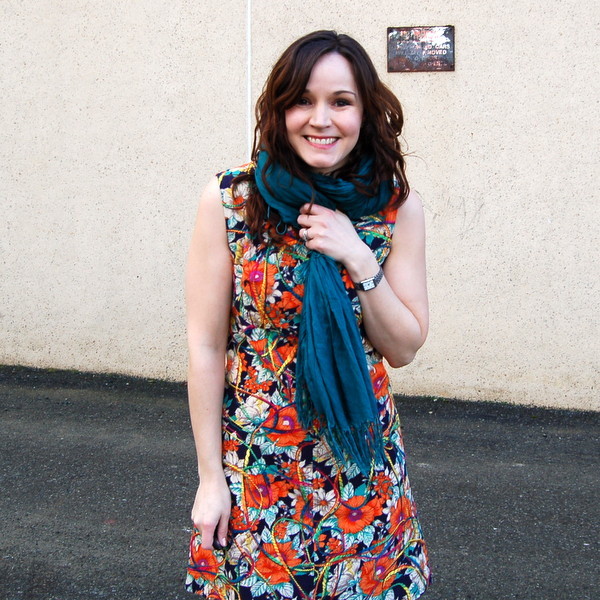 What do you think of this fabric? It's OK if you hate it, it's not to everyone's tastes I'm sure. How about the finished garment? Personally, I loved it as fabric, and love it even more as a finished sixties-style dress!