Happy Friday, everyone! Here's a pattern story for you, as I am still tallying surveys. (We're at 688 responses now – tons of feedback to review!)
Back in December, I linked to a vintage Vogue dress pattern on my Facebook page. Sometimes I chat over there, ask questions and post pictures of patterns I like or fabric I find. It's mostly things I want, but can't buy. I figure, why not share the love? Maybe you're in the market for vintage dress patterns and I can live through your purchase? At least it goes to a good home!
Anyways, here's a story about the one that got away. Here's the vintage pattern, so you know what we're talking about: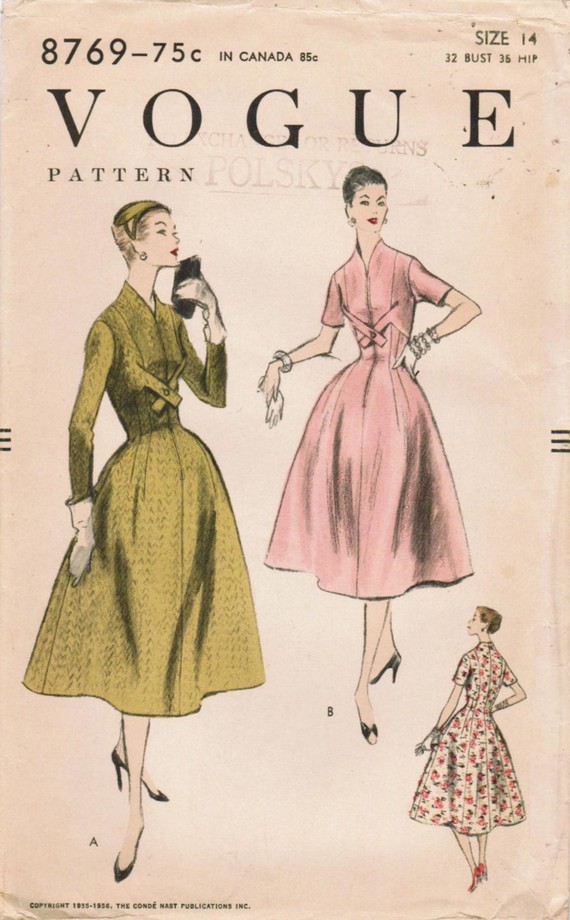 Here's the awesome description:
What a fab.u.lous dress. Period. With snug fitted bodice with delicious details and a full skirt, count on Vogue to dress up a one-piece dress! ;D
The dress features bodice one-in-piece with skirt, with contoured princess seams in back, and contoured princess seams in front bodice that end at the hip. Vertical contour darts alongside the princess seams in front and back ensure a very sleek fit through the bodice and waist, before the dress flares into a full skirt. The bodice front features tab extensions from the princess seams that cross and button in front. Dress has shallow funnel collar, your choice of short or full length set-in sleeves, and front zipper closing.
I love the one-button detail! What a great way to design a dress around one fabulous button. I'm always partial to patterns that would be hard to figure out myself and capture the vintage silhouette. That tab detail, the seaming – I want to see what the pieces look like and read how they all go together!
I linked to it earlier in the day, and then went out for dinner with Mr Sewaholic and his family. While we're out, Mr Sewaholic's mother mentioned she loved the pattern I linked to that morning! Since it was before Christmas, she offered to buy it for me as a present. And I politely declined, saying I didn't need it, but by the end of dinner she had convinced me I should have it. (Like it was hard to convince me I need anything sewing-related!) She'd never purchased on Etsy before, but told me the next morning she'd buy it for me. I was powerless to resist, I tell you! How do you say no to a pretty vintage Vogue dress pattern?
Anyways, we went home after dinner and, being me, I checked the computer. The pattern was still there! But when I woke up in the morning, it had sold. Aww! The next time I saw Mr Sewaholic's mother, I casually mentioned it and she was like, oh no! So I knew she didn't buy it.
That was back on December first, so I chalked it up to 'not-meant-to-be' and forgot about it. Fast-forward to mid-January when I met up with a good friend of mine. She gave me a package wrapped in Christmas paper… and by now you know where this is going! My vintage Vogue dress pattern, is now mine all mine! (Why do I always feel like I've won something whenever I get a new vintage pattern?) She saw my Facebook link and snapped it up for me. (And then kept it a secret for over a month!)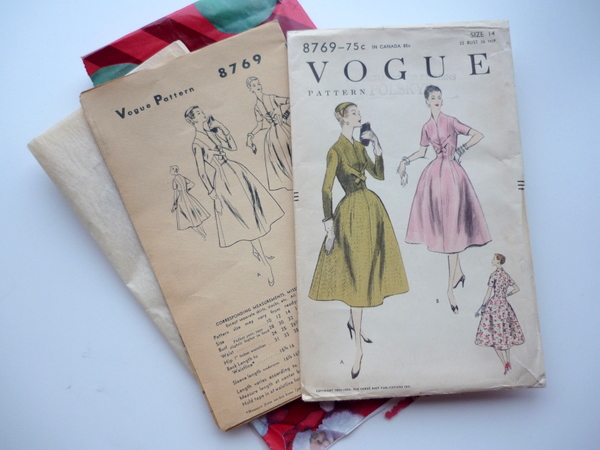 So thanks to my great friend, there's another beautiful vintage dress in my future! Here's to good friends who secretly buy patterns for their friends who love sewing!
What kind of fabric would you use for this dress pattern? Tweeds? Prints? Hope you have a wonderful weekend!