After Monday's post – 75% Winter, 25% Summer – I thought I'd try to layer up one of my favourite summer dresses for a winter look. Because I'm a visual person and I like to see examples – and maybe you do too! It's easier to relate to real-life photos than just a list of ideas.
This Chantilly Dress is just about as summery as it gets. Bright colours, bold painted flowers, lightweight fabric and a full swishy skirt! But can it look wintery with enough layers? You tell me!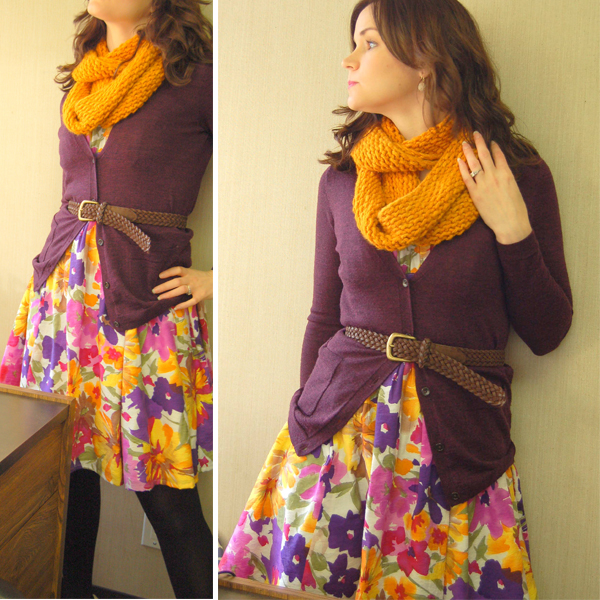 Let's compare summer Chantilly versus winter Chantilly:
The summer version is so much easier. With a great printed dress, all you need is an equally great pair of shoes and you're ready to go! Or for the beach, even flip-flops would do. (I'd go for yellow ones personally!) Not a lot of thought required to look good. That's why I love summer! It's so easy to look pretty. I also feel most like me in a printed, colourful dress.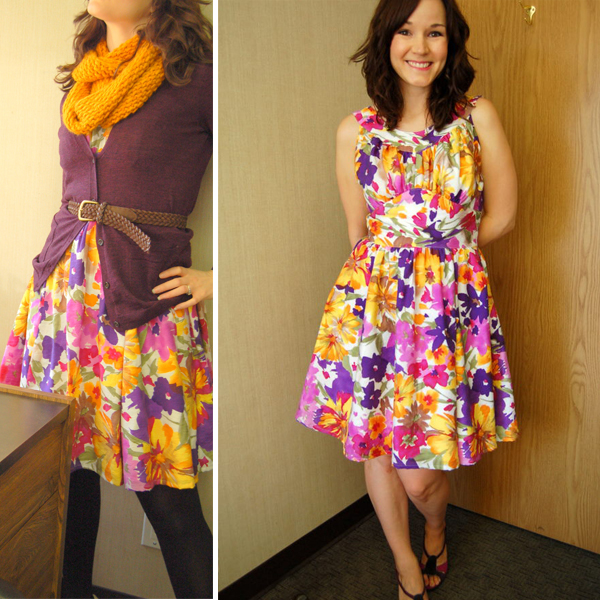 But you can see the winter version is pretty easy to do, too. I'm thinking the trick is in having the right coloured layering pieces. A black cardigan would deaden the bright colours and look like there wasn't much thought put into it. (Or perhaps that all I own is one black cardigan and I put it over everything.) Adding cheerful yellow and rich plum make this wintery outfit still feel like me.
Another point to note is that the yellow cowl is the brightest colour, so it draws attention to the face. It also helps balance out the look. If I'd worn a dark scarf and a dark cardigan, your eye would go to the bit of skirt at the bottom, not my face, and the bright flowers would look out of place with the rest of the outfit.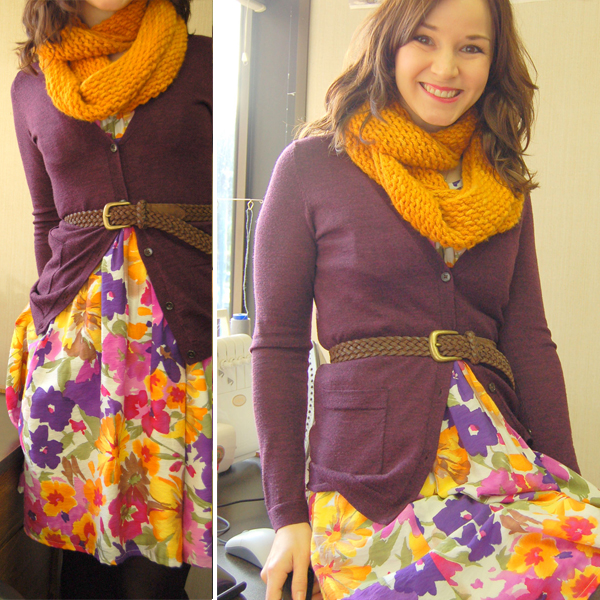 Anyways, there it is, a summery sundress in wintertime! It feels winter-appropriate with the right layers, yet still looks fun and cheerful by adding colourful accessories. Thought I'd see if I could do it with clothing I already own, after yesterday's thoughts on balancing winter and summer sewing. It works! (I think so, anyways. Definitely for a casual workplace or on the weekend.)
Wardrobe planning notes:
Find cardigans and scarves to go with summery printed dresses.
Sew dresses that coordinate with existing cardigans, jackets and coats.
Consider solid-coloured dresses instead of prints for a more sophisticated and season-less outfit.
Choose colours you love, to make winter dressing more fun. (For me, anyways. I feel blah in black, but feel great in yellow!)
This is where picking a colour palette and sticking with it is a good idea. It would be easy to make more items in purples, yellows, and olives to work with these existing pieces. In fact, this would work with any multi-coloured item in colours you love. Pick out the colours within the print and make jackets, sweaters, tops to coordinate. I'm no style expert, but it seems like a logical way to build up pieces in colours you like and wear. (Now if only we could sew faster, or had more time to sew!)