Happy Monday, everyone! Check it out, I made a new skirt. The fabric is simple cotton but the print is gorgeous, all floral and spring-like and painterly.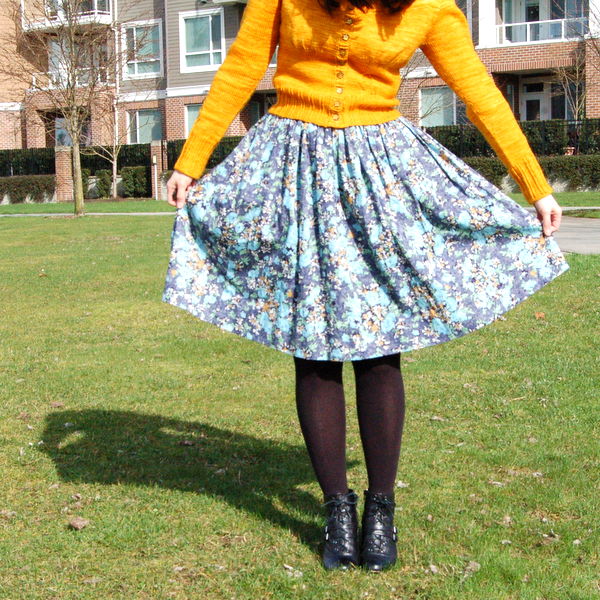 It may not be the most interesting sewing project ever, but it almost didn't happen! In its previous life, this fabric was a failed dress project, doomed to the scrap bin for over a year.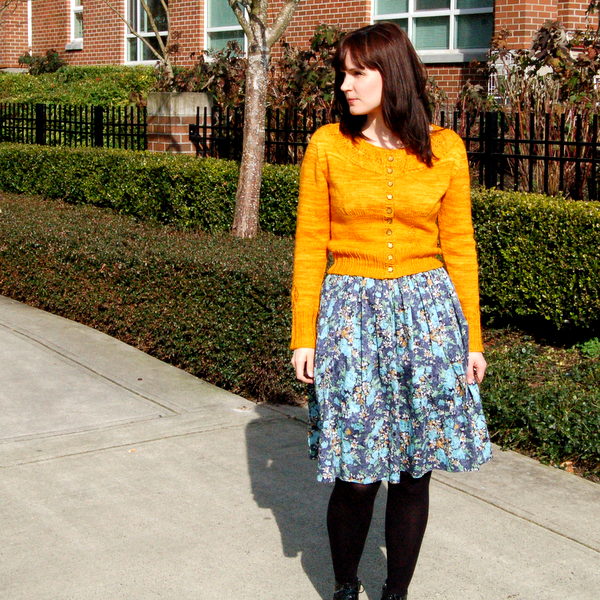 This used to be a sample of the Cambie Dress, while I was still working out the design. The bodice wasn't quite right, which made the dress unwearable in its current state.
Once I'd finalized the Cambie pattern, I had no more need for this dress prototype. In fact I regretted using good fabric when the design wasn't ready. (Should have made just one more muslin first!) So I'd stashed it in the scrap bin for future refashioning. Out of sight, out of mind!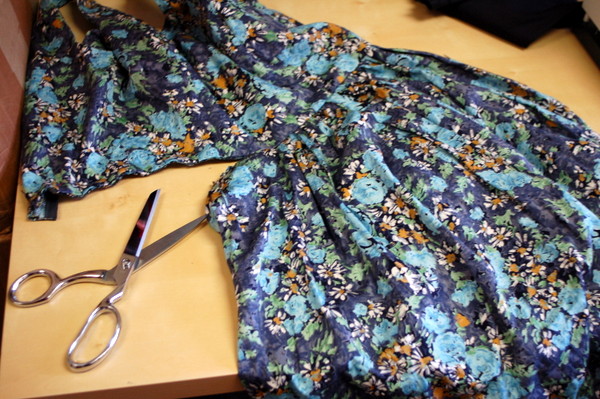 After making the Lauriel Cardigan, in all its bright golden glory, I needed something to go with it. Something fairly muted, a little feminine, with hints of yellow. I was purging the scrap bin and remembered how pretty this fabric was and how unfortunate that I'd wasted it. That's where I came up with the idea to rework this dress into a skirt! I'd save it from the scrap bin and complete an outfit, all with one project.
If you've ever made a dress that didn't turn out quite right, if the lower half fits or has plenty of volume to work with, why not turn it into a skirt?! It's easiest with full pleated or gathered skirts, as you can easily re-gather or re-pleat it into a new waistband. It's also easiest if your dress has a waist, with bodice and skirt pieces joined along a seamline, so it's easy to decide where the skirt begins.
First, save the skirt pieces. Carefully unpick the waistline seam, or cut below the seamline. (I cut to save time, and also because I knew there was plenty of length in the skirt. If your dress is on the short side, unpick the seam instead to save every bit of length!)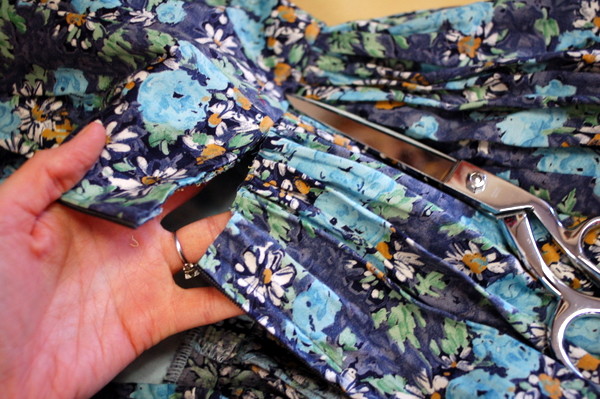 Make sure the zipper is open and the tab is below the waistline where you're going to cut. You want that tab on the new skirt!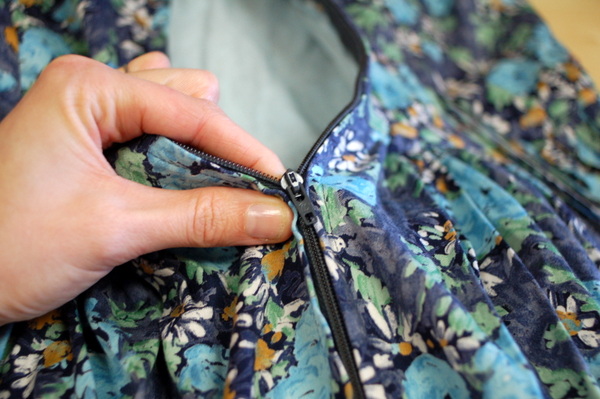 Make any necessary repairs. For the pockets I'd originally tried to secure them into the waist seam, figuring they wouldn't flop around as much, but it wasn't very comfortable to put your hands in them that way. So I re-drew the pocket line, and sewed and serged the pocket.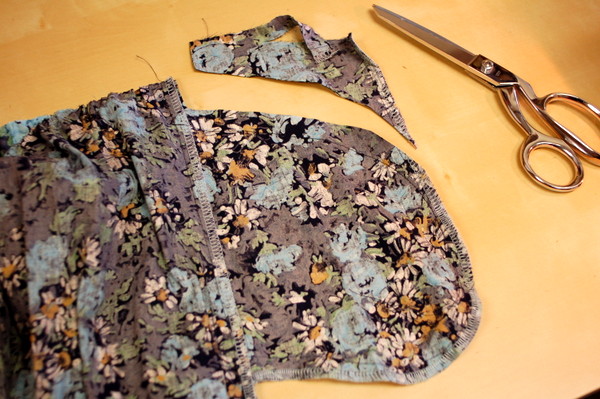 Cut a waistband. I thought of using a contrast navy fabric for visual interest, but also because my scraps of this blue floral fabric were too small to cut the full piece. Instead I decided to piece the waistband out of the leftover floral fabric. I placed the pieced seams at the sides, so the waistband ended up being three pieces.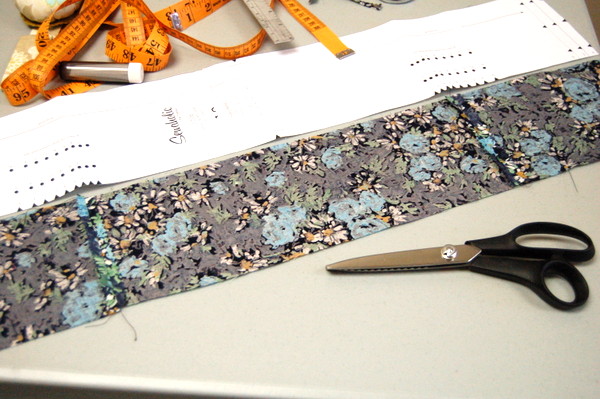 I used the Hollyburn Skirt's waistband piece, and added a 1 1/2″ overlap and underlap to place a button.
I regathered the skirt to fit the new waistband. You could pleat yours, but gathering is the fastest and easiest.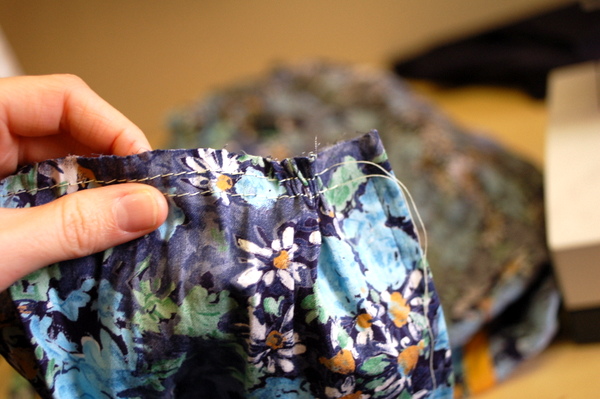 Lastly, I attached the waistband, and topstitched all around it.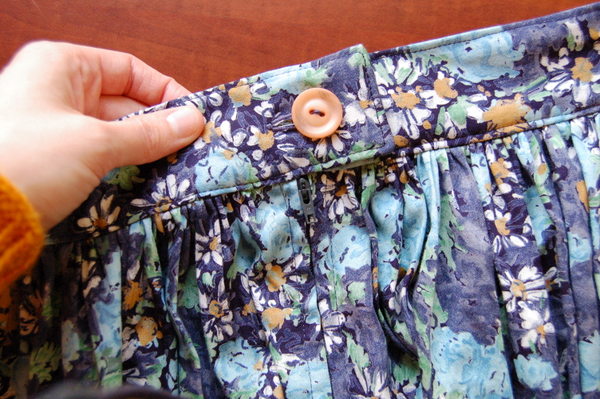 I sewed one button to the top of the waistband, and one as a stay button on the inside.
A tip about stay buttons – save the ones that come in a plastic bag with purchased pants! I inherited a bunch of buttons and about half of the buttons were the extra sets that come with store-bought dress pants.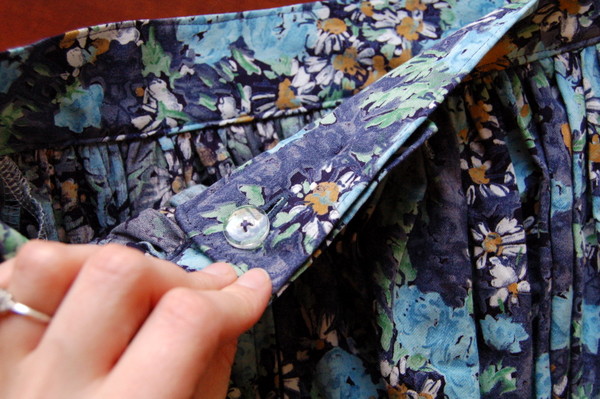 Bonus: the skirt was already hemmed from when it was a dress!
I love this mustard-yellow seam binding. Another thing that was too pretty to waste.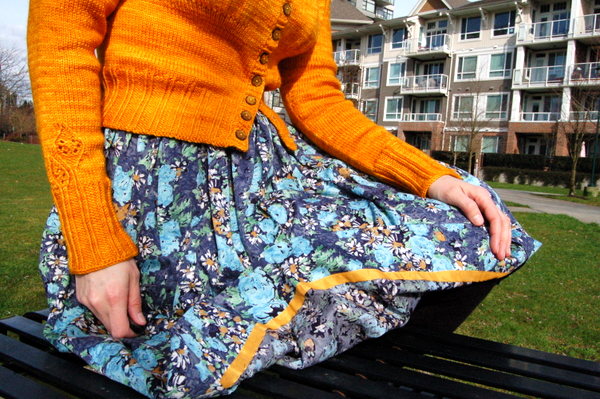 Success! A new skirt, a project saved from the scrap bin, and something to wear with my Lauriel cardigan.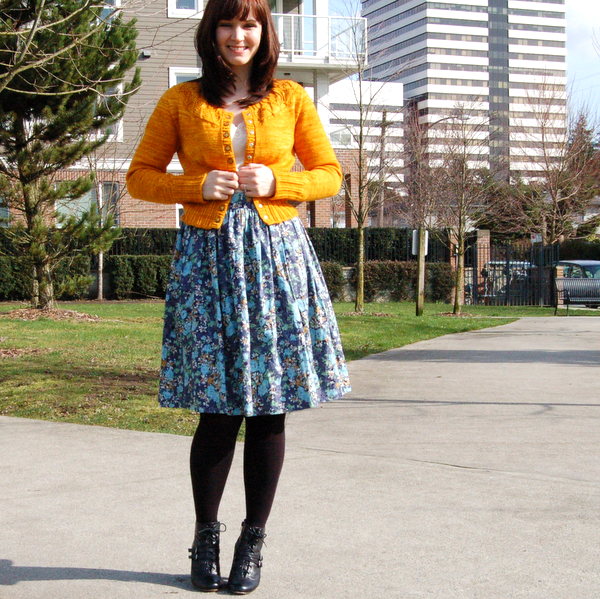 Have you ever done this with a dress, either a purchased dress or a sewing project that didn't work out? It's easy to do! You could always re-attach the skirt to a new bodice in a coordinating colour. If you're going to do that, look for a pattern that has a waist seam so it's easy to swap in your new gathered skirt.