Today I have a really big announcement to make. I've been dying to write about this for over a year!
You know the Sewtionary page on my blog? Where I have a list of sewing terms, from A-Z, with links to blog posts and tutorials? Well, it's going to be a book! In fact it is a book!
The Sewtionary is a book of 101 sewing terms and tutorials, from A to Z. The official title is "The Sewtionary: An A to Z Guide to 101 Sewing Techniques and Definitions" which sums it up quite nicely.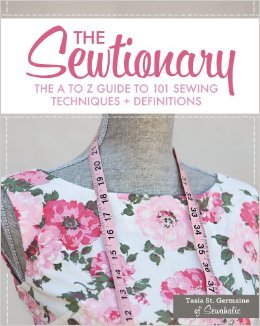 In the book you'll find clear, colour photo tutorials for each sewing term. I'm extremely happy with the photos, they're clear and detailed so it's easy to follow along with each tutorial.
For each of the 101 terms I've included helpful tips and examples of when you might use this technique. It's great for beginners who are faced with unfamiliar terms as you learn to sew.
The book is coil-bound so it can lie open and flat on your sewing table as you work. This was important to me, as I end up bending my books or weighting down the pages with my scissors so I can read as I sew. A reference book is most helpful when it's easy to use!
And it's equally easy to find what you're looking for, as the book is arranged alphabetically! Looking for information on sewing a button? Turn to B! How about piping? Find it under P! The simple and straightforward A to Z format is logical and makes it easy to look up the tutorial you need, quickly.
This book would be an excellent gift for someone who wants to learn to sew. Or if you teach sewing! Or if you're starting to explore new sewing techniques and enjoy learning from detailed photo tutorials.
I wanted to create a simple, timeless reference book that was appealing and interesting as well as packed with solid facts and useful information. This book is pretty, modern, and fresh – and full of tutorials and techniques.
How did this happen? I was contacted by F+W Media at the end of 2012 about possibly turning the Sewtionary page on my blog into a book. It all happened very quickly after that. By February it was a go, the contract was signed, and I started planning! My first deadline was April and my last deadline was October. It's scheduled to be released in July of this year.
Good news! You can pre-order the book starting right now. I'd love it if you would!
Thank you for your support and for inspiring me to start the Sewtionary page on my blog. I can hardly believe it's going to be a real book in a few short months!