Have you ever found something interesting tucked in the envelope of a vintage sewing pattern?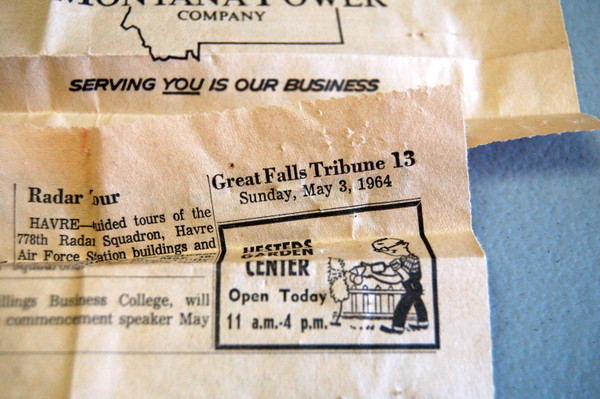 This isn't the most interesting thing (not like a love letter or something juicy!) but pinned in between the 'lengthen and shorten here' lines was a newspaper from 1964. So I imagine the original owner bought the pattern and sewed it up right away! And then it's likely been stored since then, because the newspaper is pinned very unevenly and I can't imagine a second person sewing it up without fixing it.
How cute are the illustrations?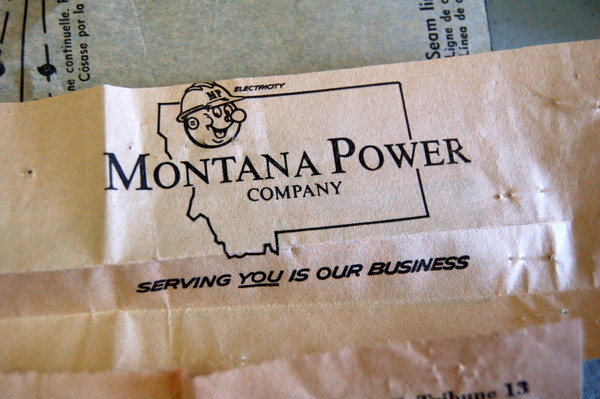 And this ad, with a sketch of the building. I quite like the slogan in this ad "Real Quality is the Only True Economy" – still relevant today, I'd say! Choose quality over disposable cheap goods, and you'll save money in the long run.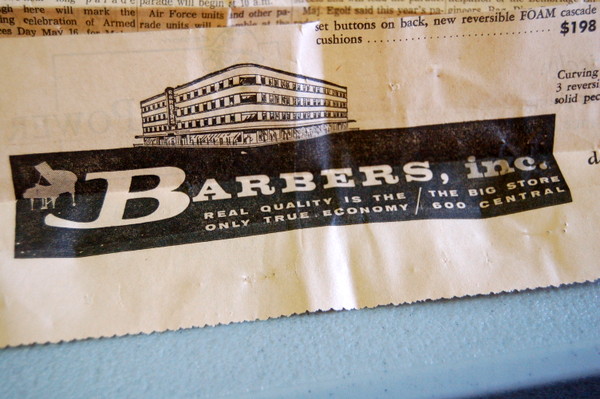 The rest of the ad:
A sofa for only $198! When you think about it, that's not a whole lot different than a new sofa from IKEA. (Though that one in the link doesn't look comfortable and barely qualifies as a sofa bed, so there's that. I bet the 1964 one is a much better choice, solid wood instead of particle board.)
The most interesting old newspaper I ever found was when I renovated the bathroom of my old apartment. After taking out the sink, stuffed into the holes around the pipes was old newspaper from about 1985. The best part of the paper? The ad for a brand-new, 52 KB computer! Fifty-two kilobytes, that's what, a one-page word document? Half an iTune? I have no idea. Want to know the price of a 52 KB computer? Only $3000! (And you could add a dot-matrix printer for only an additional $2000.) We've come a long way in the technology world. (I tried to find an example online and found this  funny ad: 'What kind of man owns his own computer? Ha! It was closer to this kind of thing, prices starting at $2999.)
Interestingly, sewing patterns still remain the same, paper and tissue, the same as the last hundred years. We've invented PDF patterns but the printed pattern is relatively unchanged.
This is the pattern I found it in – Simplicity 4931. I haven't done anything with it yet, but I wanted to look at the instructions and pattern pieces. (Do you do that too, when you get a new pattern? I enjoy reading the instructions to find out how it goes together before starting. With vintage patterns it's an especially good idea to find out what shape the pieces are in and if they're all there.)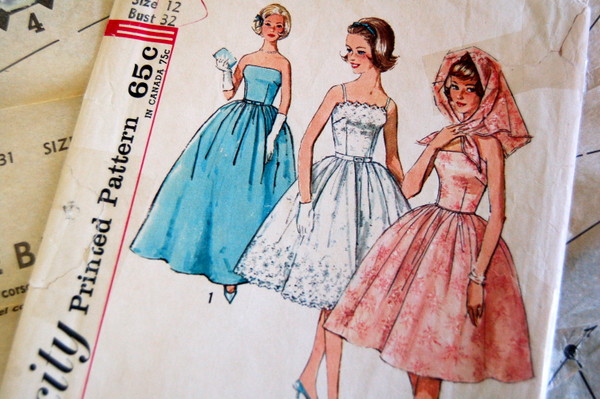 Do you enjoy finding little snippets of the past like this when you least expect them? What's the most interesting 'bonus' you've found in a vintage sewing pattern envelope?