Remember this post from a couple months ago, A Needle Tip? I pointed out my little post-it note trick to remember when I last changed the needle.
Many of you mentioned in the comments (thanks Janet, Lynda, Carol and learningnewtricks!) that needles aren't safe to just throw in the garbage. Whoever changes the bag or empties the can may get poked by the old needles and that's dangerous.
I'd been poking them through an old piece of paper, waiting for a container to come along that wasn't nice enough to keep. I tend to be a bit of a pack rat, so every container that got emptied I'd decide was too nice for a throwaway needle holder. Some of you use old pill bottles, here is what I came up with!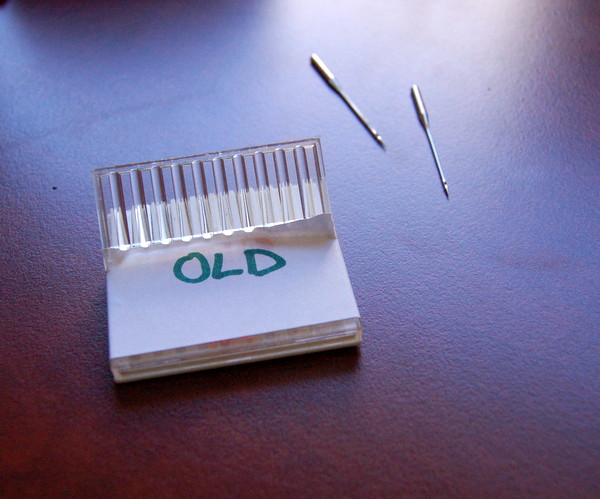 I emptied the last needle from this old package, and decided to put all of my old needles into this container. I labelled it with 'OLD' so I'd know it wasn't full of useable needles.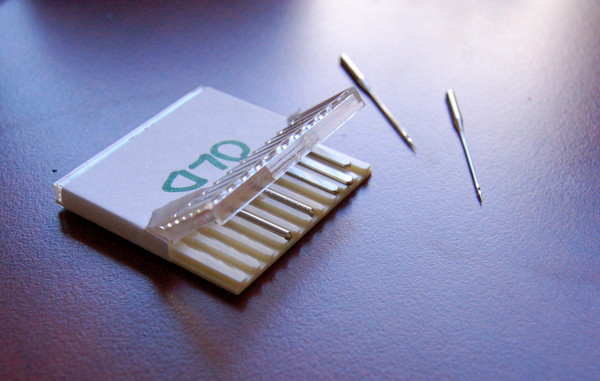 Once the container fills up, out it goes! To make it even safer for the garbage-emptier I'll probably tape it shut so the needles don't escape. It's simple, it uses a container that I already have (and will always be getting more of) and it doesn't take up a lot of space to store. I didn't want a large container that would take forever to fill up and get in the way. This is compact and simple to do.
I thought I would post this as a little follow-up to the post on needles! What do you think – is this useful? How do you throw out old sewing machine needles safely?
Have a great weekend, everyone! Thanks for all the awesome comments on my wedding announcement post, too!