I wanted to say a HUGE thank you to everyone that responded to yesterday's survey. Thank you for taking the time to answer my questions! It's only a few minutes of your time but it makes so much difference to me. Especially some of you who said you don't usually comment, or take polls, but made the effort because it was for school.
So, a huge thank you, to all six hundred and fifteen of you!
That's right – six hundred and fifteen surveys were submitted yesterday. (By the time I signed off last night, that is.) Not only did I reach my fifty responses in record time, but I received over ten times that many! Within an hour of posting my request for help, I had over a hundred responses. You guys exceeded my expectations by over 1000%! In fact, I had to pay to upgrade the free survey tool, as it would only let me view 100 responses for free. I think it was well worth my $25 to keep reading the completed surveys!
I can't wait to go through them all properly. I'm looking forward to making a cup of tea, settling into the comfy chair, and reading through the surveys.
I'd love to share some of the highlights and surprising answers on my blog. What do you think? They're all anonymous, of course, so I won't be naming names! Are you curious about the results? I know I am! It will take me a while to read and organize the 615 responses, especially the open-ended questions. Those ones are the hardest to tally up, but the most fun to read!
So thanks again! And thanks to everyone who said they'd help again if someone else comes up at school. I appreciate it – and am forever thankful I didn't have to stop strangers on the street and beg them to answer my survey!
I'm a little behind on the rest of my blogging plans: sharing some of your finished Pendrells, posting about the vintage tartan plaid cape, and taking photos of my own finished Sew-Along blouses! Oops. School IS making me busy. Perhaps this weekend I'll have a chance to catch up!
Every post needs a photo – so I'll leave you with a photo of downtown Vancouver in the summer. I looked for one of me reading, to show you what I'd be doing today, but it appears that no one takes photographs of me while I read.
Besides, this is much prettier: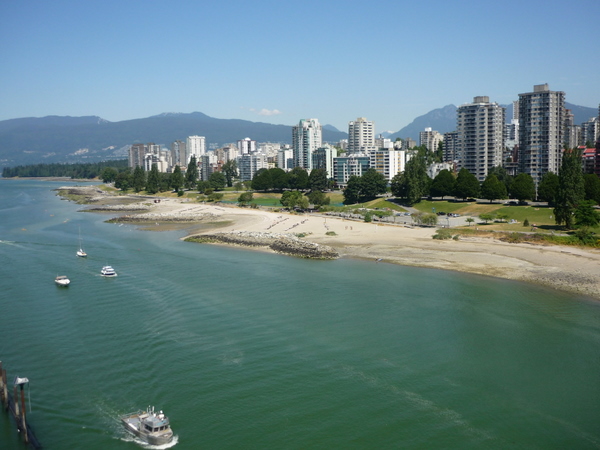 This is pretty close to Pendrell Street, where the name for the Pendrell Blouse comes from! Gorgeous. Can't wait for summer to arrive! Mr Sewaholic and I walked over the Burrard Street Bridge that day, stopping midway to take a few pictures.
Hope you're having a good Thursday, and thanks again!