Did I mention already that it rained while we were in DC? Well, it rained a lot, with thunder and lightning too! When there's a thunderstorm or even a rainstorm, all I want to do is curl up with a good book.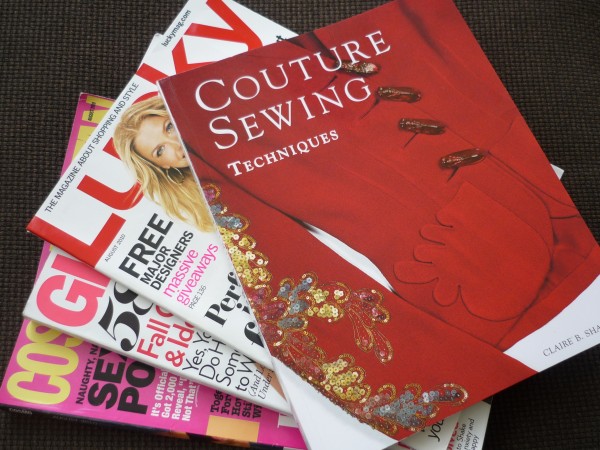 Like the one on top of the pile: Couture Sewing Techniques by Claire B. Shaeffer. After reading all of my magazines and books (and most of Mr Sewaholic's books as well!) I stopped by the bookstore. Instead of picking up another so-called beach read, I picked a sewing book instead. What a great idea! I read it cover-to-cover a few times while we were away and I know I'll refer to it again and again.
Couture sewing inspires me to step up my game! Even just reading about new techniques makes me want to improve the quality of my work. Sometimes I read things and think, if I can retain even just 25% of this information, then I'll be 25% better than I was before.
Here are just a few things I was surprised to learn about couture sewing techniques:
Couture garments are mostly sewn by hand. You would think by now, most of the processes would be automated by machines but that's not the case. The book explains that the sewist has greater control when handsewing and it's true. Consider a hand-picked zipper versus a machine stitched lapped zipper – one may be faster, but with the hand stitching you can adjust at every stitch and have better visibility than with the machine.
When you become a client of a couture house, a custom dress form is made according to your measurements, and kept for future reference. How cool is that?
Often, custom undergarments are made for the couture garment. One of the neatest examples was a slip that had self-fabric panels applied at the underarm to match the couture dress. That way, when you lift your arm, there's no danger of flesh-toned slips showing, just a lovely little blue fabric panel that looks like part of the original dress!
Topstitching is usually decorative, not functional. When I add topstitching to my projects, it's usually done to secure seam allowances or pocket edges. In couture sewing, topstitching is done BEFORE pockets are attached, so it has no function other than decoration.
I really enjoyed reading this book and will work to incorporate some of the couture techniques into my future projects! I especially enjoyed the section on tailoring as I'm thinking of making a coat for fall. I'll also be reading Gertie's Lady Grey Sew-Along for more tailoring tips. Doesn't fall make you want to make coats?
It also inspired me to look for a non-couture sewing technique book to add to my collection. I've been sewing for so long that I don't refer to books as I go, plus I'm used to looking at factory sewing techniques at work. So my sewing skills are a hybrid of fashion-school factory sewing techniques, and my self-taught (and mother-taught) home sewing techniques. A little book-learning can't hurt!
How do you learn new techniques: browsing the internet, reading sewing blogs, referring to books, taking sewing classes or by asking your mother?