I was thinking about the recent Coletterie post on the creative reaction: how there are so many pretty things in the world, and it's not possible to possess them all. How do I feel about this? I'm certainly a collector of inspiration. I have a sketchbook full of ideas, a folder full of images, file folders full of magazine pages, and nowhere near enough time to put all of these ideas into action!
So then I started thinking – maybe it's better to act, rather than plan. After all, I find myself unable to start a project sometimes. What if it's not the perfect plan? What if halfway through, I come across an even better idea? This indecision stops me from even starting.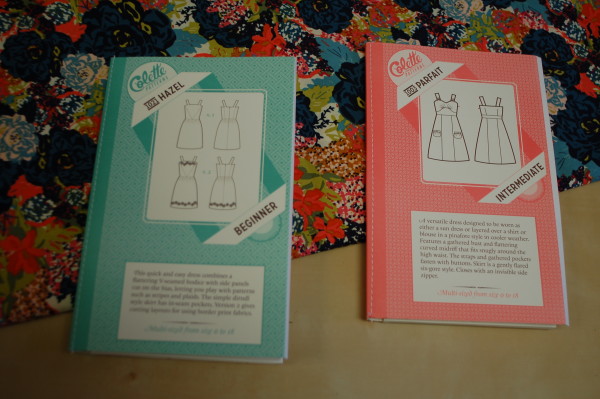 (I keep debating what do make with the fabric in the background of this photo, because I love it and want to sew it into the absolute perfect thing!)
Then I remember, finished is better than unfinished. Finished is way better than never started. Even if it's not the most perfect plan, who cares? Make something else. At least you completed something!
Plus, what's the most fulfilling use of time? Two hours spent on Pinterest looking for ideas, or two hours testing out new ideas and experimenting hands-on? I don't know about you but after two hours of looking at inspiration and pretty images, I feel like my to-sew list has tripled in size and I'm miles behind if I don't get started on all those ideas right now. After sewing for even an hour, I feel happy, I feel connected to what I'm making and even if I didn't finish, or didn't like the result, the time never feels wasted.
I also relate to the thoughts on trading shopping dollars for fabric dollars. I see something I like in a store or in a magazine, and think, I could make that! I'd save so much money and feel pleased with myself for making it to fit me perfectly. I'd enjoy the process of making it with my own two hands. While I'm very cautious with my shopping budget, I'm reckless with my fabric budget. After all, I am sure I'll sew every piece of fabric eventually! And it's part of my business, and part of my entertainment. I have all the reasons in the world to justify buying more fabric.
Which leads to a fabric stash, which isn't that different from an overstuffed closet. (Perhaps worse in a way because you can't wear anything while it's still in fabric form, but better in a way because it's going to provide you with hours or weeks of sewing joy.) Just because it exists and it's beautiful, doesn't mean I need to own it.
There's nothing wrong with buying supplies for a hobby we love. It's when that feeling of possession takes over and it's about owning all the fabric, rather than choosing supplies thoughtfully for a new project.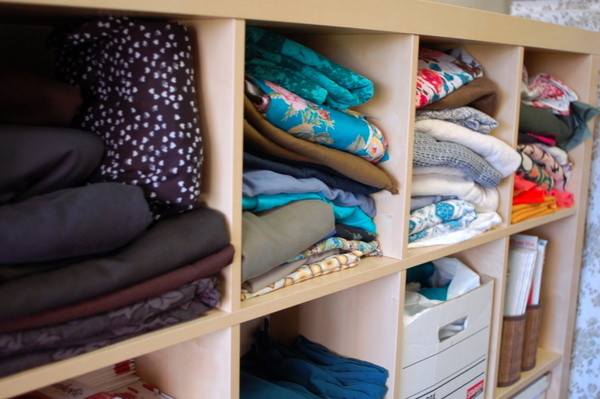 And I have bought a lot of yarn recently. As I was just learning to knit, I was afraid to buy anything that wasn't going to be used right away. Then I became more confident in my skills and thought, I can make anything! Everything! All the things! Buy it while it's on sale! (Rather than calculating what I can actually complete and buying materials when I have a new project in mind.)
On the knitting inspiration front, I've 'favourited' probably a couple hundred things by now. I have a queue of things I want to make that's forty items long. Can I even knit forty things in a year? I check out my friends' projects, favourites and every time, I find another five things I want to make. Again, just because a gorgeous sweater exists, doesn't mean I need to own a version of my own.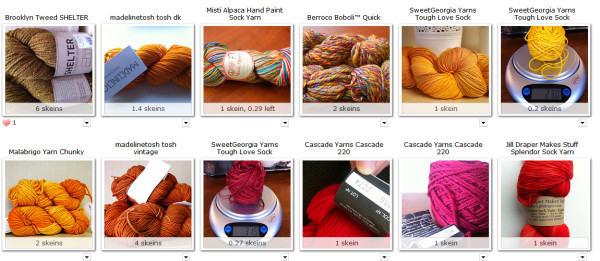 When does inspiration turn from a motivator, a spark that gets us going, to a force so strong that stops us from actually making things?
What do we do? I'm going to aim for a little less inspiration, a little more action.
I'm going to focus on sewing, rather than planning sewing projects that never get off the ground. I'm going to be realistic about what I can actually sew in a reasonable time frame. I'm going to stop buying just because it's beautiful, it has to be useful and has to have an end use planned. I don't need to own every beautiful idea I come across – nor do I want to, when I actually think about it honestly. And I want to take a deep breath and savour my crafting time, be thankful for everything I do have, instead of thinking about the things I don't have and could possibly acquire.
What do you think? Do you find yourself spending more time searching for inspiration than actually sewing or making things? How do you fulfill the desire for beautiful materials while being realistic about what you plan to make?