All of a sudden, the number of retailers stocking Sewaholic Patterns has grown substantially. We now have a retailer in Sweden (Karinotillia) Belgium (Workshop) and Australia (Sew Squirrel.) More new retailers have been added across the United States and the United Kingdom! It might even be time to start sorting US retailers by state, instead of alphabetically, so it's easier to find stores nearby.
There are so many additions to the list, I fear I'll leave someone out by mistake, so I'll list them all: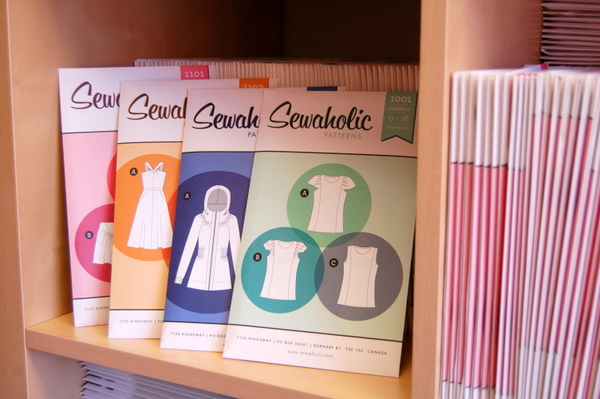 CANADA
Spool of Thread – Vancouver, BC
USA
A Fashionable Stitch (online)
Bernina Sewing Centers of Kansas City – Overland Park, KS
Bolt Neighborhood Fabric Boutique – Portland, OR
Bon Bon Atelier – Kansas City, MO
Cool Cottons – Portland, OR
Fabricworm – (online)
Fanciful Fabrics (online)
Fancy Tiger – Denver, CO
Grey's Fabric and Notions – Boston, MA
Hart's Fabric – Santa Cruz, CA
Made Sewing Studio – Seattle, WA
Mama Said Sew – Fort Collins, CO
Modern Domestic – Portland, OR
Pink Chalk Fabrics (online)
Pink Hollybush Designs (online)
Selvedge Studio – Missoula, MT
Sew, Mama, Sew! (online)
Sew L.A. – Los Angeles, CA
Sew Main Street – Woodstock, GA
Sew to Speak – Columbus, OH
Sewtropolis – Minneapolis, MN
Stitchology – Albuquerque, NM
Stonemountain & Daughter Fabrics – Berkeley, CA
Sweet Little Chickadee  (online)
The French Seam – Indianapolis, IN
Urban Craft Center – Santa Monica, CA
INTERNATIONAL
AUSTRALIA
Sew Squirrel (online)
BELGIUM
SWEDEN
UNITED KINGDOM
Backstitch (online)
Fabric Godmother (online)
Fabrics and Fancies (online)
M is for Make (online)
Sewbox (online)
The Village Haberdashery Shop (online)
That's 36 retailers now! It's so exciting to have new stores stocking my patterns. It's even more exciting when the emails start with 'I'm opening a new store…' Great news for all of us, when more fabric stores and sewing lounges are opening around the world. It's a good sign that sewing is making a comeback, and small businesses are here to help!
I've been updating the Retailers page on both the Sewaholic blog and the Sewaholic Patterns store so keep an eye out for your favourite local store!