I mentioned the other day that this pattern, McCalls 7743, has a waist stay built into the dress. It's constructed in a different way than the method I picture when I think 'waist stay' so I wanted to show you how it was done.
It's really quite smart, you sew seam binding into the skirt's waistline seam, edge-stitching the top and bottom so it's nice and strong, and then when the bodice and skirt are sewn together, there's a stable, thick waistline seam in there to accentuate the waistline and strengthen that area of the garment. This is what I love about vintage sewing patterns, there's always a few little gems in there, construction methods that we don't see that often in simple modern sewing patterns.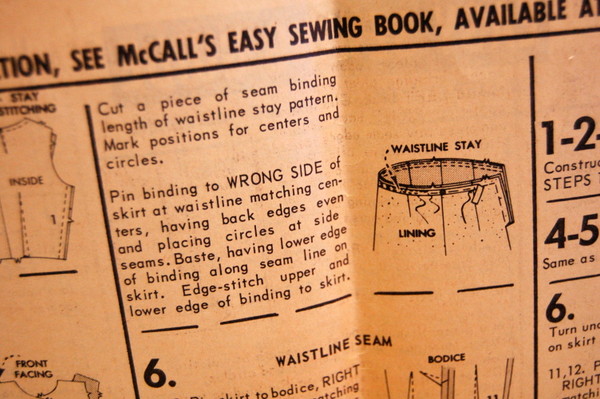 If you have a dress with a waistline seam, you could add this to your project too!
Here's how it's done. First cut a length of seam binding according to the guide. The guide is basically the measurement of the skirt's waistline, if you are adding this to a different pattern. Or, if you think the waistline needs to be a little tighter, cut it the length you want the waistline to be, plus seam allowance on each side.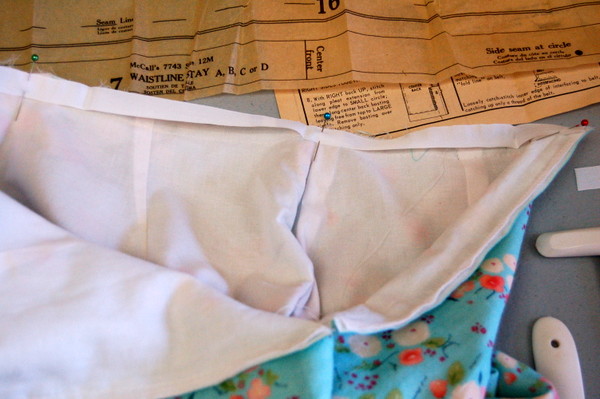 Sew the skirt pieces together, and pin the seam binding to the top edge of the waistline. Baste in place. (I think I skipped basting and went right to sewing it permanently.)
Now, edgestitch both the upper and lower edges of the seam binding. These two rows of stitching help to strengthen the waistline, as adding topstitching adds stiffness. Sewing it to both sides makes it strong and keeps one side from stretching out. This seam allowance doesn't get trimmed, we've sewn the binding to the seam allowance and it's going to stay that wide.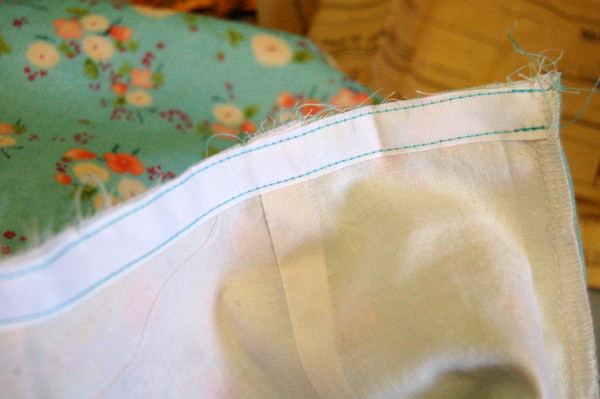 Now, sew the bodice to the skirt, along the seamline. The seamline is going to be right where the seam binding ends. Here's what it will look like when it's sewn. I'm glad I have contrast stitching to show you!
Here is what it looks like as we sew up the lining: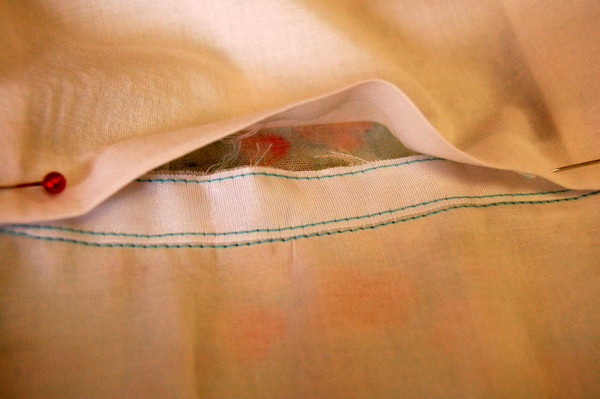 It's going to be hidden between the layers, nothing more fancy than a strong, untrimmed allowance reinforced with binding. Our waistline will never stretch out but it won't be too restrictive either.
A step back, looking at the same thing as the last photo: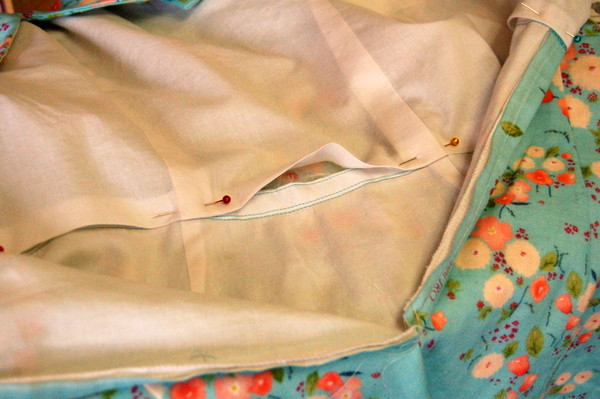 And that's it! It's completely hidden in the inner workings of the dress.
What do you think of this method? Does it count as a 'waist stay' in your opinion? Have you ever seen this type of construction in a sewing pattern before?