Love the shiny, metallic Cordova Jacket from Monday's post but wonder what it might look like in a less showy fabric?
I thought I'd share some photos of the first Cordova Jacket sample. I loved the silhouette and the fit but the colour wasn't the most flattering. (Banish the beige, isn't that right, Beth from Sunnygal? Good advice that I didn't consider at the time.) I got caught up in the prettiness of slightly-shiny linen and thought it would be a great neutral jacket.
It's a little too neutral for my liking but does work well with a colourful scarf!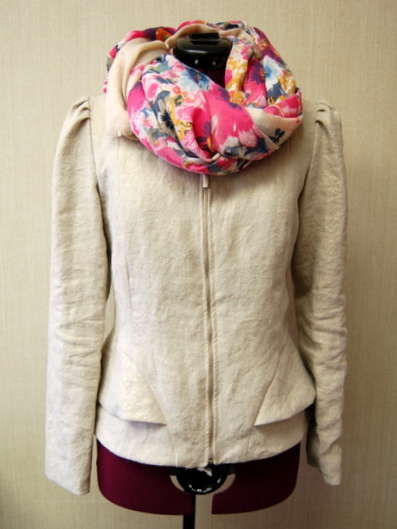 While it's not a good colour on me, it does show how different this jacket pattern looks in a different fabric.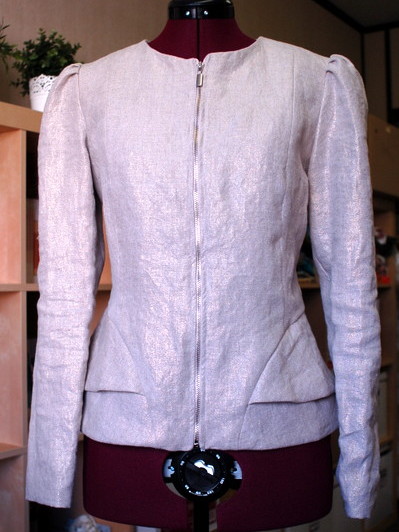 You can see the slight shine in the photo above. It's very cool, perfect for everyday wear as it's not too sparkly. Just a hint of sparkle!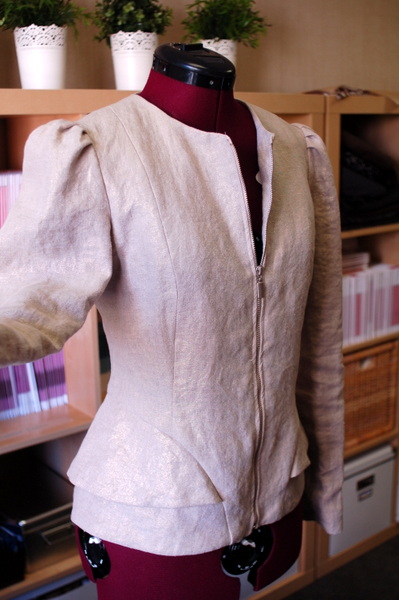 If you choose a linen fabric, you may want to interface the body pieces. (It's recommended in the instructions for lighter weight fabrics.) This linen 'grew' a little bit and ended up larger than it was supposed to be. Interfacing would help the cut pieces to retain their original dimensions.
Note: In these photos, the body pieces are not interfaced. In the photos from Monday's post, the body pieces are interfaced.
It also wrinkles like crazy! Some people don't mind wrinkly linen, but if you want a crisper finish, add interfacing to the front and back panels. For a similar look, try a linen-cotton blend or one of the synthetic fabrics called 'linen-look' – they're all synthetic but have the textured appearance of linen.
Like this style? Get the pattern here.
Next, I hope to share some of the amazing Cordova Jackets made by pattern testers. Stay tuned for more!