Have you heard of Kollabora.com? It's a new community site developed by the creators of Burdastyle, featuring not only sewing projects but knitting, embroidery and jewelry projects as well. Kollabora, in their words, is a new community for people who like to make things. (Want to know more? Check out the video here.)
The site also has a Marketplace, so if you like a project you see, you can buy the materials for it through the site.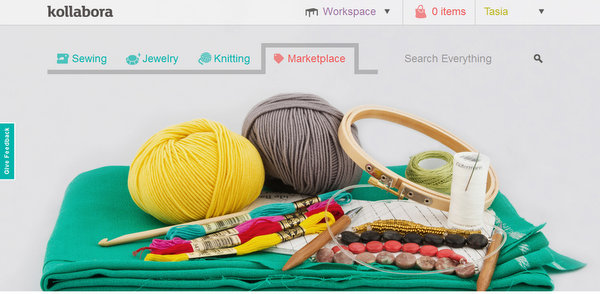 The site is still new and growing but I like the idea of that – see it, like it, make it yourself! Kind of like online shopping, but with the satisfaction of making something to fit you.
To celebrate the new site and spread the word, Kollabora is having a contest. We all like prizes especially patterns and fabrics, so I thought I'd let you guys know about it!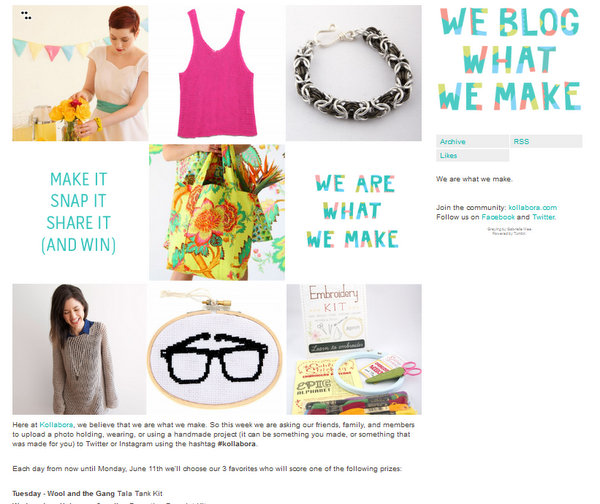 From the Kollabora blog:
  We believe that we are what we make. So this week we are asking our friends, family, and Kollabora members to upload a photo holding, wearing, or using a handmade project (either made by you, or made for you) to Twitter or Instagram using the hashtag #kollabora.

Each day from now until Monday, June 11th we'll choose our 3 favorites who will score great prizes from some of our awesome friends like Wool and the Gang, Colette Patterns, Mood Fabrics, and more!

So start snapping, start uploading, and make sure to share this email with your friends – we're looking to spread the DIY love around the globe!
Contest details are here if you wanted to join in!
I know we've talked about sewing sites before like MySewingCircle, and we've talked about wishing for a Ravelry for sewing, a site that allowed us to find out more about the materials used in a project, and a site that was popular with plenty of projects posted. Community is important too, it's much more valuable to browse a busy site with a variety of projects and notes. I've browsed the photos on Kollabora and already seen a few familiar faces and projects!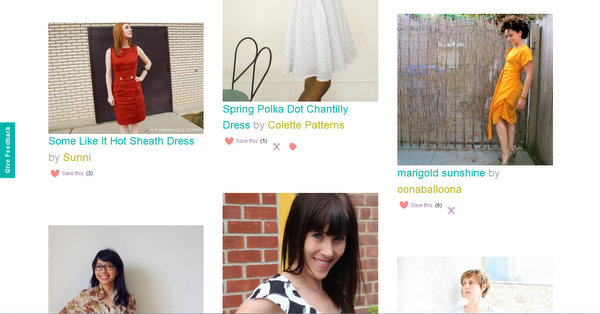 At first glance, the clean, fresh layout and large print is easy to read and navigate. I think there's a lot of potential here as more people discover and start using the site!
What do you think? Have you tried the site yet, and what do you like or dislike? Do you see yourself using it now that you've found out about it?