This blog is mostly about sewing clothing, which I love, but I also secretly love quilting! Not so secretly in fact. I've made two quilts before, here and here. Here is my third quilt!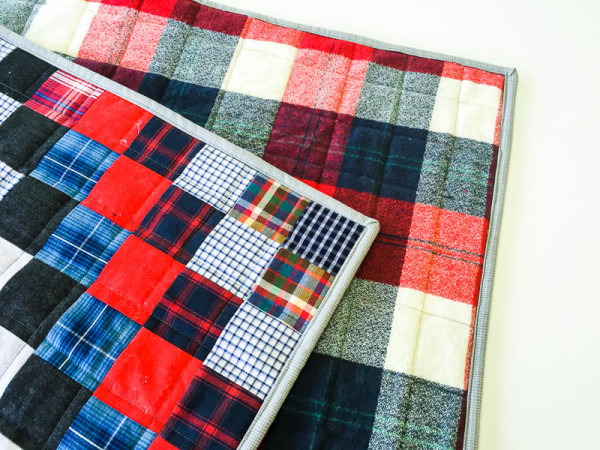 It's a quilt made from Mr. Sewaholic's old shirts! (Six or seven of them, in fact.)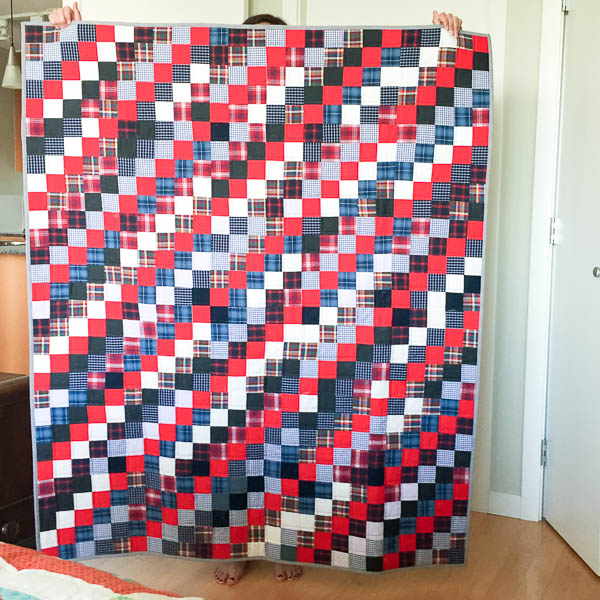 I started it last September, and finished in time for his birthday this month. Almost a year from start to finish, but only in little bursts of time. I'm pretty pleased with it, even though there are things I know now that would have made this project easier. (Like strip piecing! Yeah, that would have been simpler.)
Here's how I made it. First, I collected old dress shirts. I'd been collecting these for years with the plans to make something out of them, but I wasn't sure what.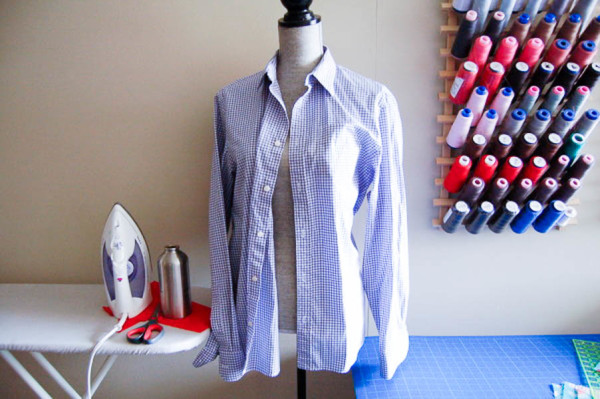 Then, I cut the shirt into as much usable fabric as possible. I tried to save everything, even the contrast back yokes and pockets. Anything that I could cut a 2 1/2″ square from went into the mix. I cut around details like plackets, button bands, cuffs and collars, saving just the flat sections of fabric.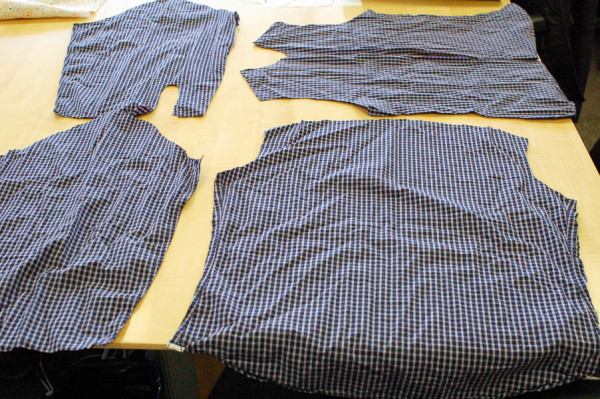 I sliced them up into 2 1/2″ squares, adding in solid red and white scraps to set off all of the plaids. I arranged the squares into nice-looking blocks, five squares by five squares. I placed red squares on the diagonal on every block so there'd be one element of consistency!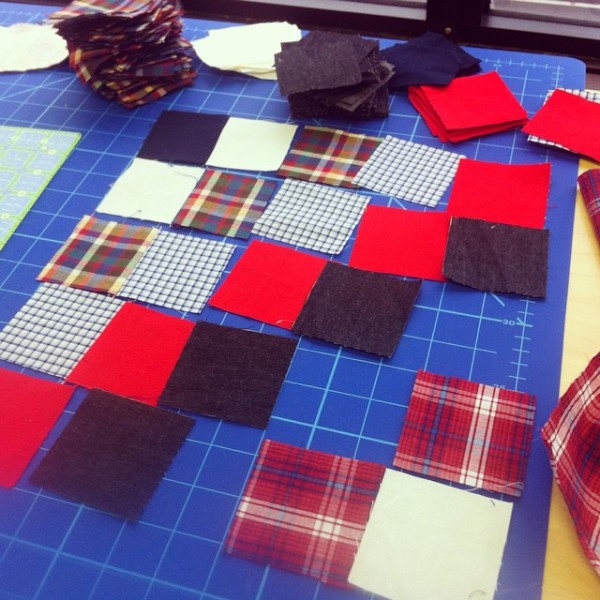 Then I sewed the squares together, one by one, in rows of five.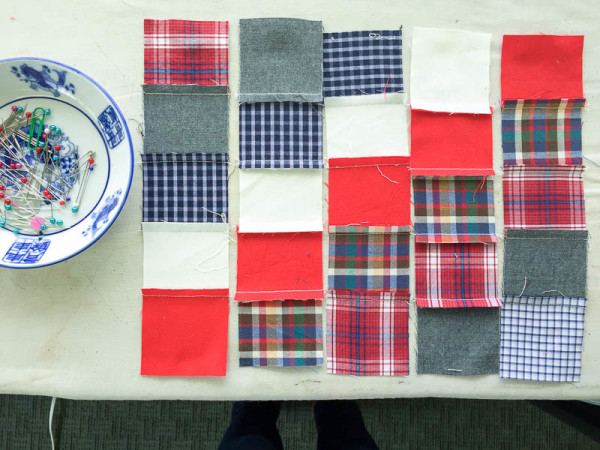 I then sewed five rows of five together to form a 5×5 block.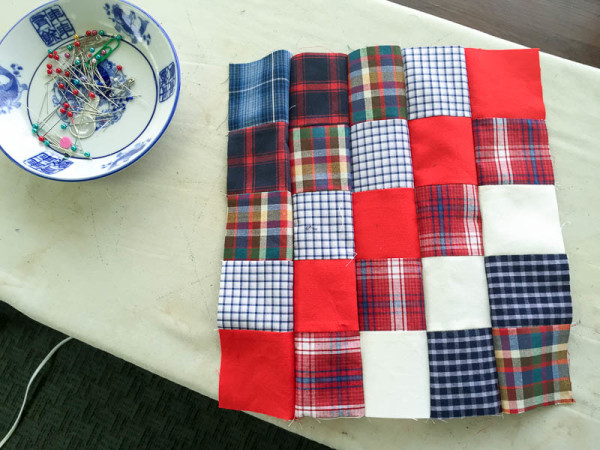 Each block is different, but the red ties them together.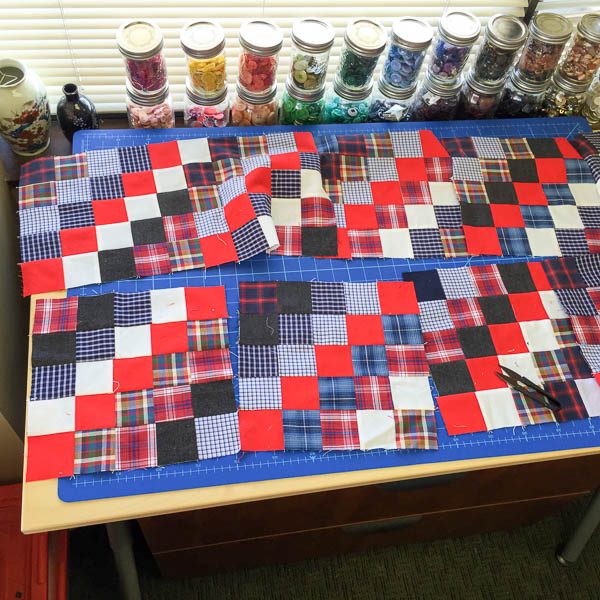 I repeated to make 30 blocks, aiming for a 5 x 6 block quilt (about 50″ by 60″).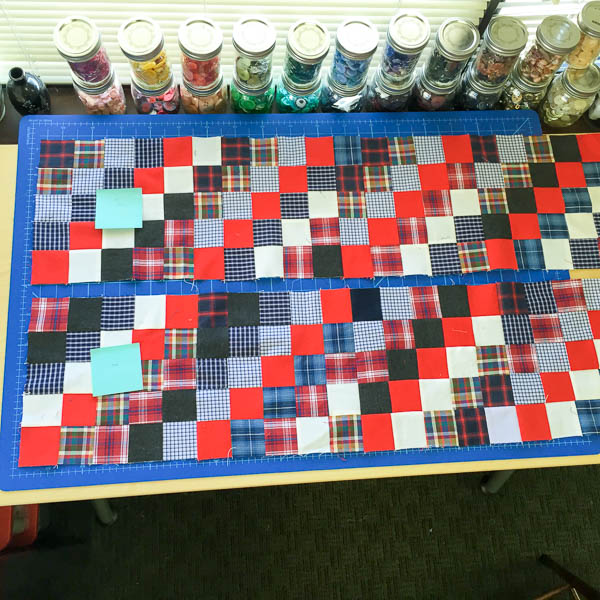 The backing was a lucky find! He wanted flannel – once he knew what I was doing with his old shirts – so I went in search of a flannel that would match. How fortunate to find not only a plaid, and not only reds and navy shades, but both in the same fabric! (Spool of Thread, a couple of months ago.)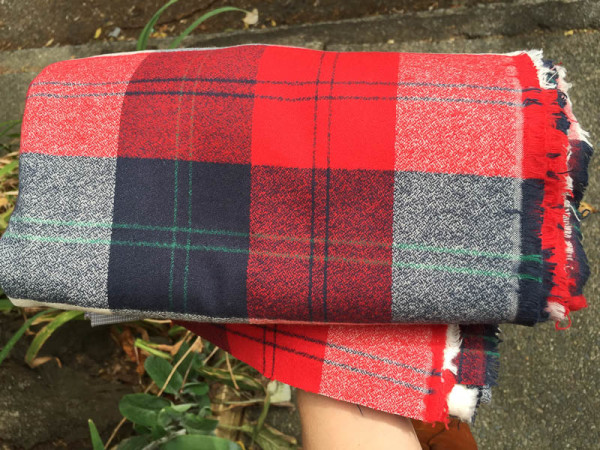 I sewed the blocks together in rows of five, then sewed the rows together to make the quilt top. Nothing complicated about it! Just a lot of repetition.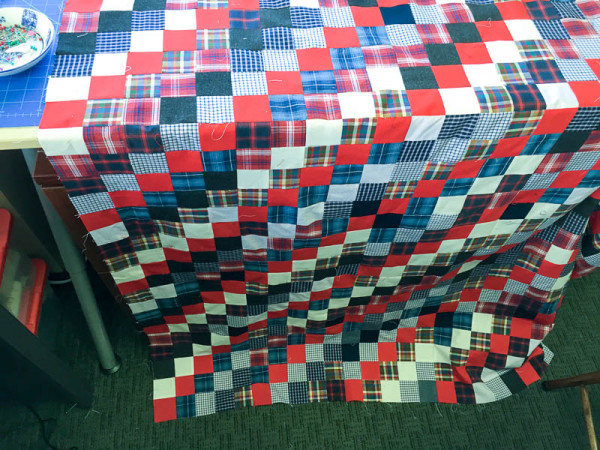 I learned that the big table in my office is the perfect size for a 50″ by 60″ quilt. Any larger and I can't baste it in the office, I'd need to find a larger surface.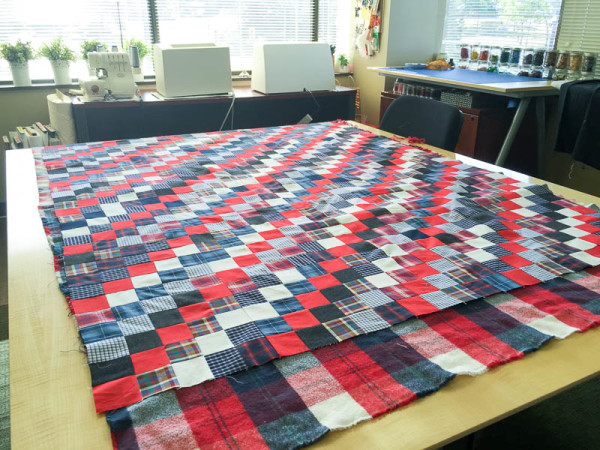 The pieces aren't completely perfect and square. Some of the corners don't line up. Normally I aim for precision and accuracy, but not today! That's the beauty of a project like this. It's not about precision, not in my books anyways. It's about turning something discarded into something useful.
I quilted straight lines along the outside of each plaid square, using the edge of the presser foot as a guide. It's approximately 3/8″ away from the seam. Choosing something simple as the guide makes it easy to quilt. I used grey thread, on my last two quilts I used white but on this one I wanted something that blended more. It stands out on top of the white and red squares but blends in with the plaids.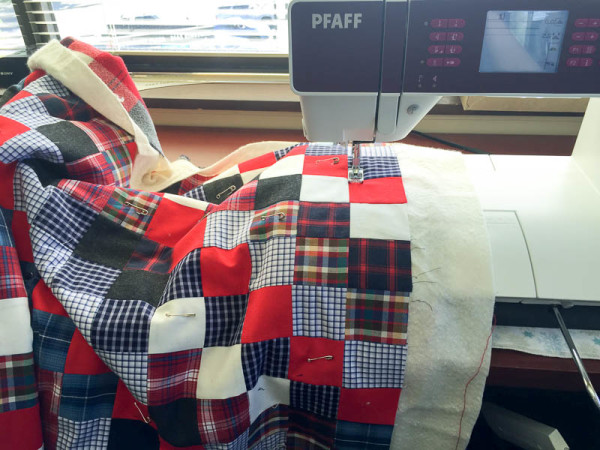 This has got to be my favourite part of the process, running your work through the machine over and over again. It takes hours, but it's so satisfying!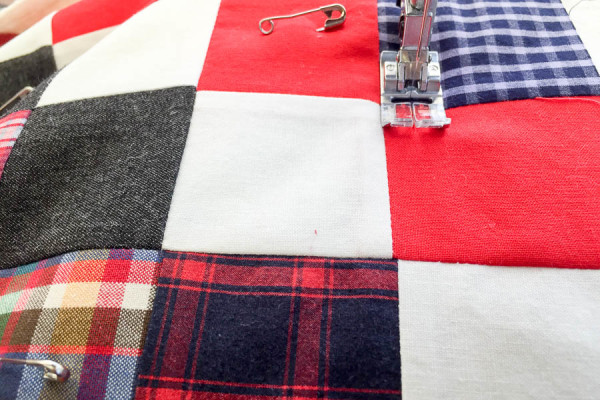 It's been so long since I finished my last quilt – My Handmade Bed Quilt, here – that I'd forgotten the basics, like starting and stopping past the edge of the quilt. It comes back quickly though.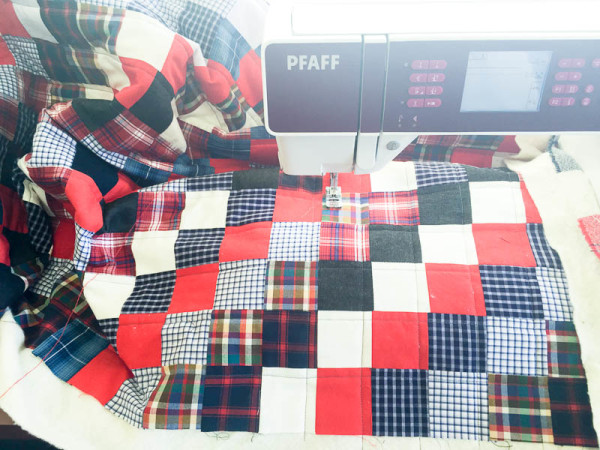 The binding is a grey with a bit of a plaid effect, but looks mostly solid. This is where the quilt starts to look good. It was bright and interesting when it was just a pieced quilt top, but once it gets quilted and bound, it looks so finished and complete. Like a real quilt! Hard to explain in words, there's a moment where it goes from being parts to a finished item. I like that part.
I sewed the binding on my machine, instead of slipstitching by hand, so it would be stronger and durable. (And quick!)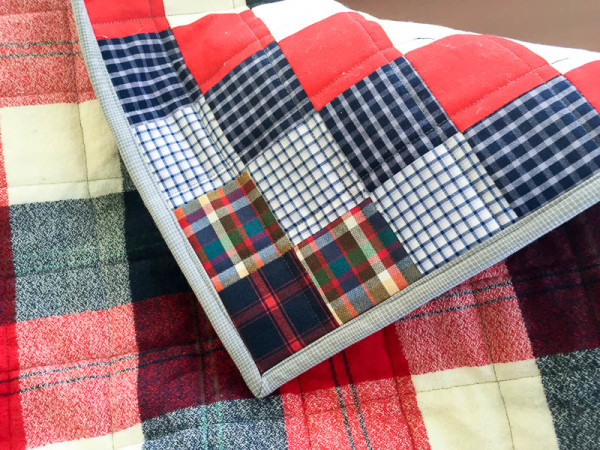 You can see the difference in texture before and after washing. Above, in the binding photo, it hasn't been washed yet and everything is very smooth and flat. Afterwards, it's wonderfully crinkly and textured.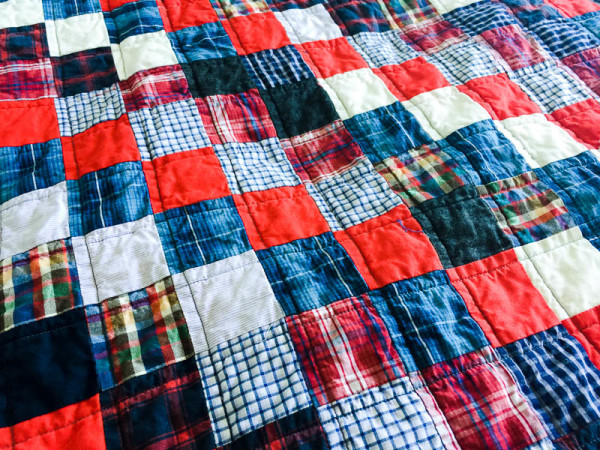 He loves it, and I'm really pleased with how it turned out. It's reminded me how much I love quilting! It has nothing to do with work which is refreshing, it's repetitive and methodical, and it uses old scraps (or in this case, old shirts) to give them a new life.