Hey, everyone! Happy Monday! I've been asked for tips on sewing knit fabrics, to help with sewing up the Renfrew Top pattern. So I've compiled a whole bunch of links, tutorials and tips that might help you!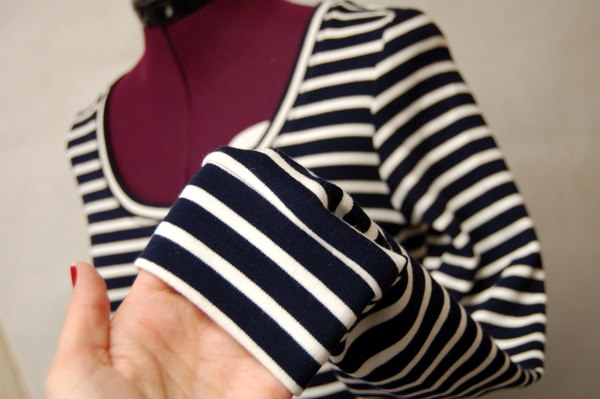 Tips for Sewing Knits:
Conquering Knits: A Self-Help Guide Lauren from Lladybird's no-nonsense guide to sewing with knit fabrics, stabilizing shoulders, and why knits are so great to work with.
How I hem knits. Also a side trip to sergerland. Patty at The Snug Bug talks about using a twin needle, getting comfortable with your serger and how to hem knits.
Dixie DIY has a whole series called Never Fear Knits – check out the whole list of posts here:
Gertie's New Blog for Better Sewing featured a guest post series on sewing with knits:
and this post on sewing with double knits: Field Notes on Sewing with Double Knits
A Primer on Sewing Knits from Threads Magazine, covering fabric, edge finishes, and choosing the right pattern.
Sewing with knits from Figgy's Patterns includes how to stabilize knit fabric, sewing seams and sewing neckbands in knit fabric.
That should be a good start! Like anything, practice will help you get familiar with the nature of knit fabrics. Make samples, try sewing different seams and play around with the fabric. Knit fabrics are unique and each one will behave differently, that's half the fun and half the challenge of it all! If you find a knit fabric you like and enjoy working with, buy it again in multiple colours. (That's what I do when I find a fabric I really enjoy.)
Do you have a favourite 'sewing with knits' tutorial, book, or blog post that's not mentioned above? Have you written about sewing with knits on your blog? Any tips to share on getting started with knit fabrics? Leave us a comment below!