I've come to a realization that seems so very obvious, but hasn't kicked in seriously until now. Starting in about September, it's tights weather here. Sure, there are days you can get away with bare legs, but for the most part, it starts getting pretty cold out. It's tights-weather every day now, and I'm daydreaming of summer days and warm bike rides, bare legs and sandals. And because I keep a blog, I have records of what I wore when. A quick peek at Me-Made June tells me I was even wearing tights for a couple of days in June! So that means, from September till May, it's cold enough to wear tights. That gives me June, July and August for summer dresses, that's it! Three months. Hardly any time at all, for someone who loves how easy it is to throw on a sundress and go!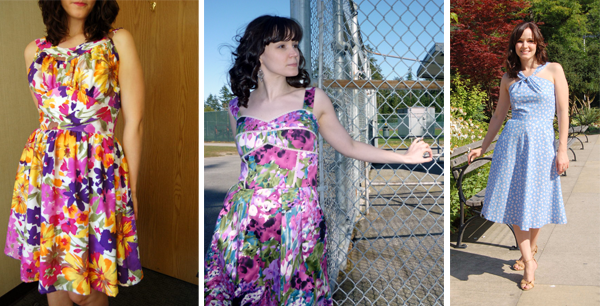 (great for summer, but not for the other three-quarters of the year!)
So when it comes to wardrobe planning, 25% of my wardrobe should be designed for summer, and the other 75% should be a mix of fall, winter and all-weather items. Lots of layering and separates. Fantastic coats worn with warm accessories.
This is why items like my Sunset Cowl quickly become staples in my wardrobe, while summer dresses are lucky to get a few days out of the closet before it's back to hibernation. I've just about worn out that tan coat – often I wear it all day at the office when I can't get warm!
I've really noticed the difference this year, as the amount of clothing  I own is at an all-time low. (Quantity-wise, not quality. Things are falling apart and I'm not shopping at all or sewing to replace them.) It's really obvious when the few wintery items are in the wash and all you see in the closet is sundresses, just waiting for their time to be worn!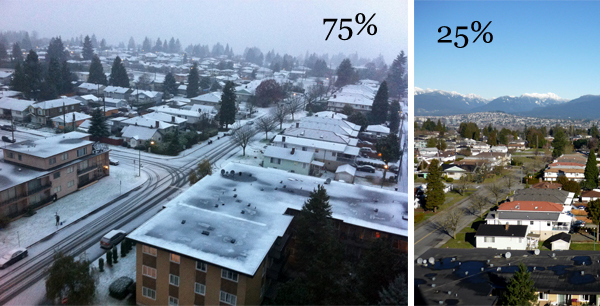 So what's so hard about this? Well, I love sewing summer dresses. I love warm weather, so I suppose I also like the clothing that goes with it! Bright colours and prints look better when the sun is shining. And I love bold colours and prints! When it's gloomy and wet outside, it feels out-of-place to show up in a yellow cotton dress. I also tend to ignore what each item will be worn with. In order for a floral dress to work for Fall, it needs a jacket, sweater, or coat to work with it as part of the outfit. And I'm not sure if you agree, but fall fabrics seem to be more expensive. Cottons are generally cheaper than wools. And most wool dresses need to be lined, especially if you don't want them to stick to your tights! Sewing winter items, especially jackets and coats take longer than most summer sewing projects. The cost and the time involved in sewing Fall and Winter garments means that I sew less of them – and you might be the same!
That doesn't mean it has to be boring or a chore to sew for fall. I just need to be conscious of how many summer dresses there are in my closet, as compared to winter dresses. I need to find ways to enjoy sewing winter and fall items just as much as the summery ones!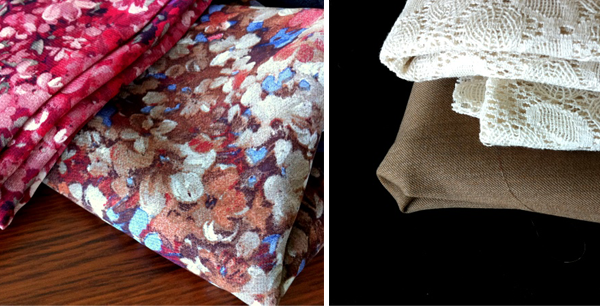 (gorgeous fall fabrics! haven't had time to use them yet..)
Some of the tricks I'm going to try are:
Choosing autumn-inspired prints and colour combinations (like the ones above!)
Choosing bright colours for tops and blouses, with bottoms in dark, muted tones
If there are summer patterns I love, find a way to adapt them for cooler temperatures
Wearing knitted accessories in fun colours
Get better at knitting, and knit up a ton of cute cardigans to take my summer dresses into fall.
Finding fall and winter fabrics that are just as much fun as summer ones – tweeds, colourful wools, velvets, lace!
Remembering to 'complete the look' – making the jacket to go with a dress, or the top to match the skirt. One piece is no good to my wardrobe if there's nothing to wear it with!
What's the ratio of summer to winter where you live? Vancouver locals, would you agree it's close to 75% winter and 25% summer here or am I being dramatic? (I am probably more sensitive to changes in the weather because I'm always outside on my bike.) Are you one of the lucky ones who has summer weather all year long? (And if so, do you long to wear scarves and winter coats just because you can't?) Do you have a favourite season to sew for?
If you aim to sew most of your own clothes, how do you motivate yourself to sew for the not-as-much-fun seasons? Anyone else like me, and make too many summer dresses and not enough winter clothes? I'd love to hear what you think!